Rabéa Ballin, Amasunzu (detail), 2017. Digital Image.
---
"Homo sum, humani nihil a me alienum puto."
or
"I am a man, I consider nothing that is human alien to me."

-Terence Publius, 170 B.C.E.
Terence Publius was the Africa-born slave of Roman Senator Terentius Lucanus. Amazed by Terence's mastery and talent with words, Lucanus sponsored his education and freed him. The above quote is Terence's explanation of how he was able to transcend his rage and become a world-renowned playwright.
Rabéa Ballin is a woman. Nothing human is alien to her. Born in Germany, raised on a diverse U.S. Military base, she transcended "sameness." For her, deep connection with others was not about race; it was about personal culture. "Everyone was mixed on the base. We all lived in households where several cultures were present." Growing up between Germany and Southern Louisiana, Ballin's work is deeply personal and reflective of her experiences.
Her studio space is on the campus of Project Row Houses. The outside reads "Delia's Lounge," an indigenous Third Ward business renovated by PRH to become multiple studios.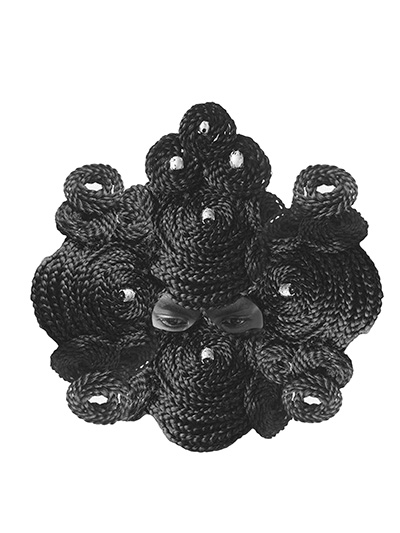 Stepping inside, the minimal aesthetic and symmetrically-hung artwork calls an exhalation from within. The room breathes. Hues of white, cream, grey and dark black create a calming effect, as if it is part exhibition, part meditation space.
"The studio is a contemplative space for me, not a maker's space," she says. "This is where I come in the research and development phase." Here she observes, asks why, and understands the larger, complex ideas that she explores through her work. She starts by visual research through social media, inter-disciplinary study and noting her reflections. "I need to sit here and look at the work and see if it works…in a neutral, neat, ready and safe space."
Only 150 square feet, it feels vast. There are plenty of drawings, prints, and photographs, yet the space is uncrowded.  A white work table sits in the corner under Massimo Vignelli's classic Stendig calendar.
"I love great Northern European design. I love simplicity, I love minimalism—that's what excites me the most, something that is designed very well," Ballin says.  "That's permeated into my work…It often relies on one singular image."
Finished works hang on the walls, aligned and hung within inches of one another. Most are depictions of ornate African- and African-American hairstyles.
Ballin's first job was working in her mother's salon in Deridder Louisiana, called Hair International. "My mother was frustrated at why women of different cultures would get their hair done in different parts of town," she remembers. "She created a place where any woman, of any race, could come and get her hair done."
It was here that she first learned to care for hair and experienced the intimacy and sisterhood that accompanies the craft. As a teen, she taught herself to braid and used that talent to make extra money while in college.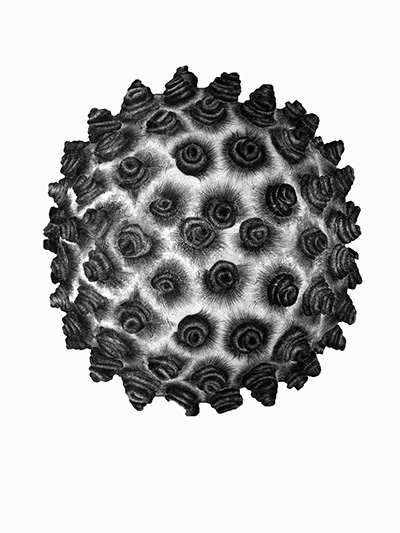 Rabea Ballin consistently depicts the value and significance of those who are usually marginalized, discriminated against and dismissed. She knows the power that images have on our minds and how it affects our decisions. As a member of The ROUX Collective, she contributes her work to powerfully beautiful exhibitions in collaboration with Ann "Sole Sister" Johnson, Delita Martin and Lovie Olivia. Together, they examine cultural and societal issues of genealogy, feminism, identity, and other topics affecting women of the African Diaspora.
"My current imagery stems from my interest in cultural anthropology as it applies to hair…" she says in her artist statement. "Hair politics and the uniqueness of self-identity have long been core elements of my work."
During the aftermath of Hurricane Katrina, she and a friend found hurricane victims and offered to braid their hair. "They had been given shampoo and combs, but no styling products." Ballin was honored to appreciate these women's humanity.
Influenced early on by Nigerian photographer J.D. 'Okjai Ojeikere, she explores hair sculpture and the significance and cultural meaning of each style with her own photographs. "I understand the power of hair and the lack of positive images of natural hair," she states. "[It's] a notion that we have to dispel with images because we've talked about it too much."
She completes her powerful images at her home. While her studio is neutral and cool, her home, by contrast, is a vibrant burst of color and warmth. In her "Treehouse" art from all over the world extends from floor to ceiling. Street signs from Germany and Houston's Third Ward sit perched above the stove in the kitchen like fine art. A blue wall calms the mind and revolutionary messages from posters invigorate the eye. "I walk into my house and I'm immediately happy," she smiles.
Her 2009 exhibition, Fresh, features drawings of cornrow braids and West African coils that defy gravity. The intimate attention to detail, the light, the delicate thoughtfulness she gives each strand honors the intention and effort of the individual.
In What Is Natural (2014) she recreates the salon using photographs of her friends and situated objects like hair products, mirrors and the kind of seated hair dryer beneath which most women, regardless of where they're from, has suffered for beauty.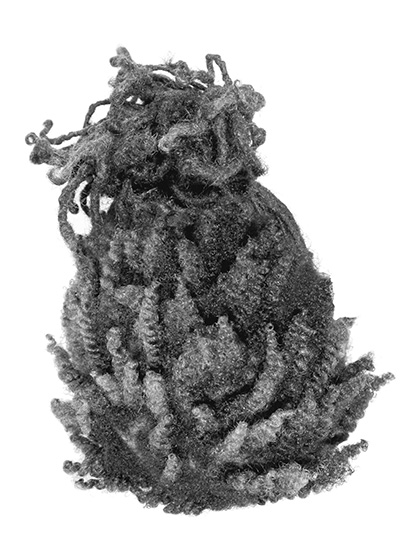 She pulls from her drawing and photographic superpowers, her BA in Graphic Design from McNeese State University and her MFA from University of Houston for her recent work. Taking photographs, she designs collages and prints them on various mediums using the silk screen process.
A digital collage of a braided mask revealing an intense, staring set of eyes called Remixing Delphine (2017), floats on airy Mylar, a translucent film used by architects.
Plaits, twists or braids (2017), a is a striking digital collage featuring the braids of a Native American chief printed on Reeves BFK paper, mouldmade in France.
Another collage, Unthought of Dimensions (2017), depicts her friend Ann Johnson's hair fused with the hair of her best friend. Printed on glossy white aluminum diabond, it's a happy accident created by ordering what she thought was metal paper and loving the result.
Born to a German mother and a Mexican-American father, and mentored and nurtured by African-American women, Rabéa has always been uncomfortable with identifiers around race. She says, "One singular description was never right for me." She uses her visual racial ambiguity to listen deeply when people make assumptions and respond through her work.
She embodies the wisdom of Terence; she connects with the shared experiences of humanity. Through her work, she esteems the value and importance of those whose artistry is routinely rejected, only for those styles to be appropriated later by the dominant culture.
—DANIELLE FANFAIR