NobleMotion and Musiqa.
Photo by Lynn Lane.
---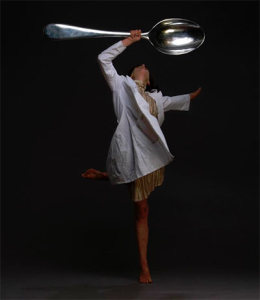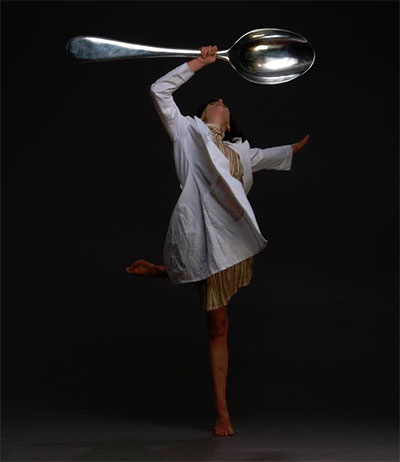 FUSEBOX + thinkEAST
AUSTIN-You can expect all kinds of category defying events at this year's Fusebox Festival thanks to Ron Berry's fantastic curatorial eye. This year they get even more grass roots with thinkEAST. Thanks to an Artplace America Grant the thinkEAST site will host a series of events—performances, workshops, public forums, and classes—to gather input from the community about what the site might eventually become. Berry explains, "We wanted to use our festival as a way to invite a lot of people into the imagining of this place, to test out some of the ideas that have been generated thus far, to put them on their feet before anything gets built permanently. So we're essentially creating a sort of pop-up village during the festival and inviting the neighborhood and the arts community out to the site to respond to some of these ideas."
IMAGE:  Michelle Ellsworth in Preparation for the Obsolescence of the Y Chromosome.  Photo by Bernard Grant.
---
Art Fair Month in Dallas
DALLAS- The Dallas Art Fair, back for its seventh year, happens April 10-12 at the Fashion Institute Gallery and Dallas galleries are curating some rather interesting shows, both in their booths if they're participating, or at their galleries if they're not. Barry Whistler Gallery is stepping out on a limb and filling their DAF booth with the work of young up-and-comer Nathan Green, while Zhulong Gallery is curating an "art historical" show of new media work in theirs. If you're not going to the art fair, don't worry. RE Gallery is opening a show of new work by Dallas-based Matthew Bourbon and downtown's Ro2 Art is going all out with a booth at DAF and a concurrent solo show by the always interesting Jesse Meraz in their regular space.
IMAGE:  Matthew Bourbon, Proper Conduct, Acrylic on Canvas, 10 x 10 inches, 2015. Courtesy of the artist.
---
Hillerbrand+Magsamen
HOUSTON- If you're anything like us, you reminisce fondly on a childhood spent in the imaginary world of the mind. Hillerbrand+Magsamen a husband-wife artistic duo known for incorporating their family and home into much of their work, dramatize that sense of wonder children can help parents preserve in Higher Ground. Once you've seen it, it makes perfect sense that the Houston Airport System, Houston Arts Alliance and City of Houston (that's a mouthful) all came together to support its commission. And it makes even more sense that the video and installation piece sits in a rather inconspicuous, but highly visible spot, in the terminal of the George Bush Intercontinental Airport. Higher Ground, is heavily indebted to George Mélies landmark A Trip to the Moon, a landmark silent film whose DIY aesthetic (a 1920's DIY aesthetic anyways) and sense of wonder and energy, were groundbreaking. Hillerbrand+Magsman's familial (and 21st century) redux follows a family as they build a spaceship in their backyard from materials around the home, before embarking on a trip to the moon. As the duo themselves have said, "this commission is a big deal." It's one of two of the first video art works the Houston Airport System has ever commissioned. In that case it's a good thing it's so awesome.
IMAGE: Hillerbrand+Magsamen, Higher Ground, video still, HD video, 2015. A commission for the Houston Airport System, City of Houston Civic Art Program.
---
CounterCurrent 2015
HOUSTON-The University of Houston Cynthia Woods Mitchell Center for the Arts presents the second iteration of CounterCurrent, April 14 – 19, headquartered at FlexSpace. Expect audio and visual installations plus live performances and events by international and local artists at unexpected sites throughout Houston. The line up includes Dean Moss in johnbrown, Lili Taylor in Bodycast, Janet Biggs in If Ever I would Leave you, Autumn Knight and Sophia Cordova in I Perceive Myself and Lose the Other, Mondo Bizarro + ArtSpot Productions in Cry You One, and much more.
IMAGE:  Cry You One.   Photo by Melissa Condona.
---
MFAH Japanese Art and Photography
HOUSTON- The Museum of Fine Arts Houston's For a New World to Come: Experiments in Japanese Art and Photography, 1968-1979, is a hard show to sum up in a few sentences. Yasufumi Nakamori, associate curator of photography for the MFAH, curated the show and has brought together an extensive selection of experimental photographs, video and more in a show that is breathtaking in scope. The 1960's and 70's marked a time of great social turmoil in Japan, just like they did everywhere, and young Japanese artists captured the rebellious spirit of the times through photography that was by turns conceptually groundbreaking and purely experimental. Walking through the show left us breathless. See it at the MFAH through July 12.
IMAGE:  Toshio Matsumoto, For the Damaged Right Eye, 1968, film still from triple 16mm (transferred to DVD), collection of the artist. © Toshio Matsumoto / Photo: PJMIA
---
Kneehigh's Tristan & Yseult
HOUSTON—The UK based troupe Kneehigh makes its Texas debut with Tristan & Yseult, mixing comedy, live music and physical theater, April 29- May 24 at the Alley Theatre at the University of Houston.  Adapted and directed by Emma Rice, and written Carl Grose and Anna Maria Murphy, Tristan & Yseult is bound to delight.
IMAGE:  Andrew Durand and Patrycja Kujawska in Kneehigh's Tristan & Yseult.  Photo by Steve Tanner.
---
Art City Austin
AUSTIN – Art City Austin is back for its 65th year April 25th and 26th. The annual, national juried art fair and marketplace typically draws about 20,000 people to downtown Austin for art, music and more during the weekend's festivities, but this year is different. This year the event turns its attention to the artists right here at home thanks to the Art Alliance's addition of the Austin Arts Pavilion. The Pavilion will be entirely composed of work by Austin artists and curated by some of the city's top arts experts including Troy Campa, Brian Willey and Thao Votang of Tiny Park Gallery, Rebecca Marino of Pump Project, Austin Nelsen of Co-Lab Projects and Rachel Stephens of Wally Workman.
IMAGE:  Rebecca Rothfus, Forced, 2015, Hand Cut Paper Collage. Courtesy the artist who is showing at Art City Austin.
---
Musiqa's Tonal Impact with NobleMotion Dance
HOUSTON—Musiqa and NobleMotion Dance team up again, for Tonal Impact, with original compositions by Pierre Jalbert and Marcus Maroney, along with a light and technology installation from Jonathan Kinsey and David J Deveau, April 24-25 at The Hobby Center.
---
Ruiz-Healy Art's More Than Words
SAN ANTONIO – Text-based art tends to conflate and disrupt two different, but enjoyable activities – looking and reading. What to do when you're forced to do both at the same time? Ruiz-Healy Art's More Than Words (on view through April 25) tackles the dilemma with a significant selection of text-based art from nine San Antonio and Latin American artists, who add an additional level of contemplation by using a combination of Spanish and English language in their work. Text in art is a matter of debate, some people love it, some despise it, but whichever side of that divide you stand on, we'd posit the art is impossible to ignore. A good example of an art of our time, perhaps?
IMAGE:  Chuck Ramirez, Queen – 2/10. 2004, 2015. Pigment Ink Print, 17 x 11.25″.
---
Dance Planet 19
DALLAS—On April 11-12, The Dance Council of North Texas presents Dance Planet 19 at Booker T. Washington HSPVA, with Broadway star and Dallas native LaQuet Sharnell Pringle. Dance Planet 19 includes 30 dance classes, two afternoon performances and a Q & A with Pringle, who will share her  career, which includes performances in The Lion King, Lysistrata Jones, Memphis, and Sweet Charity.
IMAGE:  LaQuet Sharnell Pringle. Photo courtesy of The Dance Council of North Texas.
---