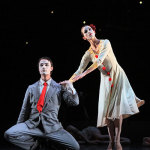 Houston Ballet's Jubilee of Dance
HOUSTON- Ballet fans love the smorgasbord of offerings Stanton Welch puts together for Houston Ballet's annual Jubilee of Dance, Dec. 5 at Wortham Center. This year ABT ballerina Julie Kent makes a special guest appearance in Welch's Clear, a role that he created for her in 2001 at ABT. On a more bittersweet note, we bid farewell to Kelly Myernick who is retiring after 14-years with the company. Myernick will dance the mother solo from Christopher Bruce's Hush.
IMAGE:  Kelly Myernick and Nicolas Leschke in Houston Ballet's production of Christopher Bruce's Hush. Photo by Amitava Sarkar.
---
Takashi Arai's Silverplated at Artpace
SAN ANTONIO – Japanese artist Takashi Arai takes a surprisingly lighthearted approach to exploring current and historical nuclear issues and the many connections between Japan and the United States in Silverplated, his installation at San Antonio's Artpace. The show may make you laugh, but it's also clear Arai is trying to make sense of the nuclear shadow cast over the world nearly 70 years ago.
IMAGE:  Takashi Arai, Silverplated Installation view. Photo by: Mark Menjivar.
---
Ho Ho Humbug  at Stark Naked Theatre
HOUSTON- We love a holiday play that we have never heard of, which is exactly what is going down at Stark Naked Theatre for the world premiere of Ho Ho Humbug, a joint production with playwright Scott Burkell, who plays a cynical New Yorker forced to sell his body as a Macy's Santa in order to pay the rent. Produced in association with Third Coast Creative, Ho Ho Humbug, is directed by Philip Lehl, and the cast includes Burkell, Susan Draper, Luis Galindo, Dayne Lathrop, Chelsea Stavis and Kim Tobin-Lehl.
IMAGE:  Stark Naked Theatre presents Ho Ho Humbug, Dec. 5-24 at Studio 101.  Photo by Gabriella Nissen.
---
Once at AT&T Performing Arts Center
DALLAS- We loved John Carney's endearing 2007 movie Once, set in Dublin staring a couple of  down on their luck musicians, played by Glen Hansard and Marketa Irglova, but will we love the musical?  Martin Lowe, the show's musical director and orchestrator, thinks we will. "The songs feel just a little bit bigger than they did in the movie," claims Lowe. "We've got 12 musicians onstage. Often, we have three or four guitars playing at any one time." Once stops in Dallas at AT&T Performing Arts Center on Dec. 17-28. If you miss it then, no worries, it travels to Lexus Broadway in Austin at Texas Performing Arts on Feb. 24 – March 1, and in Houston at Broadway at the Hobby, March 10-15.
IMAGE:  Stuart Ward and Dani de Waal from the ONCE  Tour Company. Photo by Joan Marcus.
---
Drive and more at Lawndale Art Center
HOUSTON – Not that it's a joke that needs to be made again, but we can't think of a more perfect city than Houston for an exhibition of art that takes the car and the freeway as its subjects. Drive, curated by Joshua Fischer and Katia Zavistovski is on view at Houston's Lawndale Art Center. The group show features work by over a dozen artists including the Art Guys, Jesse Morgan Barnett, Claudia Casbarian and more, and the tie that binds is the vehicle and how it directly, or, in some cases, much more indirectly, impacts culture, and, more specifically, the making of art. Love it or hate it, its influence cannot be denied. While you're at Lawndale be sure to check out work on view in adjacent galleries from Regan Golden-McNerney, Margaret Smithers-Crump and Mari Omori. All shows will be on view through Jan. 10.
IMAGE: Mike Osborne, Flooded Corolla, San Antonio, 2013. Archival inkjet print 48" x 38 ½".
---
Ballet San Antonio's The Nutcracker
SAN ANTONIO-I know, Nutcrackers are all over Texas, this one is special because it's the first Nutcracker for Ballet San Antonio in the  H-E-B Performance Hall at Tobin Center for the Performing Arts. Talk about moving up! Choreographed by Ballet SA artistic director Gabriel Zertuche, the production is also accompanied by the San Antonio Symphony. Also, it's been put together with all San Antonio talent, from the costumes to the dancing party kids. Performances run through Dec. 7.
IMAGE:   Photo by Alexander Devora.
---
William Campbell Contemporary Art Celebrates 40 Years
FORT WORTH – You may be able to argue with success, but your argument loses some steam when you try to fight 40 years worth of it. Bill and Pam Campbell have seen a lot of artists come and go in their 40 years running Fort Worth's William Campbell Contemporary Art, and while they're still surprised Fort Worth's art scene hasn't grown more in that time (that makes two of us), the slow maturity of the city's scene hasn't harmed them in the least. To commemorate 40 years supporting and nurturing the careers of artists in Texas and beyond, the Campbells are hosting a 40th anniversary celebration entitled "40 Years and Counting." The show will feature work by each one of the gallery's roster of artists, more than 40 artists and works in total, many of whom have been with the gallery since the beginning. While we could only hope for another 40 years, the Campbell's aren't anxious to retire anytime soon, meaning you can expect plenty more where the last 40 came from. "40 Years and Counting" will be on view through Dec. 31.
IMAGE: Ken Dixon, Da Vinci's Cloud (Study), 2014. Acrylic on engraved wood, 19×21 1/2 in. Courtesy William Campbell Contemporary Art.
---
Sundowner

at Circuit 12 Contemporary
DALLAS – We are probably a little too excited about Circuit 12's Sundowner, but we're suckers for anything with a serious conceptual twist. The show is hard to explain but to summarize the best we can, Sundowner is a collaboration between 11 artists exploring, and pushing back against the constraints of the traditional gallery exhibition, geography and the collaborative experience as a whole. Maybe most importantly? It is not a collective. By seeing where the process and participants will take this idea, the goal is to show audiences how the endeavors of artists and art practices catalyze a growth that is greater than the simple offering of a sum of parts. Still don't know what to expect? You'll have to see it for yourself. Sundowner is on view at Circuit 12 through Jan. 3.
IMAGE: Sundowner, The Hunt (Ur Maneuver), Single Channel Video.
---
Double Life at CAMH
HOUSTON – The idea that performance exceeds the boundaries of the theater space forms the heart of Double Life, on view at Contemporary Art Museum Houston starting Dec. 13. In the words of CAMH curator Dean Daderko, "There's so much going on now with performance in museums, yet sometimes there's a very simplistic understanding of what that is." In Double Life, CAMH attempts to change that. Double Life is on view at CAMH Dec. 13 through March 15.
IMAGE: Haegue Yang, Mountains of Encounter, 2008. Courtesy Galerie Wien Lukatsch, Berlin and Greene Naftali, New York. Installation view from Wessen Geschichte [Whose (his)story], Kunstverein in Hamburg, Germany, 2008. Photo by Fred Dott.
---
A Civil War Christmas at Theatre 3
DALLAS- Theatre 3 presents Paula Vogel's A Civil War Christmas: An American Musical Celebration, a holiday gem that weaves together carols and folk songs, and what happened to Abraham Lincoln and his friends one chilly Christmas Eve in 1864, through Dec. 14. Based on historical fact, this Christmas pageant will sneak up on you with its authenticity and charm.
IMAGE: Oynetta Caston & Brandi Andrade in Theatre 3's production of A Civil War Christmas. Photo by Jeffrey Schmidt.