#10: A Sleeping Beauty at Houston Ballet
HOUSTON—Houston Ballet celebrates Ben Stevenson's 80th year with nine performances of his lavish ballet, The Sleeping Beauty, Feb. 25-March 6, and this big hit of 19th century czarist ballet contains some of the most coveted roles in all of the classical canon. We can't wait to see who will dance Princess Aurora.
IMAGE ABOVE: Amy Fote in the Houston Ballet production of Ben Stevenson's The Sleeping Beauty. Photo by Amitava Sarkar.
---
#9: Ann Veronica Janssens at the Nasher Sculpture Center
DALLAS—Architecture and light are the two driving forces in Belgian-based artist Ann Veronica Janssens' practice. Janssens is first and foremost a sculptor, but a sculptor deeply engaged in rethinking the role of sculpture itself: dematerializing the sculptural object at the same time as she materializes it in entirely new ways. See her arresting work at the Nasher Sculpture Center through April 17.
Ann Veronica Janssens, Blue, Red, and Yellow, 2001 (installation view), Steel, wood, polycarbonate, red, blue and yellow films, fog machine, approx. 137 ¾ x 354 3/8 x 177 1/8 in. (350 x 900 x 450 cm). Photo: Philippe De Gobert, courtesy WIELS, Brussels. © Ann Veronica Janssens
---
#8: Alley and DTC team up for All the Way
HOUSTON/DALLAS—For the first time Houston's Alley Theatre and Dallas Theater Center team up for a production of Robert Schenkkan's All the Way, which chronicles LBJ's turbulent first year in the oval office, at the Alley though Feb. 21 and the Dallas Theater Center, March 3-27.
IMAGE: Shawn Hamilton as Rev. Dr. Martin Luther King Jr. and Brandon Potter as President Lyndon Baines Johnson in the Alley Theatre's All the Way. Photo by Karen Almond.
---
#7: Come As You Are at the Blanton
AUSTIN—In many ways, isolating the art of the 1990s is an exercise in futility. But Come As You Are, an exhibition arriving at the Blanton Museum of Art in Austin Feb. 21-May 15, is the first major museum exhibition to cordon off the work on the cusp of the collapse of history's linear strictures to explore themes that arose at the turn of the millennium.
The exhibition, which originated at the Montclair Art Museum in New Jersey, features an array of artists both prominent and less so, focusing on three key ideas: "the so-called 'identity politics' debates; the digital revolution; and globalization."
IMAGE: Prema Murthy (born 1969, USA), Bindi Girl, 1999 Web Site. Courtesy of the artist.
---
#6: Three New Works at Dallas Black Dance Theatre
DALLAS—Dallas Black Dance Theatre offers a a bold Cultural Awareness Program, featuring fresh energy and three world premieres choreographed by Bridget L. Moore, Kirven Douthit-Boyd, and Jamal Story, Feb. 19-21 at AT&T Performing Arts Center's Wyly Theatre.
Kayah Franklin and Sean J. Smith in The Parts They Left Out by Jamal Story. Photograph by Brian Guilliaux.
---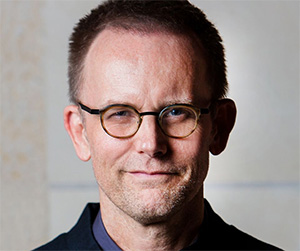 #5: World Premiere at Conspirare
AUSTIN— Craig Hella Johnson, founder and artistic director of Austin's Grammy Award-winning ensemble, Conspirare, pays tribute to the legacy of Matthew Shepard in his new vocal work Considering Matthew Shepard, on Feb. 16, 2016.
IMAGE: Craig Hella Johnson. Photo courtesy of Conspirare.
---
#4: Oscar Berglund Somewhere in Between at Cydonia
DALLAS—Continuing in the theme of introducing Dallas audiences to international artists, Cydonia presents the work of Mexico City-based artist Oscar Berglund in Somewhere in Between, on view through March 19. Work on canvas, photography, and video in a customized installation will serve as the visual illustration of Berglund's thoughtful consideration of history and the elements' effect on objects and what we can gain from its contemplation. By simulating and creating new histories in his canvases and installations, Berglund encourages viewers to consider the contrast between life and decay by imagining its synthesis.
Oscar Berglund, Untitled, 2015, 7.9 x 7.9 inches, C-print. Image courtesy of artist and CYDONIA.
---
#3: Mirrors for Princes at the Blaffer Art Museum
HOUSTON— Since 2006, the research-driven arts collective Slavs and Tatars has gained a reputation for its cycles of art-making, combining high and low, new and old cultural material. The collective bases its practice on three activities:  exhibitions, books, and lecture-performances,  and their intellectual pursuits are made enticingly tangible in Mirrors for Princes, an exhibition that takes its title from a genre of ancient advice literature of Christian and Muslim lands during the Middle Ages on view at the Blaffer Art Museum through March 19.
IMAGE: Installation view of Slavs and Tatars: Mirrors for Princes at Blaffer Art Museum.
---
#2: Dallas Bach Society
DALLAS— Dallas Bach Society presents Le Mozart Noir: the Untold Story on Feb. 26 & 27 at Booker T Washington High School. Dallas Bach collaborates with choreographer Valerie Shelton Tabor and Contemporary Ballet Dallas and others for this rare event.
IMAGE: Dancers Terrance Johnson, Addison Holmes, and Felicia McPhee as part of Dallas Bach Society's Le Mozart Noir: the Untold Story. Photo by Ken Smith.
---
#1: JooYoung Choi's Paracosmic Alchemy at Anya Tish
HOUSTON— This month marks the first "official" solo exhibition for JooYoung Choi at Anya Tish Gallery. From Feb. 12-March 12 enter Choi's "Cosmic Womb," her name for the "highly structured, parallel land" she details in her work. Choi has described her work as a way to explore her personal experiences with immigration, adoption, and the universal search for self-identification. Paracosmic Alchemy will include a selection of Choi's self-referential narrative paintings and videos which synthesize influences from both Western and Eastern children's shows in an intoxicating array of fully-formed characters and situations.
IMAGE: (Video Still): Watson and the COS Present—Begin Transmission to the Earth, 2015. Digital video collage still, Chroma-Vision animation with tradition hand drawn acetate animation, 27 handmade puppets, and found objects. Music composed by the artist. 2:00 minutes, looped.