IMAGE:  Connor Walsh and Karina Gonzalez in the Houston Ballet production of Stanton Welch's Romeo and Juliet. Photo by Amitava Sarkar.
---
Houston Ballet's Romeo and Juliet
HOUSTON- Houston Ballet gets its first new production of Romeo and Juliet in 28 years with Stanton Welch's new version of the classic ballet, Feb. 26- March 6. "Romeo and Juliet is something I've really wanted to do for a while," says Welch, Houston Ballet's artistic director. "I wanted to retell the story closer to the actual Shakespeare play, and it's a great ballet if people haven't seen ballet before because it's exciting, with the sword fighting and the drama and the action. It's all acting based. It's like a play without words. The acting, first and foremost, drives the choreography."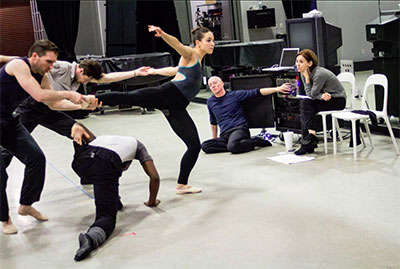 Ballet Austin's Belle Redux / A Tale of Beauty & The Beast
AUSTIN- Ballet Austin artistic director Stephen Mills approaches the story of Beauty and the Beast from a metaphorical perspective. So don't expect a shaggy-haired beast; rather, according to Claire Spera, who penned this month's feature on the ballet, Belle Redux / A Tale of Beauty & The Beast, Feb. 13- 15. "The Beast is a human being marked by an otherness that has made him a societal outcast, the circumstances of which are revealed in the prologue to the ballet." Mills urges us to consider what we all have in common with the Beast. "Even Belle has animalistic qualities. We all do. We are, when it comes down to it, all animals," says Mills. "We're not trying to tell a fairytale; We're not trying to tell a children's story; We're not trying to tell a Disney story. This is more an adult story. It doesn't mean children shouldn't come, it just means we're approaching it in a different way."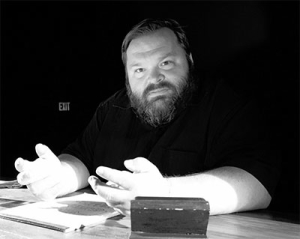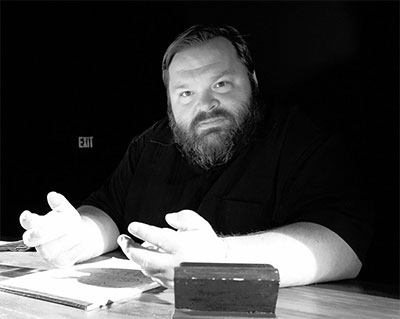 Mike Daisey at AT&T Performing Arts Center Off Broadway On Flora Series
Next up at AT&T Performing Arts Center's Off Broadway On Flora Series is the amazing monologist Mike Daisey: The Great Tragedies, Feb. 26-28. He's most known for How Theater Failed America to Dreaming of Rob Ford, Fucking Fucking Fucking Ayn Rand and The Agony and the Ecstasy of Steve Jobs. The Great Tragedies focuses on Romeo and Juliet, Hamlet, MacBeth and Lear. "I definitely think of the four, Hamlet is the most self-referential and self-aware to the point that much of the plot revolves around Hamlet's stasis, where he's unable to take action, where he's only able to neurotically spin and analyze the situation which he finds himself enmeshed," says Daisey. "The Scottish play is middle-aged ambition, the decay of autumn and the water of the swamps from which the witches rise and the blood that marks so much of that play."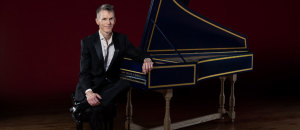 Houston Early Music Festival
HOUSTON- With Ars Lyrica, Mercury, Houston Early Music and the Bach Society all located in the Bayou City, it's no secret that Houston is an early music hub. The Houston Early Music Festival kicks off on Feb. 12 with the Piping Rock Singers in an evening of fun, food and music. Next up is Mercury in Handel's Water Music on Feb. 13, followed by Ars Lyrica's Love Letters on Feb. 14. "Love Letters includes some of my favorite vocal music of all time: Monteverdi's chamber duets, which are by turns sensual, bawdy, and over-the-top in their emotional display," says Matthew Dirst, Ars Lyrica's artistic director. "We're pairing Monteverdi with a couple of big 'display' pieces—solo cantatas by Vivaldi and Domenico Scarlatti for countertenor John Holiday and mezzo Ellie Jarrett Shattles, respectively—and some early Italian sonatas that should rock the house." Ciaramella, presented by Houston Early Music, and the Bach Society with music by Bach, Vivaldi, Geminiani, and Handel, on Feb. 15, close the festival.
SOLI Chamber Ensemble in DANCE: Metamorphosis
SAN ANTONIO- SOLI Chamber Ensemble is in collaboration mode with their next show DANCE: Metamorphosis on Feb. 16  at Tobin Center for the Performing Arts, Carlos Alvarez Studio and Feb. 17, at Ruth Taylor Recital Hall, Trinity University. The program will be part of San Antonio Symphony's City-Wide Strauss Festival. "SOLI once again joins collaborative forces with Ballet San Antonio to create a transformative evening of dance and music with DANCE metamorphosis," says Ertan Torgul, Violinist, Artistic/Managing Director SOLI Chamber Ensemble. SOLI will  premiere a new realization of the Strauss classic   Metamorphosen, with choreography by Ballet San Antonio's Artistic Director, Gabriel Zertuche.  Works by Phillip Glass, Alexandra Gardner, John Kameel Farah round out the program.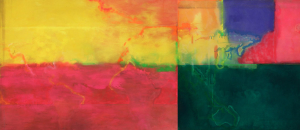 Frank Bowling: Map Paintings at the Dallas Museum of Art
DALLAS- Frank Bowling is one of those artists who, when you encounter their work for the first time, are incredulous you've never encountered it before. According to Dallas Museum of Art's Hoffman Family Senior Curator of Contemporary Art Gavin Delahunty, Bowling is a seminal artist who belongs squarely in the "whole trajectory of post-war painting from the late 1940's till now." Delahunty drove the recent acquisition of Bowling's Marcia H Travels by the DMA last year, and this February the museum mounts an exhibition of the new work alongside four additional works on loan from private collections, that together compose the entirety of Bowling's "Map Paintings."
Suplex's Public Communication: Performing Knowledge of the Body at BLUEOrange Gallery
HOUSTON- Houston collaborative Suplex's current show, Public Communication: Performing Knowledge of the Body on view at Houston's BLUEOrange Gallery through Feb. 27, brings together seven artists whose practices are as diverse as their backgrounds, to present works that explore the issues and boundaries of the body and endeavor to move outside of its confines. Curated by Max Fields, one of Suplex's founders, and artist Joe Orangias, the show also explores the use of the body as an object of performance: All the pieces in the exhibition are the products of performative acts, metonymic remainders of the intimate acts performed by the artists in the past, presented here in the form of videos and photographs.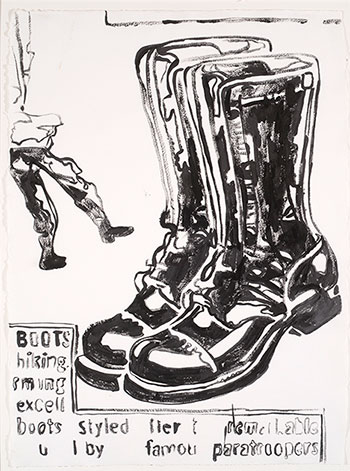 The McNay Turns 60
SAN ANTONIO- Last year San Antonio's McNay Art Museum turned 60. People are in the art world are sentimental and a love of milestones tends to work in the favor of museums who often have limited acquisition funds. Things being as they are 60 turned out to be a great birthday for the McNay with a number of promised gifts and donations coming together to greatly strengthen the McNay's collection. To honor their donors and celebrate the newest additions, this month the McNay opens Rodin to Warhol: 60th Anniversary Gifts and Recent Acquisitions on Feb. 18. Except everything from, obviously, Rodin to Warhol with special attention paid to the piece's significance not only to art history, but also to the McNay itself.
Dining and Discourse at Houston Center for Contemporary Craft
HOUSTON- There's no denying the zeitgeist; the aesthetics of dining matter. As food becomes an increasingly central part of all aspects of popular culture, its position in the world of art becomes increasingly hard to contest. Houston Center for Contemporary Craft (HCCC) curatorial fellow Kathryn Hall clearly agrees and has made the art of dining the thesis of Dining and Discourse: A Discussion in Three Courses, a show on view at HCCC Feb. 6 through May 10. For Hall, the show is an opportunity to "move beyond the presentation of the beautifully-set dinner table to spark discussion about the past, present and future of craft." Yum.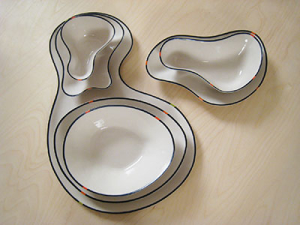 PrintAustin Takes Over
AUSTIN- In keeping with its unmatched civic pride, this month Austin is celebrating its reputation as a printmaking center with a celebration of all things print. PrintAustin, now in its 3rd year, is the brainchild of Elvia Perrin and Cathy Savage and every mid-January through mid-February most everyone in Austin gets in on the party.  Canopy and in particular Big Medium may be the epicenter of the festivities, playing host to both The Contemporary Print, a juried show of prints (through Feb. 21 at the Gallery at Canopy) and the PrintExpo (Feb. 7), but print-centric shows and events are happening all over the city, from the Harry Ransom Center to Wally Workman to Gallery Shoal Creek. Check PrintAustin.org for a full calendar of events.