Jack Goldstein, Untitled (#61 Burning City), 1981. Acrylic on canvas. 84 × 132 inches. The Broad Art Foundation. © The Estate of Jack Goldstein.
---
1) Disappearing California at The Modern
FORT WORTH–Disappearing—California, c. 1970 at the Modern Art Museum of Fort Worth, curated by Philipp Kaiser, showcases the works of Bas Jan Ader, Chris Burden, and Jack Goldstein – three artists who seemingly shared a desire to disappear. "The exhibition represents a micro history of Southern California art…" Kaiser stated. "The show also has to be seen as a case study of early California conceptualism and how it evolved in and around Los Angeles within a rather tight but powerful network." On view through Aug. 11.
2) The Merry Widow and Marie at Houston Ballet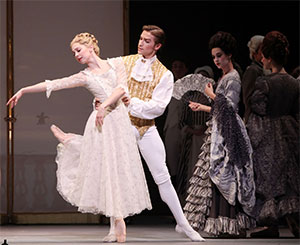 HOUSTON-Houston Ballet closes its 49th season with two favorite story ballets:  The Merry Widow, Ronald Hynd's lavish tale of the wealthy widow Hanna Glawari, through June 9, and Marie, Stanton Welch's riveting portrait of Marie Antoinette, June 14-23. Both at Wortham Center.
Melody Mennite and Ian Casady with artists of Houston Ballet in Stanton Welch's Marie. Photo Amitava Sarkar.
3) Jennifer Datchuk at Women & Their Work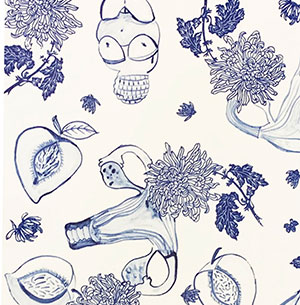 AUSTIN-The San Antonio-based artist Jennifer Datchuk brings her fragile yet powerful ceramic-based works to Women & Their Work in a show titled Truth Before Flowers. Datchuk delves into issues of identity and beauty with disarming humor and resonant beauty. On view June 15 through July 25.
Jennifer Datchuk, How I Came to My Table (detail), Jingdezhen porcelain table and stools, blue and white pattern transfers from Jingdezhen, China, cobalt decoration, 2018.
4) Victoria Bach Festival
VICTORIA-Summer is for artful travel, so if you love Bach head to Victoria, Texas. The 44th annual Victoria Bach Festival runs June 1-8, launching with the Del Sol String Quartet at the Presidio on June 1 and closing with Towering Beethoven on June 8.
Victoria Bach Festival Artistic Director and Conductor Alejandro Hernandez-Valdez. Photo courtesy of the artist.
5) Dior at the DMA
DALLAS-Before the word "Dior" became synonymous with haute couture, before the House of Dior became the global fashion giant and icon of style, Christian Dior, the pioneering designer, ran art galleries and organized exhibitions that featured artists such as Picasso, Matisse, Alexander Calder, Jean Cocteau, Dalí and Duchamp. Dior understood and lived art. Now the remarkable new exhibition at the Dallas Museum of Art, Dior: From Paris to the World (through Sept. 1), showcases the artistic design woven into the fabric of Dior's individual creations as well as the great fashion house Dior built.
Look 19. Christian Dior by Maria Grazia Chiuri. Haute Couture Spring-Summer 2018. Courtesy of Dior.
6)  Classical Music Institute Summer Concert Series
SAN ANTONIO-The Classical Music Institute presents the 2019 summer concert series, which will feature the faculty in ensemble and chamber orchestra performing works by J.S. Bach, Amy Beach, Fanny Mendelssohn, Louise Farrenc, Dora Pejacevic, and others, June 14 at University of the Incarnate Word.
Andrea Mutt performs on June 7-8 at the Carlos Álvarez Studio Theater at The Tobin Center for the Performing Arts. Photo courtesy of the artist.
7) Marilyn Waligore at Ro2 Gallery
DALLAS-Ro2 Gallery features the works of Marilyn Waligore, who uses mass-produced consumer packaging to create temporary sculptures and photographs that investigate the human impact on the environment, in a show titled Post-Convenience. On view through June 29.
Marilyn Waligore, Aluminum RWB #5, 2019, 40 x 32 inches, archival pigment print.
8) Bruce Wood Dance
DALLAS-Bruce Wood Dance's season-opening June shows Embrace: An Astounding Evening of Dance (June 14-15) strikes that balance between new and old, outside and in-house. The program includes the Dallas premiere of Wood's mysterious Dark Matter from 2004; a re-staging of Bollinger's lyrical choreographic debut Carved in Stone, possibly the best Dallas-made dance work of 2016; and the premiere of Forbidden Paths,  a commissioned work from rising choreographer Garrett Smith.
Bruce Wood Dance in Joy Bollinger's Carved in Stone. Photo by Sharen Bradford.
9) Texas Music Festival
HOUSTON-The Immanuel and Helen Olshan Texas Music Festival's 30th Anniversary Season runs through June 29 at the University of Houston. TMF alumni have established careers in the concert, symphony, and chamber music arenas all over the world, as well as in music education and arts administration.
Director Alan Austin will highlight the accomplishments of past TMF fellows. "I wanted all of our soloists to be former students who have gone out into the world and done something extraordinary," says Austin. "What better way to showcase what we have built here?"
Kenny Broberg performs at the Texas Music Festival's 30th Anniversary Season Opener on June 7 at Cynthia Woods Mitchell Pavilion, and June 8 at Moores School of Music, University of Houston. Photo courtesy of the artist.
10) Jason Salavon at Inman Gallery
HOUSTON—Inman Gallery presents Jason Salavon's Little Infinities (through June 29), in his sixth exhibition, with works that are created using algorithms and massive data sets. Salavon's unconventional means result in works that create a meta-portrait of our media saturated world in ways heretofore unimagined. Salavon will be in conversation with Computer Scientist Aaron Hertzmann on June 8 at 1pm at the Rice University's Moody Center for the Arts.
Jason Salavon, Little Infinity(ImageNet), wallpaper mural.