James Surls, Seeing From The Little Roots, 2019, sugar – lift etching on Lhotka jute paper chine – colléd onto Magnani Pescia paper. Printed at Burning Bones Press, Houston, Texas, 25 x 19 inches. Courtesy the artist. Photo by Rick Wells Photography.
---
1) PrintHouston
HOUSTON-Highlights of PrintHouston 2019 includes James Surls at the Glassell opening May 10, a national exhibition juried by McNay Museum Curator of Prints and Drawings Lyle Williams at Sabine Street Studios at the Sawyer Yards, a collaboration with Mystic Lyon, an installation space in Houston's Fifth Ward, a collaboration with La Estampa, a print organization from Medellín, Colombia at Cindy Lisica Gallery, and more.
2) Dallas Black Dance Theatre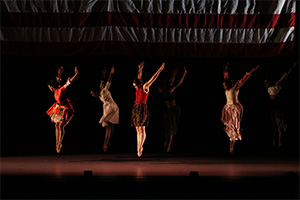 DALLAS-Dallas Black Dance Theatre closes its season with a Spring Celebration on May 17-19 at the Wyly Theatre, the company's home venue. It includes a guest appearance by Manhattan's Ballet Hispánico in choreographer Annabelle Lopez Ochoa's Sombrerísimo, inspired by the paintings of surrealist René Magritte and the role of hats in different cultures. The program also features the premiere of new works by company member Claude Alexander III and Darrell Grand Moultrie, a Juilliard graduate, Broadway dancer and Princess Grace Fellowship winner who has a diverse background choreographing ballet, modern dance, theater and commercial projects.
Dallas Black Dance Theatre in Odetta by choreographer Matthew Rushing, Alvin Ailey American Dance Theater Rehearsal Director and Guest Artist. Photo by Amitava Sarkar.
3) Copies, Fakes and Reproductions at the Blanton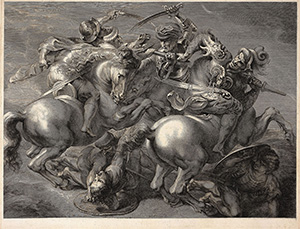 AUSTIN-The Blanton Museum presents Copies, Fakes, and Reproductions: Printmaking in the Renaissance, which focuses on the early days of printmaking, an art form based on multiples and widespread access to images, and also coincided with early notions of authorship and copyright. The exhibit features images designed by Dürer, Michelangelo and Raphael, which were copied by printmakers of the day. On view through June 16.
Gérard Edelinck,The Battle of Anghiari, after Peter Paul Rubens, after Leonardo da Vinci, circa 1657-1666, engraving, 19 1/16 x 24 3/4 in., Blanton Museum of Art, The University of Texas at Austin,The Leo Steinberg Collection, 2002
4) Command Performance at TITAS
DALLAS-TITAS Presents concludes its season with the ever popular Command Performance, with performances by Tiler Peck/Joaquin De Luz (New York City Ballet), Adji Cissoko (Alonzo King/LINES Ballet), Shuaib Elhassan (Alonzo King/LINES Ballet), DJ Smart, Tiffany De Alba (Cirque du Soleil), Kana Kimura (Formerly Jessica Lang Dance), Clifton Brown (Alvin Ailey American Dance Theater), MOMIX and Pilobolus, June 1 at Winspear Opera House.
Clifford Williams and Yuan Yuan Tan in Ave Maria, Command Performance 2015. Photo by Sharen Bradford.
5) Magdalena Jarkowiec at Dimension
AUSTIN Magdalena Jarkowiec's otherworldly figures take center stage in Unusual Kinships, a solo exhibition at Austin's Dimension Gallery through May 19. The exhibition will feature humanoid sculptural forms with a myriad of fabrics used as skin. There is also a small room evocative of a dollhouse that will contain an ancient cot, a metal reindeer frame with a soft sculpture inhabitant, clothing items, such as matching green wool panties and tank top, plus more.
Magdalena Jarkowiec, Tree Legs, fabric, polyester fill, thread
34″x27″x10″, Photo courtesy of the artist.
6) Real Women Have Curves at Dallas Theater Center
DALLAS-Dallas Theater Center presents Josefina López's Real Women Have Curves, a largely biographical play that follows high schooler Ana and a group of Chicanas working under oppressive conditions in her sister's East Los Angeles sewing factory. While Ana dreams of becoming a writer, her sister worries about keeping her business afloat amid the swirling threat of being deported by La Migra,  Chicano slang for ICE. Directed of Christie Vela, Real Women runs through May 19 at the Kalita Humphreys Theatre.
Gloria Benavides, Blanca Araceli, Jamie Rezanour, Vanessa DeSilvio, and Tatiana Gantt in the Dallas Theater Center production of Josefina López's Real Women have Curves. Photo by Jordan Fraker.
7) Between Play and Grief at MFAH
HOUSTON-The MFAH presents Between Play and Grief: Selections from the Latino American Collection, a distilled curation of works acquired by the museum over the past ten years that expresses the varied experiences of Latinx American artists, which coincided with Latino Art Now! conference. On view through Sept. 8.
César Augusto Martínez, Bato con Sunglasses, 1984/91. Acrylic on canvas. The Museum of Fine Arts, Houston. Museum purchase funded by Crowley, Marks & Douglas, and Pablo Alvarado in memory of Froilan and Juan Joaquín Aguirre.© César A. Martínez
8) Coppélia at Houston Ballet
HOUSTON-Houston Ballet presents Ben Stevenson's Coppélia, which follows the adventures of charismatic young lovers, Franz and Swanhilda, and the mysterious dollmaker Dr. Coppélius, May 17-26 at Wortham Center. Coppélia, the ultimate family-friendly ballet, is not only a great way to introduce people to ballet, but a chance to see Houston Ballet's young stars in the making.
Houston Ballet Principal Martha Butler as Swanilda and Dorlo Perez as Dr. Coppelius in Ben Stevenson's Coppélia. Photo by Ann Whaley (2001).
9) Artpace Residencies
SAN ANTONIO- The new round of exhibitions from the Artpace residences,  curated by New York-based guest curator Deborah Willis, includes Until Total Liberation, Sama Alshaibi (Tucson, AZ); thick by San Antonio-based Jennifer Ling Datchuk; and Like Gold Dust, Roshini Kempadoo (London, UK). Incorporating elements of printmaking, photography, sculpture, installation, video, and sound, the work will be on view through May 19.
Jennifer Ling Datchuk, Bleach Babe, 2019, Photograph, wall shelf, collected porcelain objects, skin bleach cream, Originally commissioned and produced by Artpace San Antonio. Photo by Seale Photography Studio.
10) Complexions at Society for the Performing Arts
HOUSTON-Society for the Performing Arts presents Complexions Contemporary Ballet, founded by Desmond Richardson and Dwight Rhoden, in a program that features two works by Rhoden: Bach 25 and Star Dust, A Ballet Tribute to David Bowie, June 1 at Jones Hall.
Complexions in Dwight Rhoden's Star Dust. Photo by Breeann Bir.