Installation View of Modern American Art Galleries.
Blanton Museum of Art University of Texas at Austin.
---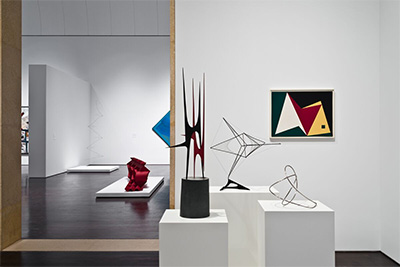 I've had a soft spot for the Blanton Museum of Art at the University of Texas at Austin since it was the Archer M. Huntington Art Gallery. That's where, as a sixteen-year-old participant in a summer enrichment program, I parked in front of Adolph Gottlieb's Cadmium Red Above Black (1959), a typically monumental yet unusually compressed example from the abstract expressionist's Bursts series, and had my first deeply personal encounter with a work of art.
Though I later concluded that Gottlieb was a good-not-great figure of the New York School, that Gottlieb, part of the distinguished Michener Collection of twentieth-century American paintings, has provided reliable comfort food during my Blanton visits over the years, even if it felt a bit crowded in its part of the museum's "America/Americas" gallery—an admirable attempt at complicating the standard modern art narrative that inadvertently played down two of the Blanton's core strengths instead of maximizing their impact.
Adding to the mixed impression, the Latin American-dominant contemporary galleries were anomalously outstanding—the handful of American museums with comparable Latin American holdings lacked permanent displays on that scale—but the Suida-Manning collection of European art left some visitors wondering aloud how lucky the Blanton was to have it. And while there was almost always a terrific temporary exhibition on view—often organized by the Blanton, often in collaboration with UT faculty—there was also that awkward pair of buildings and turbulence at the top in the several years following its 2006 unveiling. By 2011, when Simone Wicha, then the Blanton's deputy director for external affairs and operations, replaced the abruptly departing Ned Rifkin as director, practically every Houston-based UT alum I ran into at art openings would ask, "How do you solve a problem like the Blanton?"
Fast forward a little less than six years, and it's clear the answer was: "By hiring Simone Wicha." Every new announcement, from major gifts to key hires, seems to signal not just stability but movement in the right direction. And if the Museum of Fine Arts, Houston's recent Degas retrospective marked the culmination of Gary Tinterow's first five years as director, the Blanton's newly reopened, reimagined permanent collection galleries do the same for Wicha's, whose ascension came with nothing like the fanfare that greeted her Houston counterpart. Unveiling a coherent reinstallation that's easy to navigate, plays to the museum's strengths, and somehow feels more spacious, while nearly doubling the number of objects on view, the Blanton has made a vertical leap from a place where things don't quite come together to the great university art museum UT deserves.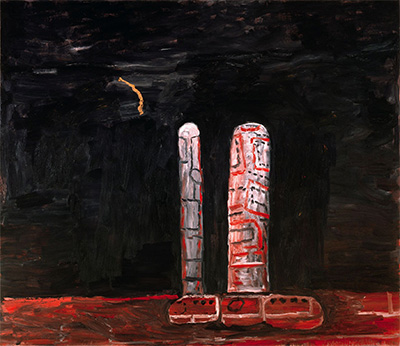 The European galleries, once arranged chronologically in ways that exposed gaps in the Suida-Manning collection, have been transformed by their reorganization into thematic displays emphasizing its eclectic concentrations, from religious Renaissance art to late sixteenth and seventeenth-century paintings on copper—a particularly delicious grouping—to British portraiture of the 1600s and 1700s. The Blanton has also brought out such rarely seen treasures as a regal Italian late fifteenth-century velvet ecclesiastical cape, which sometime during the twentieth century was sewn together with an ornamental border from 1530 that seems to have been of Flemish origin. And paintings are hung salon-style, where appropriate, or in ways that reflect how they might have been displayed in churches. Shoring up what once looked like a weakness, the reinstallation has made it much easier to appreciate the Suida-Manning collection's distinctive charms and strengths.
In an equally major shift, the Blanton has unraveled the "America/Americas" approach once sharply criticized by MFAH Latin American art curator Mari Carmen Ramírez, who worked as the field's first U.S. curator at the Blanton from 1988 to 2000, as "undermining the specificity of Latin American art."
"Until this art is validated at the intellectual level, there is no point in talking about the 'delusion' of the specificity of the field," Ramírez told the New York Times Magazine in 2008. "It's not just one more expression of everything that happened in the United States or Europe. It has its own specificity."
That specificity—indeed, many specificities—play out in the Blanton's first dedicated Latin American galleries, which feature focused presentations of Mexican modernism between the 1920s and 1940s, geometric abstraction and kinetic art, 1960s "Other Figuration" in Argentina, conceptual practice, and politically engaged art. Helping to flesh out these narratives are works from the collection of Judy and Charles Tate, which was gifted to the Blanton last year.
The effect is exhilarating, and allowing Latin American to stand alone has also given the Blanton room to rethink how it deploys the Michener Collection and the rest of its U.S.-dominated modern and contemporary holdings. A terrific room of American moderns unites alumni of the 1913 Armory show with social realists, regionalists, and the marvelously uncategorizable Yasuo Kuniyoshi. Down for the Count (1936-37), Fletcher Martin's boxing allegory on race relations, anchors the gallery, underscoring the museum's strength in socially engaged art.
Abstraction is another key area; the Blanton has more than enough to rotate out "my" Gottlieb, which I only belatedly noticed didn't make the rehang. But with choice works by Norman Lewis, Agnes Martin, and Mary Corse—a rare example of a California Light and Space artist who mostly stuck with painting, adding glass microspheres to white acrylic paint so she could "put" light into her work instead of depicting it—I can't complain. I can see a Gottlieb Burst at many museums; I can only see two Lee Lozano paintings side by side at the Blanton.
That's what we're getting with this reimagining of the permanent collection, which also includes new galleries for Spanish Colonial and Native American art as well as rooms for rotating presentations of video, works on paper and international contemporary art—a museum that now puts its best feet forward and offers one "only at the Blanton" moment after another.
—DEVON BRITT-DARBY