Artists of Houston Ballet in Mark Morris' The Letter V. Photo by Amitava Sarkar.
---
Houston Ballet touched on all the elements in their final mixed repertory of the season, with Stanton Welch's Zodiac explaining the heavens, Jiří Kylián's Svadebka bringing us down to earth for an austere wedding, in a barn no less, and finally, Mark Morris' all air delicacy in The Letter V.   The fire could be found in the dancing, which was full of punch, power and nuance throughout. The balance was in the different approach by each choreographer. And, what a joy to see the departing principal, Simon Ball, shine in all three ballets.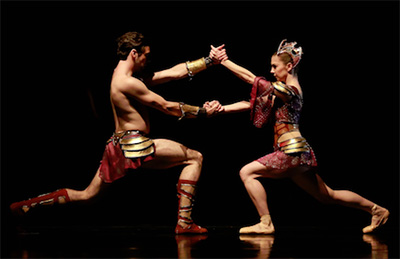 Set to a commissioned score by Australian composer Ross Edwards, Zodiac is one of the more subtle works in the Welch canon. Usually known for his dense ensemble work, Welch uses duets, small groups and one solo to bring the signs of the zodiac to life. Each of the 12 sections had its own power and resonance with the personality traits of the signs. Most memorable were Aaron Robison's spinning furry in "Aries," Ball and Jessica Collado's understated elegance in "Capricorn," and Connor Walsh and Melody Mennite's electricity in "Scorpio." My 2015 Dance Magazine "25 to watch" pick, Madeline Skelly, also proved highly watchable in her tender duet with Brian Waldrep in "Taurus." Eduardo Sicangco's marvelous costumes were rich with vivid detail and well-crafted character. Sicangco's intergalactic super heroes donned sexy, but scant, outfits that cleverly included body paint that accentuated the fantastical aspects of Welch's ballet. If only the light had been brighter for us to see them.
Svadebka might be one of Kylián's starker ballets, but it's really quite an extravaganza in terms of the stamina required for the dancers and the musicians. Collado exemplified the kind of angularity necessary to inhabit Kylián's bride, while Ian Casady projected a quiet innocence as the groom. In the pit, soloists Nicole Heaston, Carolyn Sproule, Robert McPherson and Liam Bonner added the vocal heft, with support from the always superb Houston Chamber Choir. Kudos to the four pianists and percussionists for their expert rendition of Igor Stravinsky's Les Noces.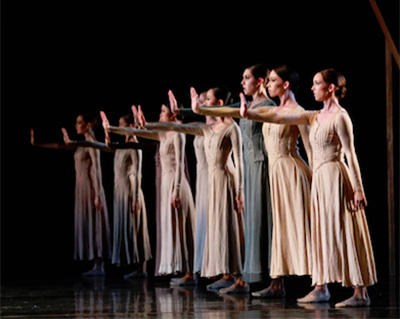 After all that depth, we were ready for some light, and Morris did not disappoint with his gorgeous ballet The Letter V.  Set to Joseph Haydn's Symphony No. 88 in G major, The Letter V delivers 16 dancers frolicking in a light green-tinted field, thanks to Nicole Pearce's inviting lighting. It's pure delight to see these dancers entrenched in Morris' more restrained style where they can practice dialing it down a bit with the effort, being more intuitively musical and paying attention the art of dancing with one another. It's simply glorious to watch.
The dancers—Ball, Kaleigh Courts, Derek Dunn, Elise Elliott, Rhodes Elliott, Yuriko Kajiya, Bridget Kuhns, Zacheng Liang, Allison Miller, Michael Ryan Aaron Sharratt, Alyssa Springer, Natalie Varnum, Walsh, Chae Eun Yang and Charles-Louis Yoshiyama—managed to master that quality of immediacy so important in any dance by Morris, while still having an individual presence. I found myself especially drawn to Yang's control of shape and flow. In a Morris ballet, you make your mark, but don't make a big deal over it. There's no overdoing, Yang nailed that. Maile Okamura's kelly-green stripped and gingham costumes also straddled that edge between casual and playful.
Morris peppers his ballet with small deviations from classical technique that galvanize our attention, a slight forward leaning torso, an in-between position of the port de bras and a rolling wave across the chest. The ballet is not without big moments that more often connect to a swell in the music, for example, when the women enter one after another lifted by the men and descend to the the ground on the wave of the music. It's choreographically straightforward, but visually stunning, formal without the fuss, exacting but unfancy.
Morris' cheeky crowd control is also fun. Dancers enter and leave right away as if to let us know that this field of splendor exists beyond the bounds of the stage. And it does, judging from the feeling of lightness Morris' ballet left in the air as the curtain closed. After a week of storms, Morris brings us the sun.
Reprinted with permission from Dance Source Houston's The Dance Dish.