Carlee Fernandez, The Strand That Holds Us Together, 2014 53 x 71 inches, archival pigment print, ed 3 + 2 AP's. Courtesy of the artist and Inman Gallery.
---
Carlee Fernandez at Inman Gallery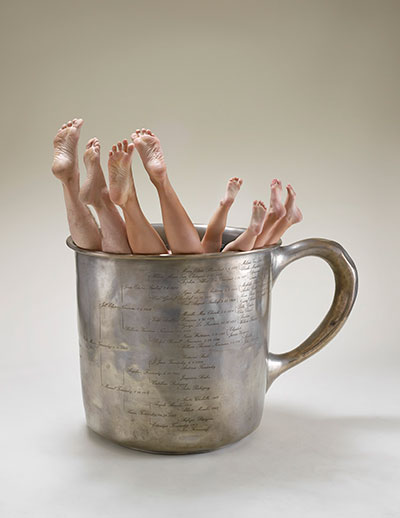 Complex and irreversible changes occur in the brain of new mothers.  Stimulated by increased hormonal levels, areas of the brain that control emotions like anxiety, love and empathy go into overdrive. Under such circumstances, a mother is biologically driven, unavoidably so, to make a child the center of her universe.
In Carlee Fernandez's exhibition Arranging Family, at Houston's Inman Gallery, every member of her nuclear family is put before the lens. In mediums as varied as cannily staged photographs to impeccably rendered sculptural works, Fernandez grapples with the familial trappings that represent the ties that bind. In Arranging Family, keepsakes like family portraits, christening gifts and birthday calendars are cleverly yet lovingly taken to task.
Take Family, Baptismal Cup (2014), an oversized replica of her husband's silver christening cup. No detail is spared here, from the unevenness of the surface to the engraved family tree along one side that charts her husband's lineage. However, Fernandez has updated this enlarged version to include her own family, engraved onto the opposite side. Hovering between her and her husband's names – sans connective lines – are the names of their two sons, placing primacy on the newest generation.
In The Possibilities (2014), Fernandez has taken photographs of family members' eyes and then printed them onto fabric. She then sewed scores and scores of them onto a white, short-sleeved dress in elaborate patterns; starbursts across the shoulder blades, cascading lines down the front and a loop of eyes set lei-shaped across the chest. It's a curious object, seemingly out of a science fiction movie, but in a vintage style reminiscent of an heirloom piece. The eyes themselves, with visible stitch work around the edges, are framed so that a tiny perimeter of skin is visible, eyelashes subtly shading the top and the surface wetness of the eye palpable. The effect is mesmerizing, and overwhelming to say the least. One stands quite literally eye-to-eye with Fernandez's gene pool.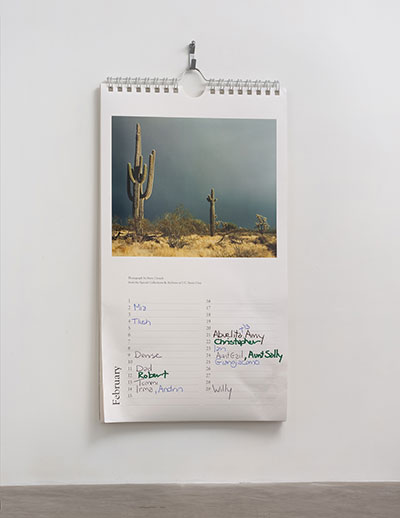 In fact, many of the pieces hint at a certain anxiety about losing a sense of self as the responsibilities towards one's children and the weight of one's lineage only increase with the years.  My Land, My Loves (2014) is a spiraled calendar marking the birth dates of family members and standing 8 feet tall. The month of January was visible for the opening, but every month has been meticulously produced. The photograph Let This Cup Pass From Us (2014) has the whole family piled into the baptismal cup – the same work displayed one gallery over – with only their legs visible, sprawled upright above the rim.
What all of these pieces effectively do is arrange the family from the purview of Fernandez herself, a subversive act considering that genealogy is not a field known for placing importance on female histories and perspectives. Prior to this body of work, Fernandez achieved considerable success with sculptures that used taxidermy and pelts to hybridize human and animal forms (a C-print from her 2004 series Bear Studies is hung in Inman's back viewing room). Such works recalibrate the taxonomies that define the evolutionary boundaries between man and beast, suggesting that distinctions between the two are not as clear as we may like them to be.
In this way, perhaps the current body of work is more closely aligned with its predecessors than first impressions may let on. Fernandez adopts her existing family tree and heirlooms to invent new systems of classification, and thus question traditional methods of preserving family history. These works process the immensity and the strangeness of motherhood into objects and narratives that feel incredibly honest about the nature of family, its burdens and its rewards.
—KELLY MONTANA
---
Carlee Fernandez: Arranging Family


Inman Gallery

Through Feb. 21