Image above courtesy of Big Medium.
---
Is this the last year to see Austin's wild studio tour in its raw and unruly form?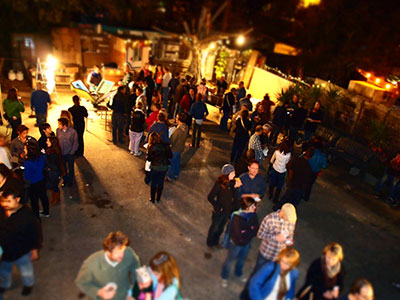 Big Medium's 13th East Austin Studio Tour takes over the east side of Austin November 15-16 and 22-23. EAST is arguably the biggest visual arts event on the Austin calendar. Its phenomenal growth over the last decade from a small collection of studios to over 400 participating makers has created an unparalleled platform for local artists and artisans, and has helped to fundamentally change the way the rest of the city views the underprivileged east side. The once insurmountable class barriers that ran the length of I-35 are now only ghosts of their former selves, and virtually non-existent for two weekends every November. (I'll put the pitfalls and benefits of gentrification aside for now.) The tour is widely celebrated and frequently lauded for its ability to bring new viewers to the visual arts in Austin.
"[EAST] is an intrinsically Austin geared event. It has a relaxed, inviting vibe, and it attracts people who don't necessarily attend art openings during the rest of the year. … It can be a bit overwhelming," GrayDUCK gallerist Jill Schroeder cautions. "Similar to SXSW you can chose to do your research and plan your route, or just wander around and discover new artists. It has become bigger and bigger every year, which is really a testament to its popularity."
Also like SXSW, EAST is starting to feel some growing pains, something Brian Willey co-founder and curator of Tiny Park is acutely aware of.
"EAST is a fun Austin tradition. Personally, I think there are some downsides to the tour's huge growth over the past couple of years. As with the music festivals, more is not always better," says Willey. "I think Shea and the folks at Big Medium are conscious of some of the challenges they face, so hopefully they can find ways to be inclusive and pay the bills while maintaining the tour's appeal to the public and benefit to the artists."
This year may be marking a transition in EAST that could change the shape of future tours. The unruly animal is in need of some grooming, and as Willey suggests, no one knows this better than executive director Shea Little.
"We've resisted any desire to dictate by our own tastes, because that defeats the purpose," he says. "We have a separate gallery for that (Big Medium) and the people who like our tastes go to those shows. Our goal with EAST is to show the full gradient of craftsmanship and art that's being produced on the east side. The problem now is that some of those we would consider as pillars in this community, the real heavy hitters have bowed out recently. So I'll be speaking with those artists to find out how we can bring them back into the fold."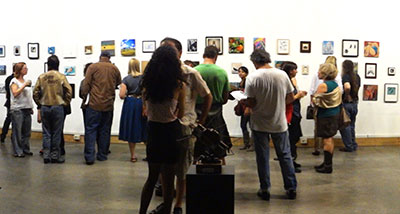 EAST has been extraordinarily inclusive from its inception. Any artist with space east of I-35 can open their studio and participate. Any of those willing to pay a fee ($150-$175 this year) are included in advertising, way-finding strategies, and the coveted EAST catalog. But that desire for inclusivity has created a looming paradox: In showing "the full gradient," one side of the gradient falls away in order to avoid a bland-by-association stigma (a very real concern in the arts). Contemporary artists who have spent years studying or practicing art that engages with current global movements are shown alongside hobby artists and Sunday painters. That's not a problem on the small scale, but when thousands of viewers are thrown into the mix it can become damaging to the contemporary artists' careers to be presented in the same context as another pastoral oil painting of bluebonnets.
Despite the unfortunately inherent downside associated with the wholehearted embrace of inclusivity, some, like PUMP Project gallery director Rebecca Marino, still recognize the advantages.
"EAST can be exhausting, incredibly difficult to sift through, and for artists [it may] hold very little immediate pay off," Marino offers, "But in the end, it still holds true to its initial intent— connecting the general public to the art scene—which is very important."
Whether from within or from without, change is on the horizon. Shea Little and Big Medium are certainly weighing all of their options, but there are also other players entering the mix. This year The Art Alliance Austin has organized curated tours of EAST, hand selecting well-respected art professionals to craft unique guided experiences.
"We know that a certain portion of the public is looking for a more curated experience. It's not for everyone; part of the magic of EAST is stumbling across new things, new spaces, and new artists," says Art Alliance Executive Director Asa Hursh. "It's great to uncover that on your own and we encourage people to still do that. This just offers some insights from these curators who are thinking about Austin art all the time. It offers their highlights, selections, and notes of interest. … It's about elevating Austin artists."
For those interested in the Art Alliance's tours, The Contemporary Austin Senior Curator, Heather Pesanti, Brian Willey of Tiny Park, and independent curator Troy Campa have each picked five of what they consider the most compelling stops.
These efforts, along with the suggested stops from publications like The Austin Chronicle, CultureMap, Glasstire, and many others are all building towards a more sophisticated EAST. We at Arts+Culture like our lists too, and in a further sign that EAST's internal curatorial freeze may be thawing, we are happy to present an exclusive, unprecedented disclosure from Director Shea Little of his top picks for 2014.
As curation and selection take on more of a role, inevitably some of the fun, rough-edged chaos of EAST may evaporate. Those teenage charms get old after a few years though, and it's time for the event to develop attractive qualities with more longevity and a bit more class. If you want the bragging rights, or if you simply value the unfettered exploratory experience of past tours, you shouldn't miss this year's wild, wild EAST. It may be the end of an era, but with any luck it may be the beginning of something much better.
– SETH ORION SCHWAIGER
---
Shea's Picks:
Adrian Aguilera #150
Elizabeth Chiles #108
Katelena Hernandez Cowles #281
Jules Buck Jones #211
Michael Sieben #238
Shea's Good Options for First Time Tour-goers:
Jennifer Balkan #44
Canopy #79-133
Jennifer Chenoweth, Fisterra Studio #277-282
EAST Group Exhibition #B
Ryan McKerley #234
Splinter Group #215-217