Sara Frantz, The Golden Waffle, gouache and graphite on paper, 24" x 32", 2014. Photo courtesy of Sara Frantz.
---
Sara Frantz's latest paintings explore the nature of architecture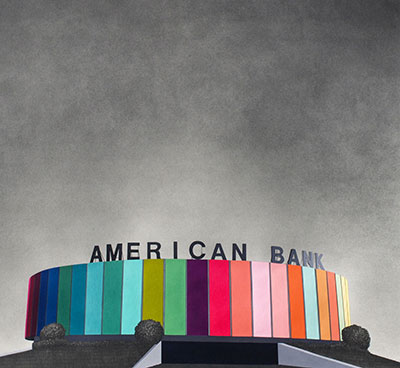 "Almost none of my pictures have people in them.  My older brother once remarked while scrolling through some images that they would all read vaguely like mistakes in subject matter if they weren't clearly so purposefully taken."
In Sara Frantz's newest work, on view at Austin's Women and Their Work through March 19, the artist focuses on the commonplace roadside architecture of fast food restaurants, banks, and gas stations removed from the strip, painted with a bright pop color palette and plopped down in her graphically-depicted, gray-scale landscapes. The artist, who is now based in San Luis Obispo, spent time in both San Antonio and Austin, making her familiar with the types of structures seen from the car along the I-35 corridor.
In her previous body of work, Frantz worked with negating the detailed elements of the buildings and creating a white void that she situated in a more natural landscape.
"I had been reading a lot of Robert Ryman at the time and thinking about my relationship to white and white spaces," she says. "I thought to myself, why does the voided architecture have to be the blank of the paper? How would this image, surface, concept change, if it was still a void, but a painted one in say, white gouache. So I did it, painted the man-made white rather than leaving it the white of the page. As I stared at this new potential next step in my work I thought, well, that was the lamest intervention ever. I was glad I did it, I needed to do it, and once it was done I could see how ineffective it turned out to be.  So I made a split decision that if I was going to paint these spaces I should really go for it. Juice the color up into something super saccharine. Create a real shift from the graphite, in a way like the voided spaces, but completely new, different and fresh. I loved it and haven't gone back."
Frantz's colorful new works elicit a bolder response; her minimalist tendencies fade away and the colorful structures act as a beacon. Her palette is inspired by a variety of sources including popular culture, pop art, nail polish, old-school advertising, fashion, and art history. And while these influences are clear, Frantz sites artist Paul Klee as an artist who has had perhaps the biggest impact on her work, calling him a "master of color" and admitting she often "looks to his painting for color inspiration."
Frantz's somewhat iconic roadside non-attractions, which may remind the viewer of road trips or their daily commute, act as monuments to a more individual style of architecture. While pitched roofs, geodesic domes, and circular buildings are still seen, big box strip malls and gas stations have more or less replaced the more symbolic architecture. Frantz, who has over 20,000 images to work from, travels and seeks out the banal structures that, in many ways, feel almost nostalgic now. She has spent time with the work of German artists Bernd and Hilla Becher. Their serial, straight-on black and white photography of grain towers, nuclear reactors, and water towers heavily touch upon the banal while eliciting emotion with a serial capturing of these utilitarian structures.
While much of the Becher's work is made in Europe, the American landscape is represented through Ed Ruscha's series Twentysix Gasoline Stations (1963) as well as the writing of Robert Venturi and Denise Smith Brown in Learning From Las Vegas. In this book, Venturi and Smith studied the architecture of the Las Vegas strip in terms of the architecture of communication.
"I think of architecture as inherently included in our modern ideas of landscape. It is so rare that you get to see nature without the intervention of the man made in one way or another and it is that intersection that I seek to exploit and draw attention to," Frantz says. "The reason I travel is to seek that new landscape and discover an exquisitely banal building… spot… landscape, that makes the back of my skull tingle."
These travels result in a plethora of documentation that Frantz combs through regularly. She says her paintings are "a conglomeration or a memory of a landscape," but in her drawings, the setting is basically as she found it.
While Frantz mentions she seeks out banality, I would argue her instincts lie more within the realm of sentimentality inherent in the study of an architecture that is rarely seen in the 21st century, and one that is far more interesting than the mundane structures we encounter daily. With her process, composition and color palette, she sets a scene that is part fantasy, part reality, and altogether thought-provoking.
—RACHEL ADAMS