Chalet Hollywood, 2013.
Photos by Joshua White.
---
Piero Golia's Chalet  at the Nasher Sculpture Center
According to Nasher Sculpture Center Assistant Curator Leigh Arnold, Los Angeles based artist Piero Golia hates the word "salon." Understandably; for many, the word conjures the mental image of a group of staid intellectual types (or, more accurately, wanna-be intellectual types) pontificating on the meaning of life, art and death over sherry and cigarettes. It doesn't scream "fun," and, as Dallas audiences are soon to see for themselves, Golia is all about fun.
This October, the Neapolitan artist who now calls Los Angeles home is bringing a project he launched in his adopted hometown to the Nasher Sculpture Center. Running through Feb. 7, Chalet Dallas will take over a small gallery in the museum in an effort to engage the Dallas arts community in an entirely new way, attempting to evolve our notion of a salon in the process.
Golia, for those unfamiliar with the name, creates art meant to challenge the status quo of the art world in a humorous way.  Most recently, he teamed up with a group of community college art students in New Orleans for the tongue-in-cheek "The Comedy of Craft," an 18-by-21 inch foam and rubber recreation of George Washington's nose, taken from a mold of the president's Mount Rushmore likeness. He showed the work at Propect.3 after using an earlier version in a performance at UCLA's Hammer Museum as a part of the museum's biennial Made in LA, 2014. He also co-founded the Los Angeles-based Mountain School of Arts, an alternative to the traditional MFA program.
Golia seems to fit Jerry Saltz's 2010 characterization of the "new sincerity" he saw emerging in the art of young, New York City based artists who were creating art fully aware that it "can be ironic and sincere at the same time," and Chalet perhaps marks the pinnacle of that aspect of Golia's practice.
Conceived as a one-off, temporary space, Chalet originally popped up at LACE, an artist-founded exhibition space in Los Angeles in 2013. Golia was given two storage rooms, which he, along with architect Edwin Chan transformed into a creative gathering space, complete with donated work from artist friends like Mark Grotjahn, Pierre Huyghe, Christopher Williams and Jeff Wall.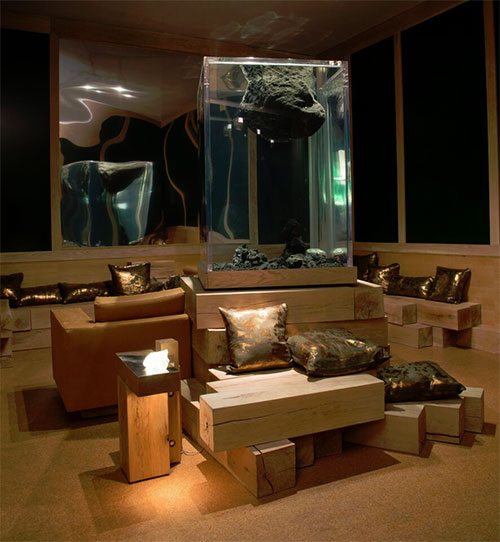 At Chalet Hollywood, the rich and famous sipped champagne while a revolving door of entertainers performed over the course of several months; marching bands, dancers, luaus, even a dominatrix made appearances.
"For Piero Chalet isn't really a physical space, it's an idea, an experience, a social structure," Arnold tells me, explaining its adaptability to various locations and environments, although it was admittedly not intended as a touring exhibition.
It's thanks to Nasher Sculpture Center director Jeremy Strick, who visited Chalet Hollywood several times over the course of its run, that Golia's social structure comes to Dallas this month, to explore a problem LA and Dallas have in common; how do you create a sense of community in a city which has so many both natural and self-imposed silos? As Arnold puts it, "How do you encourage different types of people, from different social circles, to mingle?"
Chalet Dallas will be both the same and different as the original Chalet. The same artwork will grace the space, with perhaps a few surprises, and Edwin Chan will again serve as the architect. Over the course of Chalet Dallas' tenure a number of scheduled "happenings" will take place, events that will hopefully inspire discourse but are guaranteed to at least entertain.
As of this writing the logistics of the "happenings" were still being ironed out. Arnold and Golia collaborated on the selection of ten "ambassadors" who represent the spectrum of the arts in Dallas, everyone from donors and artists to musicians, actors and dancers, who will assist Golia in not only the programming of the space, but also the creation of the guest lists for various nights (Arnold compared it to a house party since, due to space constraints, only about 30 people will be able to attend on any given night).
The transition of the concept from the generally unfrequented storage rooms of an exhibition space to a major museum of course comes with an entirely different set of challenges. What will happen in the space during the day, during regular museum hours? Since the concept of the show is very much centered on the nighttime, invitation-only "happenings," the Nasher is left with a rather inconvenient (almost) empty space during regular museum hours. Sure, there will be a few pieces of art in the gallery, and Arnold promises guided tours will be offered at various times, but it doesn't seem as though much thought was given to the general visitor experience when it comes to the "exhibition," it's intended audience very much the arts-insider as opposed to the museum's public.
Which raises, of course, the interesting and never-ending debate over the role of the museum, something the Nasher has perhaps inadvertently put itself in the middle of. To whom is the museum beholden? The Nasher, as all museums do, juggles numerous roles as classroom, encyclopedia and community space for both the public and the local arts community, and Chalet does touch upon at least one of those. But I wonder if Chalet, despite all of Golia's and the Nasher's best intentions, is misplaced inside the walls of a museum.
Arnold asserts Golia's emphasis on myth-making and narrative-building as one possible solution to the seemingly secondary consideration of the public in the presentation of Chalet Dallas. It's an inconvenient truth, but much of art history is based on that very idea. Fluxus and the Happenings in New York City in the 1960s drew miniscule crowds, fewer than ten people as often as not, but you'd be hard-pressed to find a student of contemporary art history who doesn't speak of the events with an almost religious fervor, something it seems Golia desires to emulate. In other words, it's less about the actual events than the myth that is built up around them, especially for the majority of people who will never set foot inside.
The spontaneity that came with the original is certainly lost as Chalet has gone from a surprise to a commodity, as apparently all art in the 21st century must. But at the very foundation of the show is an idea which has somehow remained secondary in both the reporting on the glamor of Chalet in Los Angeles and the pre-press of Chalet Dallas: as funding, interest and ticket sales for arts organizations of all kinds decrease, there is a need now, more than ever, for the various arts communities to unite in claiming their common ground, and with Chalet, Golia attempts to facilitate just that.
—JENNIFER SMART