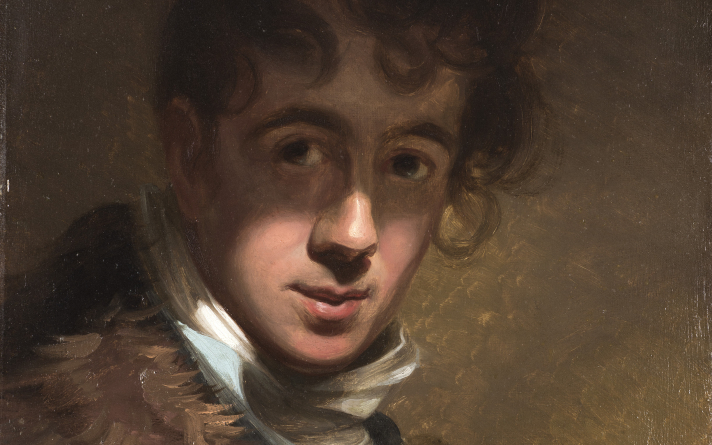 Thomas Sully: Painted Performance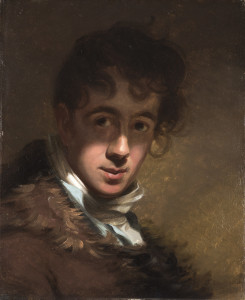 SAN ANTONIO—Well-represented in museum collections, the 19th-century Philadelphia portrait painter Thomas Sully (1783-1872) isn't exactly a forgotten figure in the field of American art. But he's far from a household name, although copies of his portrait of President Andrew Jackson circulate through virtually every U.S. household. (I'll bet you a crisp $20 bill you've seen it.)
So how does one make the leading successor to Gilbert Stuart's Federal portrait style relevant in the age of #selfies? Curators William Keyse Rudolph and Carol Eaton Soltis, the organizers of Thomas Sully: Painted Performance at the San Antonio Museum of Art, argue that Sully—who grew up in the theater and launched his career painting actors and actresses, often in character—was instinctively in sync, even presciently so, with the 21st-century truism that all portraiture is performative. Sully, the curators write, often "constructs his figures … literally as if they were onstage," even when he's not painting theater people.
"These sitters dominate the front of their settings, as if playing to the galleries, while behind them various details suggest activity in the backgrounds," Rudolph and Soltis write. "Never static, their postures, attitudes, and expressions imply the possibility of motion or a momentary cessation of ongoing activity."
Certainly Sully could wield a brush with great deftness and sensuousness, as the show's earliest work, a brooding 1807 self-portrait owned by the Wadsworth Atheneum Museum of Art, establishes. But while some paintings fit the curators' description of "active portraiture," more often the sitters' "momentary cessation of ongoing activity" looks static indeed, even awkward, as in the 1818 portrait Elizabeth Eichelberger Ridgely (Lady with a Harp).
"The twist of the Maryland teenager's head versus the turn of her arms, opposed against the slight rotation of her torso, reflects the influence of Anglo-Swiss painter Heinrich (Henry) Fuseli, whose Royal Academy lectures Sully attended during his trip to England in 1809-10," according to the wall text. "Sully further exaggerated the distance between Elizabeth's waist and her knees, creating a direct visual relationship to the harp." A letter to Ridgely from her father highlights the not-so-liberating way women of a certain social standing were expected to perform.
"I am very glad Mr. Sully sees no resemblance to the character I mentioned in your person … that you have exerted yourself and conquered the propensity to stoop, which I have so often check'd you for," Ridgely's father wrote. Then there's this gem from the wall text: "He had also criticized his daughter for not having had her teeth cleaned, which is probably why Sully represented her with a closed mouth." Such details undermine Soltis's claim in the catalogue that Sully "allowed" his women to perform—as the wall text notes, Ridgely would have been expected to master the harp at finishing school—and that "they were free to show up in unusual poses" that one could more readily read as suggesting a lack of freedom.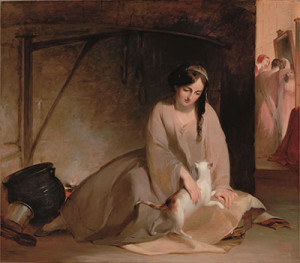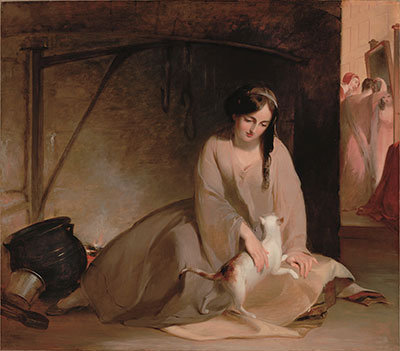 The lack of psychology in the overwhelming majority of Sully's portraits—the Wadsworth self-portrait is a rare exception—may explain why his posthumous reputation has never reached the heights it scaled during his heyday. As beautifully painted as his portraits can be, they're rarely memorable; most of his sitters, especially the women and children, are cast as types rather than individuals we care about. The show's performance angle is so easily applied to nearly any portraitist that we're never quite sure why Sully, and not some other 19th-century American painter, deserves reappraisal.
The exhibition has greater success in demonstrating that Sully's previously forgotten "fancy pictures"—imaginative fusions of history paintings and genre scenes painted on spec when business was slow or he wanted to experiment—deserve a higher status within his oeuvre than they've enjoyed. Rudolph, now SAMA's chief curator and American art curator, worked at the Dallas Museum of Art eight years ago when it acquired one of Sully's most remarkable fancy pictures, Cinderella at the Kitchen Fire (1843), and Rudolph and Soltis's desire to understand how it fit into his career planted the seeds for Painted Performance. Even if Sully's limitations sometimes get in the way of his champions' efforts, it's great to see collection-building in Texas museums trigger such a concerted scholarly effort.