The majestic portrait has commanded viewers' attention for 250 years. Eight feet tall, it offers a full-length view of a British aristocrat in full ceremonial regalia, complete with coronet, golden gown and red-velvet cape lined with ermine.
Sir Joshua Reynolds'
Mary, Lady Arundel of Wardour
has belonged to the
San Antonio Museum of Art
since 1981. Only now can visitors really see it, though. After five years of conservation work, the rejuvenated painting is one of the showpieces of
40 Years, 40 Stories: Treasures and New Discoveries from SAMA's Collection
. The exhibition, commemorating the museum's 40th anniversary, runs Oct. 16 – Jan. 2.
As both a treasure and, in a sense, a new discovery, Reynolds' Lady Arundel embodies the show's theme like nothing else. Time and misguided retouching had obscured the painting's richness, says Jessica Powers, the museum's interim chief curator. The museum sent it over to the Museum of Fine Arts, Houston, where conservators cleaned off discolored varnish and removed the dark overpainting. Their work brings us as close as we can come—considering the natural, irreversible changes in certain pigments—to what Reynolds saw on his easel.
"A lot of detail is visible now," Powers says. "There are patterns on the drapery that you couldn't see before. The colors of (Lady Arundel's) skin and the colors of the sky behind her are much brighter and fresher."

­­­
Practically no museum has space enough to display its entire collection at one time, Powers notes. To create
40 Years, 40 Stories,
she and SAMA's other curators have probed deep into the storage vaults. The items they've brought out include recent acquisitions on display for the first time; longtime holdings that have sat in the dark for years; and items that tell about the museum and its hometown.
One work making its debut is the enigmatic Petrosphere, a stone sphere about two feet in diameter. "The Petrosphere is fascinating," Powers says. "If you didn't know anything about it, and you just walked into the gallery and saw it sitting on its platform, you might think it's a contemporary sculpture." But no: It's one of hundreds of spheres created centuries ago by pre-Columbian residents of Costa Rica's Diquís Valley.
"Archaeologists have been studying these for quite a while, but they don't know exactly what the purpose and the meaning of these spheres are," Powers adds. "Most of them have been found in alignment, but it's not clear (why). They demarcated the space of the land in some way that was significant to those people." Few U.S. museums own examples of the spheres, she adds, so it's "a special thing that we have in our collection."
Another never-before-shown exhibit contains the work of refugees from El Salvador's 1980s civil war. After the displaced people arrived in a refugee camp in Honduras, Powers explains, some of the women embroidered scenes of their homeland's upheaval onto cloths used for wrapping tortillas.
"They're probably the most challenging work in the exhibition, because they show scenes of violence," Powers says. "They document human rights abuses that were occurring during the civil war. … They were sent out to solidarity organizations around the world to raise awareness of the plight of the refugees and what was happening in El Salvador."
A work from China illustrates a different response to the world's violence. Peach Blossom Spring, a nine-foot-long painted silk scroll dating from about 1700, illustrates a poem created by an author who lived during a time of political instability. He turned away from reality, Powers explains, by "imagining a place that's ideal."
"In the story, a fisherman travels through a grotto or cave and stumbles upon a utopian community," Powers says. "Peach trees are flowering. There's no sickness, there's no hardship—they're completely isolated from the ills of the outside world. After he leaves, he's never able to find it and go back."
The scroll, out of sight for years because its backing deteriorated, can go on display again thanks to recent conservation, Powers says. In the gallery, it will be partially open, revealing its "mountainous landscape in brilliant blues and greens…with the humans and buildings tucked in." To complete the viewers' picture, an adjacent QR code will enable them to watch a video of the entire painting scrolling past.
The exhibition also will offer behind-the-scenes glimpses of art works and the museum. "We're trying to share some stories…that are a little different from the traditional kinds of interpretations you see in an art museum," Powers says. One example: For the first time in years, the museum will display a mosaic that came into it described as a work from the Roman empire—but turned out to be a modern-day fake.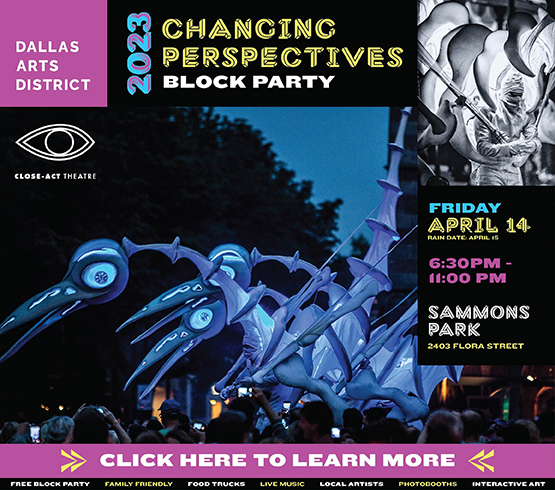 40 Years, 40 Stories
also offers the occasional sidelight on the museum's hometown. Who remembers that a silver-screen bombshell of the 1920s retired to San Antonio? Yes, Polish-born Pola Negri—purportedly one of Rudolf Valentino's amours—lived in the city from the 1950s until her death in 1987. She left the museum a portrait from her heyday.
"It's very glamorous," Powers says. "If you look at old Hollywood promotional photos of her, she looks at you with her eyelids half-lowered in this come-hither manner. The painting captures that. She's wearing this emerald-green gown and a big wrap with fur trim. She has green eyes and a green ring. And red fingernails. It's impressive. I think people will like it."
-STEVEN BROWN