Ida Ten Eyck O'Keeffe, Variation on a Lighthouse Theme IV, c. 1931-32, oil on canvas, Jeri L. Wolfson Collection.
---
Being a sister is complicated.
In 1961, the year Ida O'Keeffe died, her sister wrote, "In some odd way, it is a wasted life."
That sister, Georgia, would be the one the world remembered.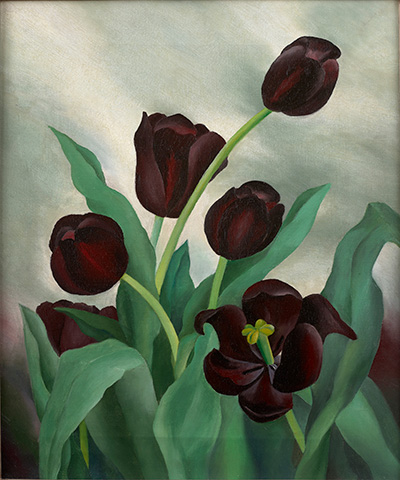 But Ida also held her own as an exhibiting artist and art teacher. Ida O'Keeffe: Escaping Georgia's Shadow at the Dallas Museum of Art (Nov. 18 – Feb. 24) attempts to redress Ida's historical invisibility, breaking her free of her sister's persistent shadow and bringing together never-before seen works.
Born in 1889, Ida studied art with her other sisters until the family's failing finances forced her to leave her studies. She became a nurse in 1918, and would return to nursing work frequently to support herself. The only one of the O'Keeffe sisters to remain single throughout her life, Ida's career as an artist was marked by the challenges that many artists—especially artists who are also women—face: family obligations, financial difficulties, endless temporary teaching jobs in far-flung places, health problems, and even a national economic depression.
As Georgia's relationship with Alfred Stieglitz bloomed, the couple would invite Ida and her sister, Catherine (who was also a painter), to spend summers with them at Stieglitz's home at Lake George. Stieglitz admired Ida's artistry—in flower arranging—and he wrote, "Ida is truly an artist, too, if ever there was one… She has done things in that way which compare with Georgia's best paintings—the same spirit—the same balanced sensibility— the amazing feeling for color & texture." As Stieglitz's friendship with Ida blossomed into a summer flirtation, Georgia found Ida "too husky and healthy looking for any good use."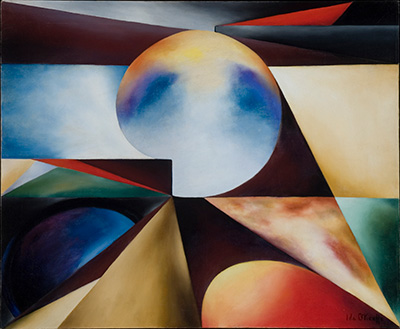 In 1933, Ida exhibited at Alma Reed's gallery in New York, the Delphic Studios. The exhibition, her New York debut, included thirty-five works in several media, ranging from still life to self-portraits, landscapes, and the lighthouses. The seven Variations on a Lighthouse paintings would become her most famous work, and she showed them repeatedly throughout her life.
New York art critics were fascinated by the novelty of so many painting O'Keeffe sisters (Catherine also had an exhibition at the Delphic Studios that year and, oddly enough, Ida's exhibition included works painted by her grandmothers, too). Ida's show was reviewed by The New York Times art critic Edward Alden Jewell, who wrote that "she plays boldly with abstract theories" and her monotypes are "effective," especially when they avoided being too literal. But, he concluded, "Georgia remains supreme."
Georgia, hospitalized after a nervous breakdown earlier that year, was furious at the news that her sisters were exhibiting in New York. She wrote both sisters, forbidding them from ever exhibiting again. Catherine agreed. Ida did not.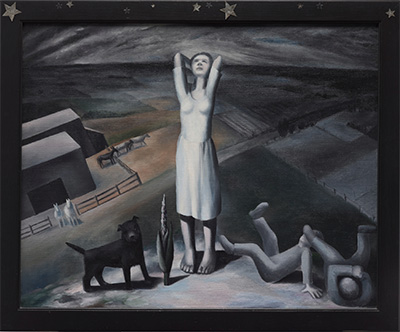 The subsequent year was a boom for Ida, who received a mural commission from the Public Works of Art Project and sold a work to the Rockefeller family collection. And yet, despite her first hints of artistic success, she was plagued by financial difficulties. Following teaching and nursing jobs around the country, Ida moved more than 13 times between 1932 and 1942.
Curator Sue Canterbury writes: "Given Ida's late start with painting in 1925 and what she managed to achieve with the Lighthouse series a few years later, one can only wonder at the possibilities if she, too, had had a Stieglitz to provide encouragement and the financial backing that allowed a 'stability of living' in which her art could develop and mature." That stability and a steady patron would elude Ida throughout her lifetime.
While Ida's peripatetic career was disruptive and stressful, leaving her little time for creative work, it gave her many other kinds of experiences. She studied cultural anthropology, native tradition, and folklore. In 1938, she was the head of the art department at Our Lady of the Lake College in San Antonio, and in 1941, she became founding director of the Department of Arts and Crafts at the Pembroke State College for Indians in Lumberton, North Carolina before taking a wartime job in California, making technical drawings. Throughout her career, she led students in painting murals, eventually also teaching art teachers how to lead mural-making classes. Her legacy as a teacher is far-reaching and impossible to measure.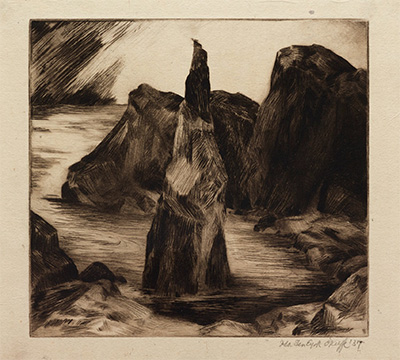 And, she continued to make occasional exhibitions. The critical response to an exhibition of monoprints in 1937 at the Delphic Studios was positive: one critic called her prints "poetic statements" and another was impressed by their relationship to landscape design. But her exhibitions during these years also reflected the distractions of moving so much. A 1940 exhibition titled Paintings of Missouri Texas Cuba was marked by diffuse influences and a confusing mixture of styles.
Ida spent the last 20 years of her life living in Whittier, California, where she was an active member of women's art clubs and public art competitions and exhibitions. In 1944, she won blue ribbons at the Whittier Country Fair for a landscape painting and for her pickled loquats.
While Ida was winning recognition and awards at regional and women's organizations such as the Southern States Art League and the Whittier Woman's Club, Georgia not only avoided women's organizations, but she also chose not to exhibit in women-only venues or in non-juried shows. Canterbury writes, "Ida, like other women artists of that period, relied on these venues and others to secure a small measure of public visibility that rarely garnered much in the way of tangible rewards."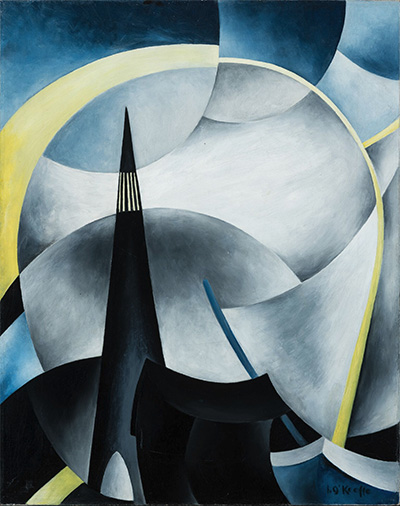 Much of what Ida O'Keeffe: Escaping Georgia's Shadow asks is what it would have taken for Ida to become as famous as her better-known sister.
The secondary question, though, is more difficult: is it more heroic to achieve artistic fame or to survive in a contrary and difficult world? Is it more significant to be written into history books or to teach generations of students? How can we challenge the notion of "success" to include lives and work of people excluded from institutions and communities that define that term? Perhaps the lesson of Georgia and Ida is that success is not either, or; but both, and… Ida reminds us of the importance of complicated lives—lived deeply and well—lives lived on their own terms despite a world of endless challenge.
—LAURA AUGUST