---
IMAGE:  Bruce DuBose, Michael Federico, and Alex Organ in Profanity at Undermain Theatre, Dallas. Photo courtesy of the theater.
---
Dallas Theater Thrives With Challenging Works
The logo of the Undermain Theatre adorns a sandwich board at the edge of the Deep Ellum neighborhood in Dallas. The lone black and yellow marker beckons curious theatergoers to venture below Main Street for shows they can't see anywhere else.
Undermain Theatre celebrates its 30th year with a lineup of three brand new plays, continuing its lifelong commitment to presenting original plays that challenge audiences. Whether it's an edgy new work by David Rabe or a scintillating production of August Strindberg or Harold Pinter, the consistently high quality of work at the Undermain Theatre is unrivaled in the local scene.
"We've always produced theater in a way that was based on the impulses we had about what theater is," says artistic director Katherine Owens. "And I always had faith that Dallas would get it."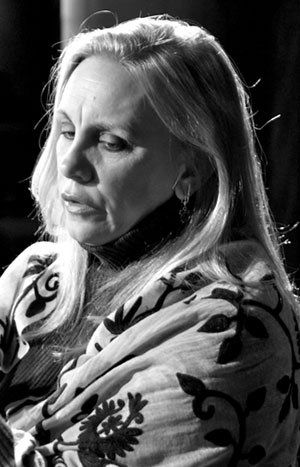 Owens founded Undermain Theatre in 1984 with Raphael Parry, who later left the company to become the artistic and executive director of Shakespeare Dallas. During that time, Deep Ellum played host to a variety of experimental theater companies focused on performing avant garde work. When most of the other companies shuttered, the small basement theater company was earning a local and national reputation for producing regional premieres of new voices.
In addition to introducing Dallas audiences to important plays from Samuel Beckett or Young Jean Lee, Undermain also serves as a second home for many contemporary playwrights, including Erik Ehn and Len Jenkin. This season, Undermain will produce three plays, opening with the world premiere of up-and-coming playwright Sylvan Oswald's Profanity on Sept. 12. Oswald's play explores family secrets tucked away in a real estate business in mid-20th-century Philadelphia. Owens will direct this play with an all-star Dallas cast, including Undermain company members Bruce DuBose and Shannon Kearns-Simmons.
---
IMAGE: Katherine Owens
---
"Profanity is a play that fits into our tradition of exploring language playwrights," Owens says. "We've been here long enough now to be entering into the second generation of Undermain playwrights." First generation playwrights include Mac Wellman, Ehn and Jenkin, whose play Abraham Zobell's Home Movie: Final Reel will receive its world premiere in January at City Performance Hall.   As the Undermain continues to grow, with recent capital campaign numbers reaching several million dollars, Owens is committed to taking theater out of the basement.
Last year, the company performed Penelope by Enda Walsh with the audience onstage at the Performance Hall, which is one of the newest performing spaces in the city. The company chose this stage to vivify the world of the title character Zobell, who travels across the ocean and revisits his previous seventy years. Although the basement space has its own magic, the expansive hall will allow for the live band that performs the American roots and Doo Wop music.
The third and final play of the season is Jackie Sibblies Drury's long-titled We are Proud to Present a Presentation About the Herero of Namibia, Formerly Known as South-West Africa, From the German Sudwestafrika, Between the Years 1884-1915. This show, which received its premiere at Soho Rep in New York City in 2012, presents the struggles of actors who attempt to inhabit the world of others. In addition to its three plays, Undermain plans to supplement the season with staged readings of new work at the Dallas Museum of Art.
"One of the improvements we've made in the last 30 years is a greater connection to the community," Owens says. "I truly believe that Dallas and the Undermain are linked. I can't think of a better place to run a theater company."