Rude Mechs Launch Fixing Shakespeare with King John
---
IMAGE: Robert S. Fisher, Lowell Batholomee, Tom Green, Jay Byrd, E. Jason Liebrecht, Florinda Bryant, Jeffrey Mills in Rude Mechs Fixing King John, Nov. 7-24, at The Off Center. Photo by: Bret Brookshire.
---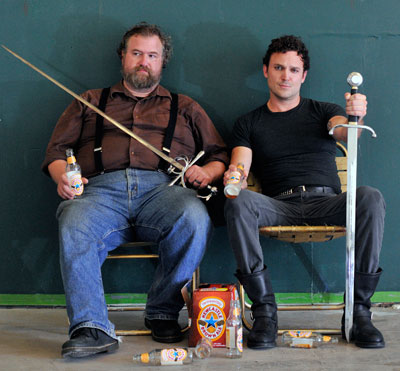 Leave it to Austin's maverick troupe, the Rude Mechs, to tackle Shakespeare's "problem plays." Even the Bard's esteemed canon contains a few duds, and in the new bi-annual series, Fixing Shakespeare, the Rude Mechs attempt to slice and dice these plays into more contemporary, and perhaps more palatable, shows. The series debuts with Fixing King John, Nov. 7-24, adapted by Kirk Lynn and directed by Madge Darlington.
"There are some Shakespeare plays that are really difficult to produce well, and this is one of them," Darlington says. "For one thing, King John is too long and many of the plot points are convoluted."
Over the years, the Rude Mechs have earned a national reputation for an unorthodox perspective on classic work. Their newest opus, Stop Hitting Yourself, travels to Lincoln Center's LCT3 series in January 2014. Founded by seven Austin-based theater artists in 1995, the Mechs  have always shown an appreciation for the shoulders on which they stand. Fixing Shakespeare follows a Contemporary Classics series, which was comprised of re-enactments of significant, experimental performances from the 60's, 70's and 80's. Dionysus 69 was nominated for a 2013 Bessie Award.
In 1997, the company dabbled with Shakespeare for the first time with the devised work, Curst & Shrewd: The Taming of the Shrew Unhinged. By deconstructing the character of Katherine, this play examined modern marriage and mating.
King John carries the company's stamp in its collage-like synthesis of music, movement and text, but it deviates in one notable way. A month before rehearsals began, Darlington had a script in hand.
"Kirk's version has all the wonderful things of the original script, but through the lens of contemporary vernacular," Darlington says. "He's also added wonderful moments of connection with the audience that give this play more relevance."
Much of the mess of Shakespeare's King John stems from the historical events that shape the plot. The play focuses on John's struggles to keep the throne while questions of his legitimacy arise and England's internal conflicts threaten its downfall. The script is littered with battles that take place offstage, many of them prevented by treaties and some by climatic weather.
"I've been puzzling over how quickly the plot builds up to war, only to avert war with a treaty," Darlington says. "And I can't help but think of Syria."
By bringing a new perspective to his work, the Rude Mechs hope to crack these plays open in a new way. "It's similar to the relationship a cover band has with the original performer," Darlington says. "Fixing it was a fun way to think about it, and of course there's a little bit of hubris to that."
—LAUREN SMART
---