Van Cliburn International Piano Competition winner Yekwon Sunwoo performs on Oct. 3 as part of the Cliburn Concerts at Bass Performance Hall in Fort Worth.
Photo courtesy of The Van Cliburn International Piano Competition.
---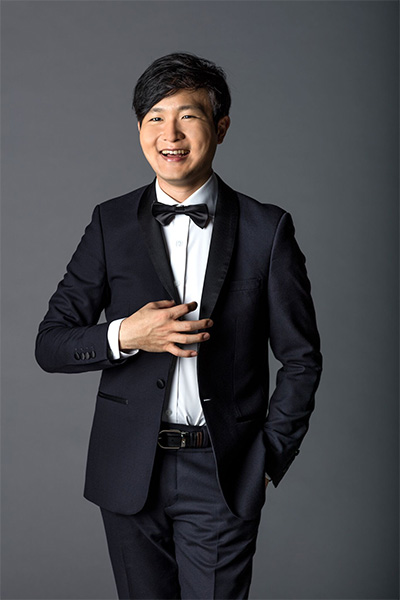 The first time Yekwon Sunwoo vied in the Van Cliburn International Piano Competition, the judges eliminated him after the opening round. Looking back, the South Korea native made no excuses. "I just wasn't ready," he recalled.
When the high-profile contest in Fort Worth invited Sunwoo back for its 2017 edition, his poor preparation in 2013 haunted him. "I didn't want to have regrets when I get older–that only because of my laziness, I didn't do well," he said. So he honed his contest repertoire–including meaty sonatas by Beethoven, Schubert, Rachmaninoff and Prokofiev–"in every detail."
"This time, I felt prepared," Sunwoo said in an early September interview. "I thought, even if it didn't turn out well, that would be OK. Because I gave it everything."
As he and 29 other contestants got down to business last May in the two-week contest, Sunwoo's woodshedding paid off. At the end of three solo programs, a performance with string quartet and two concertos, the 28-year-old landed the contest's first prize: $50,000 cash, concert bookings that crisscross continents, and even performance attire from Neiman Marcus. Sunwoo's concert marathon brings him back to Fort Worth on Oct. 3 to play a recital for Cliburn Concerts. (Houston's Society for the Performing Arts concert on Sept. 28 has been postponed due to Harvey's damage to the Wortham.)
All his contest performances–like those of all the competitors–are available for viewing free online, and they offer a glimpse of what's in store for the upcoming recitals. The solo rounds show him playing with polish, subtlety and vigor. Sunwoo encompasses the drama and introspection of Schubert's Sonata in C minor; the lightning-bolt virtuosity of Rachmaninoff's Sonata in B-flat minor; and the dash of Ravel's La Valse.
His final-round performances of Rachmaninoff's Concerto No. 3, heard in person in Fort Worth's Bass Performance Hall, offered a complementary view. Sweeping through Rachmaninoff's blockbuster with the Fort Worth Symphony and conductor Leonard Slatkin, Sunwoo let some of his precision slip away. But as he tackled the first movement's cadenza–opting for the more massive of Rachmaninoff's two versions–he filled Fort Worth's Bass Performance Hall with booming, full-bodied sound. None of the other five finalists unleashed anything so visceral.
Minutes after hanging the gold medal around Sunwoo's neck, competition leaders thrust him and the other two top winners–including silver medalist Kenneth Broberg, a University of Houston graduate–in front a roomful of reporters and critics for a press conference. One of the first questions: What was the most difficult aspect of the contest? Performing so much music in so short a time was stressful and physically challenging, Sunwoo said. Then again, he added, that's not so different from what pianists sometimes have to do out in the real world of concert hall.
Spoken like someone who has already glimpsed the pianist's life–as Sunwoo has. A competition veteran, he won the silver medal in the Houston Symphony's Ima Hogg Competition in 2014. The prize included a performance with the orchestra at Miller Outdoor Theatre. That presented a problem: Sunwoo was booked for a series of performances in Japan ending the night before the Miller concert.
Bowing out of the Houston performance would've meant giving up the entire prize, including $10,000. So Sunwoo arranged to hustle across the Pacific Ocean. After his last Japanese concert, he said, a cousin drove him eight hours so he could catch a plane to South Korea. He then boarded a connecting flight to the United States, arriving in Houston the day of the performance. After a run-through with the orchestra, Sunwoo played Rachmaninoff's Rhapsody on a Theme of Paganini.
"It was fun," he said. Asked his secret for overcoming jet lag, Sunwoo laughed. "A couple of cups of espresso," he said. "And I guess I tend to rest well on planes."
Sunwoo's home for the past year has been Germany, where he studies with a teacher who helps him "organize my thoughts better, so that I feel more centered." For the previous 11 years, Sunwoo lived in the United States, where he earned degrees from the Curtis Institute of Music in Philadelphia and The Juilliard School in New York–familiar items in a competition winner's resume. But his story doesn't start in the familiar way.
The stereotypical contest winner these days is a prodigy who took up an instrument practically in the cradle. Sunwoo didn't begin until he was 8 years old, after his older sisters began brief flirtations with piano lessons. "I saw my older sisters playing, and I was a bit jealous," he recalls. After trying to put him off, the eager youngster's mother finally agreed to enroll him in a music school in their South Korea city.
"When I saw students who were younger playing, I was motivated to work harder," Sunwoo says.  "And when I listened to people playing certain pieces–especially Schubert–I fell in love with those pieces." By age 10 or 11, he was serious about the piano. "I felt like this was what I had to do," he explains. "After school (every day), I was waiting for the time to go practice at the academy. To me, it felt like going out to the playground."
Schubert, the Viennese master of eloquent melody, remains one of Sunwoo's touchstones. The Houston recital will include the turbulent Sonata in C minor; the Fort Worth program will bring Moments Musicaux, a set of six vignettes with ethereal overtones. Schubert's music, Sunwoo says, "touches your heart."
"It makes you feel better in a certain way, even when it's painful and sad and poignant to listen to. But it calms you down. … Even if it's a very beautiful, major-key melody, it still feels very sad. It stays in your heart longer than something virtuosic or showy. So I particularly love Schubert."
—STEVEN BROWN