Detail of I am All What is Left of Me, 2017, resin with pigments.
Photo by Kevin Todora, courtesy of Dallas Contemporary.
---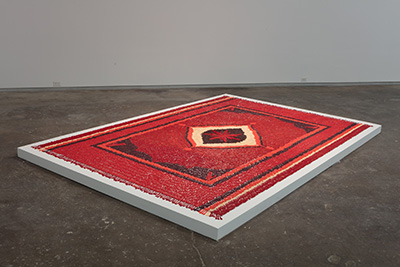 Ambreen Butt's decorative installations are beautiful on the surface however, upon closer inspection, the works reveal themes of violence and political oppression. Her exhibition, What is left of me, is on view thru Aug. 20 at Dallas Contemporary.
Butt utilizes the visual language of miniature paintings even in her large-scale works. From a distance, her mosaics, rugs, and decorative wall pieces are radiant configurations and appear to be designed with rose petals. But these installations are made with resin casts of fingers, toes, locks and chains, begging a closer personal inspection that might cause viewers to consider their bodies in different contexts. The little body parts are morbid reminders of how fragile our bodies are.
Born in Pakistan, Butt has lived in the U.S. for the last 25 years and recently moved to Dallas. Trained in the intricate techniques of Indian and Persian miniature painting, she was known for small works that she builds slowly one mark at a time. Butt helped re-imagine the archaic genre by adding female heroines to its mythic narratives of male protagonists.
Then she started pushing the boundaries of her creativity to produce larger, conceptual works using collage, pencil on paper, and hand-cast sculpture. I Need a Hero, Butt's 16-by-36 ft. print on vinyl, is currently attached to the exterior of Boston's Isabella Stewart Gardner Museum. It features a woman fighting a dragon with a sword; her uniform is a pair of sweatpants and a T-shirt.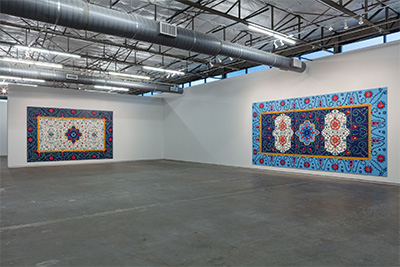 Butt works with different materials—ripped text, casted figures, or a brush—yet always uses a "one mark at a time" sensibility. In that same spirit, she made decorative art out of cast fingers and toes with her I Am My Lost Diamond, a series of installations that cover the walls with disarmingly seductive imagery resembling exploding fireworks.
The series is a response to the political and social changes in Pakistan in general and, more specifically, her experience hearing a friend recount a near miss with a bomb blast at a market near her hometown of Lahore. Her friend shared with Butt that she envisioned herself in that place, in pieces.
Other process-driven works are more research-based. Say My Name is a series of drawings, each named after a person killed by drones, mostly children. The works document victims who are usually known only as numbers. In her 2008 series, Dirty Pretty, Butt uses etching, silkscreen, and lithography techniques to combine miniature painting with images from news media.
Words disappear in Butt's text-based art. For Pages of Deception, text from a trial on terrorism is shredded and reconstructed into two empty mirrors, leaving the prosecution and defense indistinguishable. For a collage series, In God We Trust, Butt paints obsessively detailed portraits of U.S. currency with shredded dollar bills and politically-charged texts.
I am All What is Left of Me is a kaleidoscopic series of floral patterns. These large works look like Pakistani rugs, but they were weaved together with locks, hooks, and keys.
In general, we often sequester ourselves into our own happy worlds, largely unaffected by disturbing news about people we do not know. Butt's exhibition, with its initially agreeable then extremely unsettling content, might challenge some viewers to confront demons they usually avoid.
—JEREMY HALLOCK