For choreographer Annabelle Lopez Ochoa, poetry and ballet share a similar terrain. Ochoa addresses the world of the great Latin American poet Delmira Agustini in her world premiere ballet Delmira, with a commissioned score by Juan Pablo Acosta. Delmira is part of Houston Ballet's mixed repertory TUTU, which also includes Stanton Welch's Tu Tu and George Balanchine's Stars and Stripes, Sept. 21-Oct. 1 at the Wortham Center.

Agustini is considered one of the most important Latin American poets. Born in 1886 in Montevideo, Uruguay, Agustini was a leader in feminist erotic poetry. Forced into a marriage that lasted barely two months, she became the first woman in Uruguay to be granted a divorce. Sadly, her life ended tragically when her ex-husband Enrique Job Reyes shot her and then himself in 1914. She published three books of poetry before her death at 27.
It's no wonder that Agustini's life and work appealed to the Colombian-Belgian choreographer, who has always been drawn to iconic individuals and great stories throughout her storied career. Her acclaimed narrative ballets include Doña Peron for Ballet Hispanico, Botero for Ballet Metropolitano de Medellin, Colombia, Frida for the Dutch National Ballet and A Streetcar Named Desire for the Scottish Ballet, to name a few among many.

Lopez Ochoa has created works for 73 dance companies throughout the globe, and also works in theater, opera and musical theater and film. Currently, she directs the Contemporary Classical Summer program of the School at Jacob's Pillow.
Arts and Culture Texas visited with Lopez Ochoa to learn more about Delmira and her time in Houston.
How did you approach a ballet that is about a poet?
I wanted to tell a story as if it was one of her poems. She wrote about female desire. It's basically erotic poetry. It has beautiful imagery. It lends itself so well for dance. There are a lot of commonalities between poetry and dance.
I love the idea of a ballet taking the form of a poem as both can contain narrative and symbolic elements. How did you deal with the various characters in her story?
I decided that I only want to have three real characters, because the triangular relationship does really well in ballet. You can have too many characters. The audience is like, who is that? You have to introduce all the characters. And I thought, no, I'm just going to have Delmira, the husband and the lover. All the other characters are going to be symbols of things in her life and in her poetry.
The ensemble work is so powerful, and indeed just like a character in itself. Tells us about the swirling group of men.
They are the swans, and that comes from her poem, "The Swan." There are four, which is a reference to the four swans in Swan Like. The swans are about, "Let's make you fly, everything is beautiful in your imagination."
There's another larger group of men, but they seem more diabolical and menacing.
They are Ravens, they represent the dark side and the very stifled society of her time. They also represent her mother, and "you have to do that" energy.
The lyrical chorus of women who carry books on their heads are marvelous.
The book ladies represent the eroticism of women and their movement will be very feminine. They are her muses.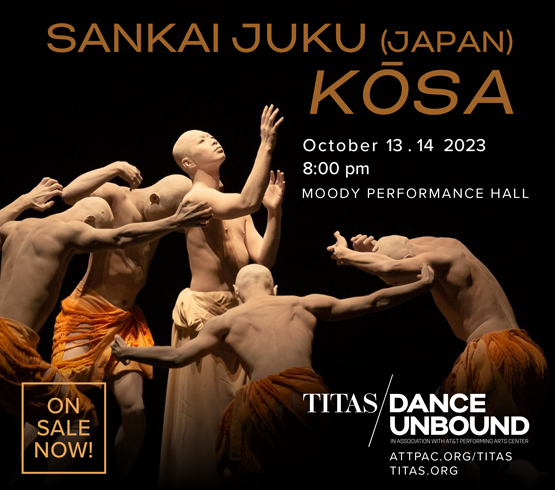 The mysterious winged woman intrigued me. How does she fit in?
That is the butterfly. And for me, the butterfly symbolizes freedom, the freedom that she always wanted to have in love, in writing as a woman in society. But she never really had it except in her imagination. She was a writer who was recognized, but in a time where women were not really seen as literary. There were not many female voices. So I wanted to have a butterfly who always comes back whenever she wants to escape the cage that she's in.
Can you talk about your process? Do you come into the room with the ballet in a notebook or do you create in the studio?
So when it's narrative ballet, I will have a script. But it's so funny, when I read what it was and how the scene turns out, it's always very different. I always say the magic happens in the studio when people are in front of me, waiting for me, that's when creativity and imagination happens.
It's great to have you and your work in Houston again. You have a long history here. We were so lucky to see your work at Dance Salad and thankful for Dance Salad artistic director and founder Nancy Henderek for bringing you here.
My work made its US debut in 2006 at Dance Salad when Dutch National Ballet presented Before/After. Nancy Hendrick discovered me and my work and she presented it. Nobody knew about me. So I'm very grateful that she did that. And because of that, my work got known here. And I have this whole career. And it's wonderful that Delmira will premiere in the very same theater.

As someone who has followed your career since that very day, it's been wonderful to see your work explode all over the globe. I know that you created
Shadow Lovers on Houston Ballet principals Connor Walsh and Melody Mennite for Dance Salad in 2015, but what was it like to work with the company for the first time?
They are the Cadillac of dancers. They're beautiful dancers. And they're beautiful storytellers. It's wonderful to see how they use movement to tell the story.
What do you want the audience to experience?
I hope they experience a beautiful erotic poem and that they feel that eroticism through the eyes of a woman is different than through the eyes of man.
—NANCY WOZNY