Cast of A Christmas Carol at Dallas Theater Center.
Photo by Karen Almond.
---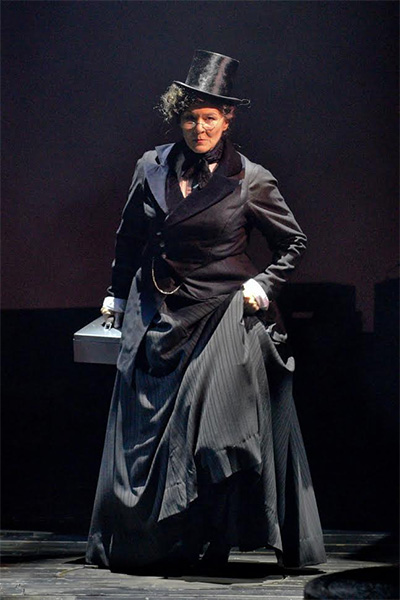 It is often said that Ebenezer Scrooge is one of the great literary characters. Created by Charles Dickens for his 1843 novella, A Christmas Carol, certainly the role of the miser has attracted the attention of audiences and actors, alike. Such Hollywood luminaries as Orson Wells, Fredric March, Albert Finney, Michael Caine and James Earl Jones have tackled the role. Productions of the A Christmas Carol have decorated the stages of local theaters for decades. Dallas is no exception, with the Dallas Theater Center now presenting their 38th production of the tale through Dec. 28 at the Wyly Theatre. This year, a twist in the casting: Scrooge is played by a woman, the very capable Sally Nystuen Vahle. She discussed the role and the show's modern-day influences with A + C theater writer Scot Hart.
Have you ever played a male on stage, and do you approach it differently than a female role?
Sally Nystuen Vahle:  Yes, once. I was cast in an experimental production of Macbeth. Our play was adapted by Melissa Cooper and titled A MacBeth. It was produced by the Dallas Theater Center as an adaptation of Shakespeare's play, cast with all women. The actresses cast in traditionally male roles were to play the role as male. I was cast as Macbeth. I discovered quickly that I did have to think differently about approaching the role—having never played a man before. Before we started rehearsing the show I spent a lot of time observing men–– I know that sounds kind of weird, but I watched how men moved compared to women, how men spoke compared to women, in a way that I never really had before. It was extremely illuminating. I experimented by "trying on", as truthfully as possible, various stances, looks, gestures, postures, and such. In actor training we call this specific process "working from the outside in." It really jumpstarted my imagination and got me thinking about and experimenting with how I might take up space and move through space much differently than I naturally do as myself.
Are there any drawbacks to blind casting, especially when it comes to audience expectations?
Anytime a theater/director makes the choice to engage in nontraditional casting there is risk involved—and there is reward. Will an audience embrace the storytelling in the same way, will patrons be willing to overcome their trepidation or fear of what doesn't seem familiar? I don't know that there's a way to overcome or compensate for that. I do think that it's good to challenge expectations. Certainly educating people about the hows and whys of nontraditional casting is a great place to start.
Doesn't blind casting reshape the material not intended by the playwright?
I think that it absolutely can. I believe that if casting a play nontraditionally does change the playwright's intent/reshape the material then strong consideration should be given to not cast nontraditionally. We must in service to the play, first. If a play is in the public domain…that's another story. The truth is, permission must be granted by the playwright—or the estate of a playwright— in order to cast his or her play nontraditionally. In short, the playwright has the final say.
How do you make the character of Ebenezer Scrooge your own?
By finding the humanity in the character and personalizing the experiences Scrooge has had, has and might have. The person Scrooge is at the beginning of the play and the journey that Scrooge goes on to connect with humanity again is not one that is applicable to only one gender. It's one that is representative of any human being….any age, any gender. That's the brilliance of Dickens.
Every one seems to have a favorite Scrooge from movies or television. What's yours?
I love The Muppet Christmas Carol. Bill Murray in Scrooged is great. My favorite traditional movie version is the older 1950s one starring Alastair Sim as Scrooge.
Is the play still relevant today, or is it just a holiday nostalgia piece?
It's an incredibly relevant story for modern audiences perhaps more relevant than ever. The themes of putting oneself before all others, obsession with work and wealth over personal relationships, status (or perceived status), slipping away from ones humanity. The things that the play reminds us of and the lessons it teaches about our humanity and our potential to disengage from our humanity and the effects of that disengagement are and will be forever relevant, in my opinion. The story is also nostalgic, but I think that's part of the brilliance of it. Nostalgia can awaken our ability to feel.
Are you ready to tackle any other traditional male roles?
This is a tough one. The traditionally male roles that I have had the opportunity to play thus far are not ones that I ever imagined being cast in. It would be an incredible challenge to play King Lear one day. I complexity of Lear is tantalizing to me. I would also love to be in an all female version of Glenngary Glen Ross but I don't think David Mamet would ever let that happen.
-SCOT HART