The MFAH screens FredERICK Wiseman's National Gallery  Dec. 18, 19, 20, 21, 27 & 28. Photo courtesy of the MFAH.
---
We love holiday shows; it's a great time to get interested in the arts and get the family out of the house in one swoop. But, some of you will be looking for something else to do besides the usual fare. Here are some suggestions.
Frederick Wiseman's National Gallery  at MFAH
HOUSTON- Frederick Wiseman's National Gallery makes a stop at the MFAH's Brown Auditorium on Dec. 18 at 1 pm, Dec. 19 and 20 at 6 pm, and Dec. 21, 27, and 28 at 4 pm. This could possibly be the artsy family movie to keep everyone happy. A consummate understated tour guide, Wiseman gives us a rare behind-the-scenes view into one of the world's most renowned art institutions. I am a huge fan of Wiseman's subtle doc style, and who could forget his portrait of the Paris Opera Ballet, La Danse, which screened at Houston Cinema Arts Festival a few years back.
[hr]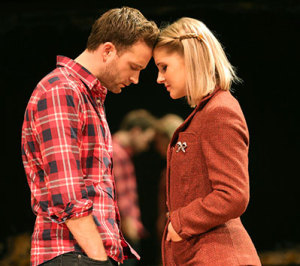 Once  at AT&T Performing Arts Center
DALLAS- We loved John Carney's endearing 2007 movie Once, set in Dublin staring a couple of  down on their luck musicians, played by Glen Hansard and Marketa Irglova, but will we love the musical?  Martin Lowe, the show's musical director and orchestrator, thinks we will. "The songs feel just a little bit bigger than they did in the movie," claims Lowe. "We've got 12 musicians onstage. Often, we have three or four guitars playing at any one time." Once stops in Dallas at AT&T Performing Arts Center on Dec. 17-28. If you miss it then, no worries, it travels to Lexus Broadway in Austin at Texas Performing Arts on Feb. 24 – March 1, and in Houston at Broadway at the Hobby, March 10-15.
[hr]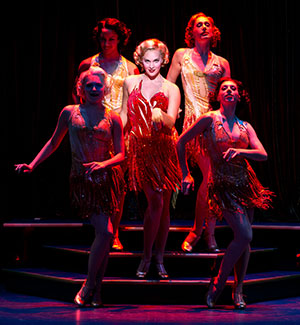 Anything Goes at Lexus Broadway in Austin at Texas Performing Arts
AUSTIN- I saw Cole Porter's tuneful gem of a show when it came to Houston's Broadway at the Hobby Center, and just loved it. The Tony-award winning show lands at Lexus Broadway in Austin at Texas Performing Arts, Dec. 9-14, and features such famed songs as "I Get A Kick Out of You," "You're The Top," "De-Lovely," and, of course, lots of high-seas hijinks. It will cheer up even the crankiest of your relatives.
[hr]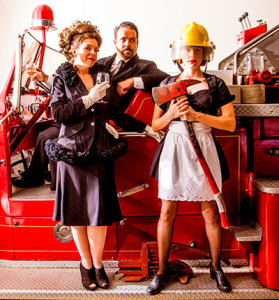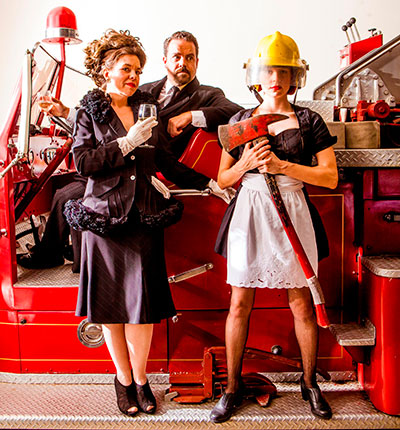 The Arsonists at Kitchen Dog Theater
DALLAS-Kitchen Dog Theater presents The Arsonists through Dec. 13 and we gave it a rave review. "Built to provoke, Alistair Beaton's 2007 translation of Max Frisch's German play from the 1950s still scorches in theme and execution," says A+ C theater writer Scot Hart. "An absurdist comedy (think Brecht meets Mel Brooks), The Arsonists examines middle class complacency in the face of great evil."
[hr]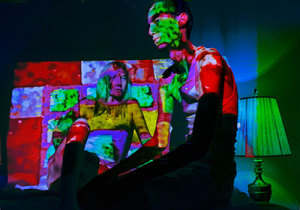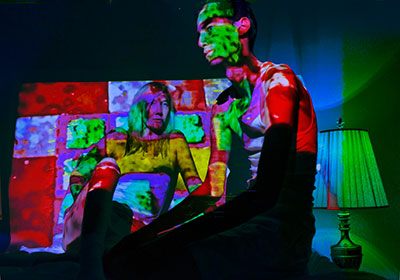 kaRaoKe MoTeL at Dead White Zombies
DALLAS- Thomas Riccio's kaRaoKe MoTeL, through Dec 13, completes the Dead White Zombies trilogy that also included Flesh World and (w)hole. According to A + C theater writer Lindsey Wilson, "The rogue Dallas troupe—formed in 2011 by Thomas Riccio, Lori McCarty, and Brad Hennigan—is known for its site-specific performance installations, staged everywhere from warehouses to a real former stash house. The original scripts are fluid and not confined to any one playing space; audiences are often left to wander in and out of the action, which can span rooms and even into the outdoors."
[hr]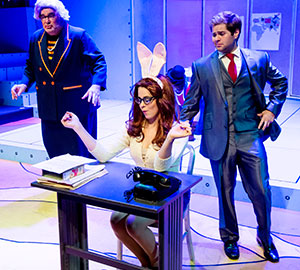 Panto Rapunzel (with Zombies) at Stages Repertory Theatre
HOUSTON-Panto might be a holiday tradition, but you won't find a jingle bell in sight in Stages Repertory Theatre's world premiere of Panto Rapunzel (and Zombies), an outrageous family musical by Joseph Blanchard and Jodi Bobrovsky, through Jan. 4.  Expect the usual mayhem, an evil villain, a great cast and dancing zombies. "This is the most political Panto we have ever done, there's even a character called Dirk Berry," says Stages' artistic director Kenn McLaughlin.
[hr]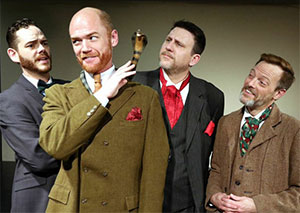 The Explorer's Club at Stage West
FORT WORTH- Stage West presents the regional premiere of Nell Benjamin's The Explorers Club, a co-production with WaterTower Theatre, through Jan, 4. Set in London in 1879, this smart comedy chronicles what happens when a woman applies to be in the club. After the holidays, the play will move to WaterTower Theatre, Jan. 16 – Feb. 8.
[hr]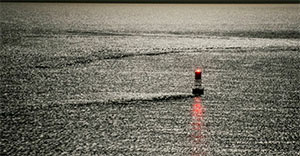 On This Muddy Water: Voices from the Houston Ship Channel
HOUSTON-The holidays are an ideal time to get out of "me me me" mode. Consider learning about your own city. Thanks to Houston Arts Alliance's director of Folklife + Traditional Arts Pat Jasper and her team, we will be able to hear tales from the lives of ship-channel workers as part of Stories of a Workforce: Celebrating the Centennial of the Houston Ship Channel at Houston Public Library's Julia Ideson Building, through Jan. 30.Some of the stories have made their way into an HGOco song cycle, On This Muddy Water: Voices from the Houston Ship Channel, Dec. 10 & 17, Jan. 7 & 21. "I knew that the platforms were so different and distinct from each other that we could only multiply the impact by sharing these interviews," says Jasper.  HGOco director jumped at the chance to be part of this event. "HGO continues to tell the stories, through the words and music, of those who call Houston their home," says Bernhard. "In partnership with HAA's Folklife and Traditional Arts Program we explore ways to raise the voices of Houston's Ship Channel for its 100th anniversary, and hear the stories in song of the men and women who have created one of the largest ports in America. With pride, we sing these songs for this amazing workforce."
[hr]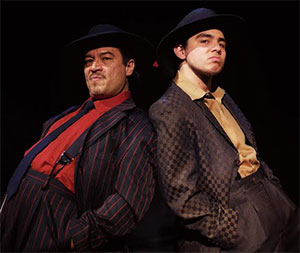 Zoot Suit  at Cara Mia Theatre Company
DALLAS- Cara Mia Theatre Company presents Zoot Suit, based on the real-life trial of 17 wrongly convicted Mexican – American youths for the murder of José Gallardo Diaz, Dec. 6 – 21 at the Latino Cultural Center. Written by Luis Valdez with music and lyrics by Daniel Valdez and Lalo Guerrero, Zoot Suit is "a high energy thought provoking musical about the lives of Mexican Americans in barrios of Los Angeles set against the backdrop of the Zoot Suit riots and the rumblings of World War II."
[hr]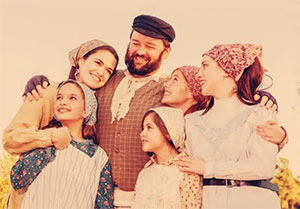 Fiddler on the Roof at Playhouse San Antonio
SAN ANTONIO- Playhouse San Antonio presents Fiddler on the Roof, Dec. 5 – 22 at Russell Hill Rogers Theater. The holidays are a perfect opportunity to look at a nutty family other than your own, plus the tale of Tevye and his struggle to preserve his family's happiness and his religious traditions during the unraveling of 1905 Tsarist Russia is a universal tale with some gorgeous tunes and lyrics by Jerry Bock and Sheldon Harnick.
[hr]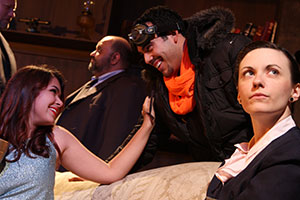 The Chateau Le Shadow

at The Overtime Theater
SAN ANTONIO–The Overtime Theater presents The Chateau Le Shadow, through Dec. 27, where you get to the pick the course of the play, and even the ending. Of course, the play takes place in a lush establishment nestled in the mountains of England where bodies tend to drop dead. Looks like loads of scroogeless fun.
— NANCY WOZNY