IMAGE ABOVE: Chamber Singers: The Chamber Singers, conducted by James Morrow, will perform "Stomp Your Foot" from Aaron Copland's The Tender Land.
---
UT's Butler School of Music Centennial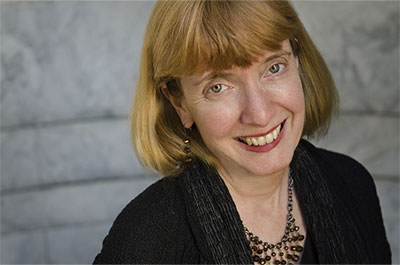 The Butler School of Music is still as feisty as ever as it marks 100 years of music at UT Austin. The school will be celebrating on October 17th with A Taste of Texas, a concert and  reception. Serving as artistic director for the event is Mary Ellen Poole, former dean of The San Francisco Conservatory and current director of the Butler School of Music.
Poole recently began directing the school this past June in the wake of embattled former director Glenn Chandler who was encouraged to resign over his efforts to separate the school from The College of Fine Art – a separation supported by some donors to the School including Sarah and Ernest Butler themselves.
A + C Austin arts writer Seth Orion Schwaiger visited with Poole about her time thus far at the school, the 100 year history of music at UT, the impulse for increased independence, and her view of the school's sustained pioneering spirit.
A+C TX: On October 17th the Butler School of Music will be celebrating a century of music. How will the School mark the occasion?
Mary Ellen Poole: We're having a reception in the lobby of the Butler School at 6:00 pm with food from all the regions of Texas. After the reception, when everyone is full of Texas food, we're going into Bates Recital Hall to hear a concert with eight different groups performing. These are the top groups with the Butler School: The Wind Ensemble, The Jazz Orchestra, The New Music Ensemble, The Symphony Orchestra, our graduate string quartet, The Butler Opera Center, and our choirs. Practically everybody in the school will be on stage at one point or another that night. It's going to be quite the production.
A+C TX: Is there something in particular that you are trying to convey or demonstrate with the event?
MEP: We are trying to convey the quality of the performers that we have here, and the sort of incredible life force that we have in the school at all times with these young people who are producing such beautiful music, and who believe that they are going to make lives in music. We're featuring a number of students in leadership roles, and that's kind of unusual for us. The new music ensemble will actually be conducted by a student, and they're doing a piece by a recent alumnus complete with a video that he created out of this vintage footage. The graduate string quartet is four students who are here learning from their mentors, the Miro String Quartet.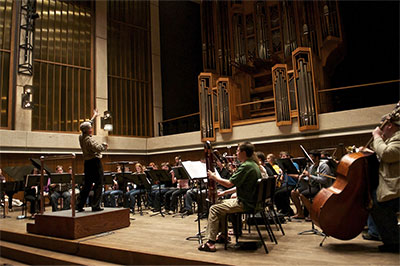 A+C TX: In your new role, and as a music historian, how would you describe the trajectory of The Butler School of Music over the last 100 years?
MEP: I'm not an expert on every detail of this history, but it was a little stop and go at first. I believe that the legislature and some of the leadership of the university sometimes thought they wanted to have music and sometimes they didn't. They couldn't quite make up their minds at first, so they kept declaring it a department of music, and then they would say "Oh no, we need to have more practical degrees." I don't know that they defunded it, but they would pull support away from it, and maybe not allow it to be an entity anymore. But it always came back, and that's what I find interesting about it. It had this sort of scrappy determination to endure; when the university was founded in the middle of the hill country here, in the middle of the brush, it had this music department that was very serious and had aspirations to be as good as all the ones on the east coast.
So "scrappy" is one word I would use to describe it in the early years. I think in the 50's it really started to take on a personality. I don't know how much that had to do with lots of GI's coming back on the GI Bill, but I do know that that was when the recently departed Vince DiNino was active. He was really the founding director of The Longhorn Band. They had a band before, but they had rules that you could only be male, and it wasn't integrated, it was only white guys. Vince DiNino came and said, "I want the best musicians for this no matter who they are," and that coincided with the very gradual integration at the University of Texas. This was a very brave thing for him to do at the time. That scrappiness, and music people always causing a ruckus, was part of our personality even then.
It was not a school of music until, I believe, the 1990's. It was a department, and it always wanted to be a school, because they believed that they would not get respect around the country unless they were called a school, and had a director instead of a department chair. I believe in the 90's, when they wanted to recruit Ronald Crutcher to be the director, they were able to persuade the powers that be (which in a big bureaucracy like this, is not always easy) to give the school that increased stature.
That's part of the history. The place is always evolving, and I trust that while I'm here it will evolve some more. It's an incredible group right now of faculty and students.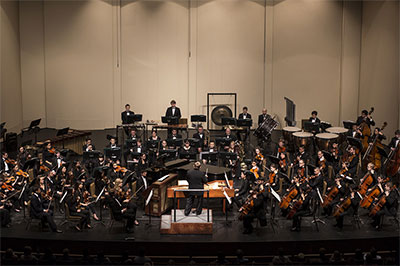 A+C TX: Given your predecessor's history, I understand you may be in a difficult place to weigh in on this issue, but you brought up the school's development from a department to something with more independence. Perhaps instead of weighing in on the schools current hypothetical separation from The College of Fine Arts to further become its own independent entity, you could tell us about your own transition from the position of dean of an independent institution to the position your now in as a director working within that broader College of Fine Arts?
MEP: There were a lot of changes for me, not just in title, and not just in structure. Going from a small, independent, private institution where music was the only thing, the budget was all for us.
I had very direct ability to take action about things. One of the differences between a private and a public institution is that the budgets are much simpler at private institutions. At a big university, there's always one more place to look–and it can drive you a little bit crazy because you're never sure that you always have the big picture.
I'm finding wonderful help from the staff, both in The School of Music and in The College of Fine Arts. There are a lot of people who've been here a long time and know how things work, and I'm very grateful to them for their patience with me.
A+C TX: So no culture shock then, from moving here from San Francisco?
MEP: I grew up in Louisiana, and then I went to college in Baylor, so I had four years of central Texas weather surprises. I will say that I never thought I'd move back south, because I am a big fan of cool weather. I was almost embarrassing to my friends the other Saturday when it went down into the 60s in the morning. I called everybody up, I woke them up in California, and I said, "64 degrees! Life is not over." My body is adjusting, and my wardrobe has made a lot of adjustments. My favorite things to wear are knee high boots and tights, and that hasn't worked so well since I got here. But I love Austin, I've always loved Austin. Like San Francisco, it has a very strong personality, and I don't ever want to live a city that doesn't have a strong personality.
A+C TX: Other than the weather, and these practical budget hurdles to jump over in this new role, how have you found the first few months on the job?
MEP: It's the busiest I've ever been in my life. I've never worked so hard. But I'm getting such good support from my colleagues that it's not something I feel dragged down by. I really feel buoyed up. I'm existing on very little sleep, but I feel like I'm getting so much energy from the people around me. I've been through years like this before, and I know I'll get through it. I have my strategies to do so, but it is a wild ride. I don't mean to use any rodeo analogies, but it is like being on a wild horse.
A+C TX: I know you haven't been there too long, but how would you describe the School in the context of other schools in Texas?
MEP:  As we look around the State, we think of our major peer institutions. Rice University: obviously, we are envious of their ability to offer full tuition scholarships to every single grad student. But, our new graduate string quartet came to us from Rice University, so we are playing on that level. In some areas we look at University of North Texas, their wonderful jazz program for example. It's a very different kind of jazz program from ours, but we salute the wonderful work that's being done up there. There are good programs at SMU and Baylor. Texas Tech has some wonderful choral programs. We are looking around and trying to see how we fit into this distinguished company. I think one of the big exercises that the faculty is doing this year is asking, "Who are we? What are we really really good at? How can we articulate that better?"
A+C TX: Is there an answer to those questions just yet, or is this something that's still developing?
MEP: I think there's a tension, maybe a healthy tension, between two impulses towards excellence. One of them is a kind of excellence that is going to serve the State of Texas and give students who come up through the high schools of Texas access to the kind of education they can get from us. As we audition students for certain degrees, we have to think about what the outcome will be for those students and audition them accordingly. The polar tension is that we have a lot of conservatory trained faculty who are consummate performers and composers. Their desire is to push students as hard as they possibly can to be superb performers and crafts people, and that is also a noble impulse. Sometimes those two things can come into conflict with each other, and we have to figure out how to marry them more successfully.
You really find out who you are as a school when you admit students and when you hire faculty, because that expresses your values. What do you value, who do you value? We are having those discussions and it's bringing a lot of good things out into the open. It's an exciting time for the school because we know how much potential we have to be a leader in higher education and music.
A+C TX: Along with those developments, what do you see as the most pressing need for the school entering this second century?
MEP: We have to figure out how to put our money where our mouth is. There are some things we say we believe in that might not be getting as much support as they should. We look around the country and say "who applied to the University of Texas, and where else did they apply?" We call those our cross applications, and they can really tell you a lot about how you're doing. Our cross applications are with some of the finest music schools in the country, from USC to Juilliard. I think we have to, at some point, decide how we are going to fund our best students, so that we can compete with those schools. Right now, frankly, you might say that we are getting by on our charm and good looks. Our faculty are so wonderful that sometimes students will say, "Well I'm not going to go there even though they gave me a bigger scholarship. I really want to be at Texas even though it's going to cost me a little more." That's an uncomfortable position for us to be in because we don't want students to take on extra debt. It's hard enough to be a musician without having lots of student loans. That's something I will continue to try and find money for, and build up those reserves so we can be even stronger.
A+C TX: We talked about this history the school has had of being scrappy, of maybe being troublemakers, but also of being pioneering. Do feel like you and the school will be continuing on that trajectory?
MEP: I would like to think so, because I think that's how exciting things happen. That's my personality, and as I look around the faculty, they're not exactly shrinking violets either. Probably, we are doomed to continue that trajectory–not that that's such a bad thing. Innovation comes from people who aren't afraid to make a mistake or two. I want our students not to be afraid to make mistakes. I want us not be afraid to make mistakes as long as we say "Oh, that was a mistake, here's what we've learned from it." We are moving ahead together. I believe that the faculty is the personality of the institution.
A+C TX: What's the next project you'll be working on after this Centennial celebration wraps up?
MEP: Once we figured out what we were going to do with the Centennial Celebration, the staff and the ensemble directors just took it and ran with it. I put the program together, and that will basically be my last act as artistic director. In this case, someone had to do it, because it was a pretty big, important, visible concert. The next project this year is what's called a self-study. I want to put into that study some of the questions we should be asking ourselves. Spoken of very broadly, the first question is "Who the heck are we? Who do we want to be? What are our values as in institution?"