---
IMAGE ABOVE: Andreas Augustinius and Samantha Lynch in Daniel Proietto's Cygne, Norwegian National Ballet. Photo by Amitava Sarkar.
---
As the season draws to a close in Houston (and occasionally elsewhere in Texas) and I'm already too focused on next season, it's a good time to reflect back on some standout performances. At least twice a year, I have to join the culture at large, and get a little listacle on you. By now, most of the season is a big blur. Here is a list, in no particular order, of what still swirls in my mind.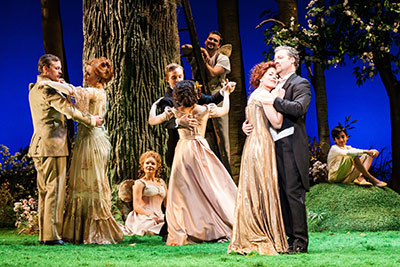 A Little Night Music and Das Rheingold at Houston Grand Opera
I've seen enough talk/sing versions of "Send in the Clowns" to be ready for something different, which is exactly what Elizabeth Futral delivered as  Desiree  Armfeld in Houston Grand Opera's luscious production of the Sondheim gem, A Little Night Music. The stunning visuals in Das Rheingold, including giants, floating deities and Rhinemaidens in water tanks, continue to haunt my dreams.
The Importance of Being Earnest at Classical Theatre Company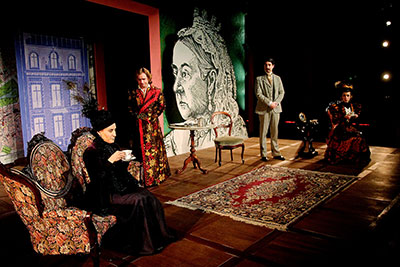 Sure, it's hard to go wrong with Oscar Wilde's wildly witty prose, but Classical Theatre  did a fabulous job with the piece, down to every shiny detail. From Emily Neves' batty Cecily to Pamela Vogel's deader than deadpan Lady Bracknell, Earnest proved a strong ending to CTC's season. Ryan McGettigan's zany off kilter set, which included the stern gaze of the Queen Mother herself, added to its farcical edge.
CounterCurrent 2014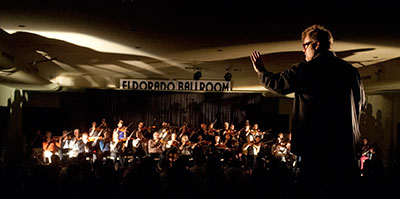 University of Houston Cynthia Woods Mitchell Center for the Arts baptized CounterCurrent, their first full blown festival, and it included outstanding performances, talks and artsy opening and closing parties. From Jonah Bokaer's elegant Eclipse to Suzanne Bocanegra's amplified loom in Rerememberer, it was five days of performances one is not likely to see in Houston. We need more of that in these parts. CounterCurrent 2015 returns next April.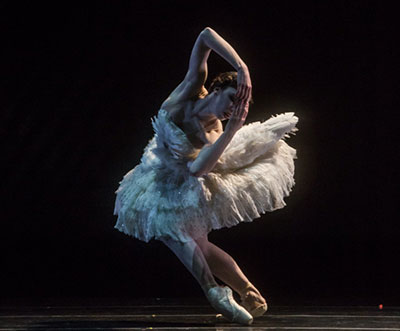 Samantha Lynch at Dance Salad
Norwegian National Ballet dancer Samantha Lynch (formerly of Houston Ballet) took our breath away in Daniel Proietto's Cygne, proving to be the hit of this year's Dance Salad Festival. Lynch dared to face the swan icon head on, with all its fragility and weight of  ballet's fractured history. Regal one moment, broken the next, Lynch's gut wrenching performance left us gasping, then roaring with applause.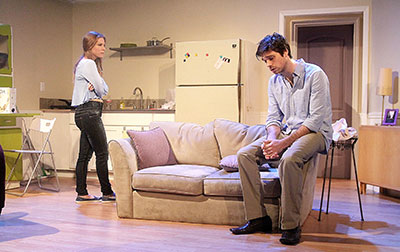 Teresa Zimmerman & Scott Gibbs at Black Lab Theatre
If you have a child heading off to college, I do hope you skipped Really Really at Black Lab, as Paul Downs Colaizzo addresses the worst in the overly entitled gen me on campus. Teresa Zimmerman and Scott Gibbs kept us guessing and on edge in their performances as two scheming millenials. These are two actors to watch out for next season.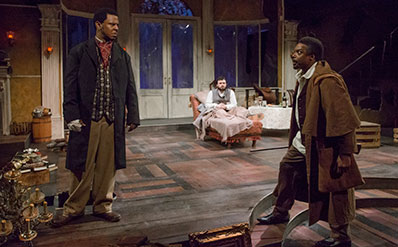 The Whipping Man at Stages Repertory Theatre
Joseph Palmore, Ross Bautsch and Shawn Hamilton brought us into the depths of the post Civil War bleakness of Richmond, Virginia in 1865 as part of Matthew Lopez's bold play, The Whipping Man, at Stages. It was one powerful play for three powerful actors.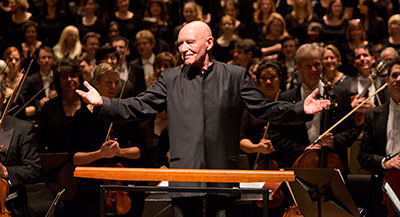 Mahler 8 at Houston Symphony
I know, I know, I 'm not a music writer, but Mahler 8 at Houston Symphony sure felt like some mighty fine theater to me. With a torrent of sound coming from the 487 musicians on stage, Christoph Eschenbach's fully embodied conducting, brass from the balcony and the Virgin Mary from the corner left box, Symphony for a Thousand thrilled from the first note to the last.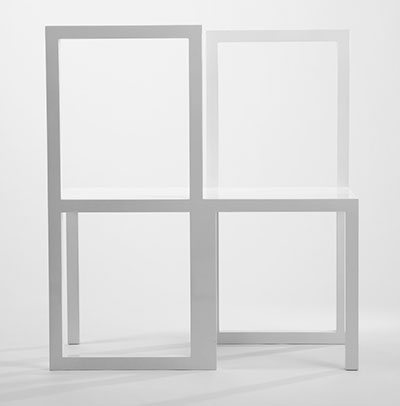 Robert Wilson at Rice University
Robert Wilson came to lecture as part of the Campbell Lecture Series on March 26-28. He began in silence, allowing us all to settle in with the hope that something extraordinary might happen. And it did, as he regaled us with tales of his seven day-long plays, his early collaborators, and the way in which theater goes wrong, bellowing his famous "no no no no no no nos." It was simply a historic occasion to have one of the giants of contemporary theater, a Texan no less, in Houston and standing right in front of us. Robert Wilson Tropical Spring was also on view at Hiram Butler Gallery during his visit, which proved a potent reminder of his foundation in the visual arts.
Karen Sherman's One with Others at Fusebox Festival and DiverseWorks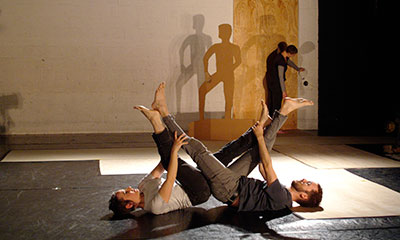 Karen Sherman wields dance like she might a Phillips head screwdriver. When it's called for in One With Others, Sherman and her colleagues Joanna Furnans and Don Mabley-Allen, dance with an earnest, utilitarian and utterly convincing, "let's do this thing" ethos. According to Sherman, One with Others concerns "biography, choice, and communication," but for me, it was the way those ideas, along with witty homemade props and unexpected choreography, played out with such honesty. Thanks to DiverseWorks and Fusebox for bringing Sherman to Texas.
New American Talent/Ballet Austin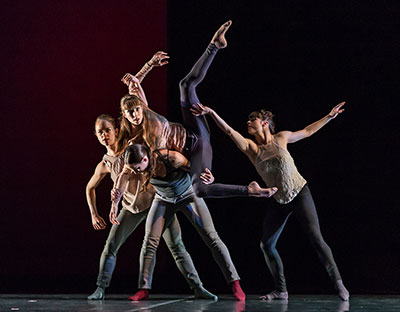 First, some disclosure: I served as a juror. I was quite amazed at the versatility of this company, watching them shift from one choreographic language to another in the works of  Ballet Austin New American Talent  finalists, James Gregg, Jimmy Orrante and Gabrielle Lamb. The dancers seemed to completely take each choreographer's language into their  bodies, all of which resulted in a terrific program of fresh work.
Shaw at Main Street Theater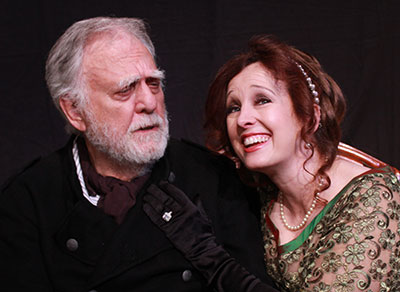 Of course, the production of George Bernard Shaw's Heartbreak House was Main Street Theater's usually top notch quality, but I can't help thinking that GBS was the true star of the show. Captain Shotover's pithy snark feels grounded in the impending doom around him and the Hushabye clan. The fact that we got to listen to Charles Krohn spout all those priceless GBS-isms, even better.
Houston Ballet in In the Middle, Somewhat Elevated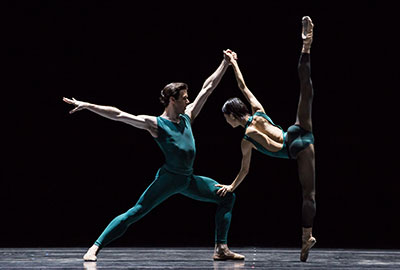 Somewhat elevated? Way elevated! I've seen the company perform this piece before, but never with this level of fervor. William Forsythe's tough kids on the ballet block masterwork demands extremes, and Houston Ballet's May 22 cast delivered, punching out every one of the post modern ballet master's off kilter steps with a fierce precision. Connor Walsh continues to add depth to his dancing, here he added muscle and grit. And hello there, Madeline Skelly, with those razor sharp legs and cool disposition, she now tops my "to watch" list.  The rest of the terrific cast included Nozomi Iijima, Chun Wai Chan, Allison Miller, Karina Gonzalez, Natalie Varnum, Alyssa Springer, and the always spectacular Derek Dunn.
Jeffrey and Sharon and Elizabeth and Chris at the Alley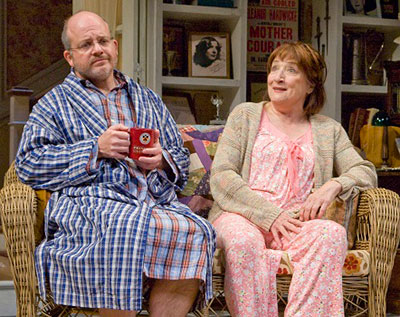 Jeffrey Bean and Sharon Lockwood in Vanya and Sonya and Masha and Spike at the Alley Theatre made a wonderfully sorry pair of siblings. It just sucks when someone takes out their phone while you are performing as a molecule in a bad experimental theater piece. Bean's pitch perfect rant proved a high point of Durang's Tony Award-winning play. If you wondered who was singing, "I could of danced all night" along with Lockwood, yeah, that was me. She is a wonder. Real life husband and wife, Elizabeth Bunch and Chris Hutchison, donned their best Boston southie accents for David Lindsay-Abaire's shrewd commentary on class and privilege, Good People.
Carolyn Judson in Swan Lake at Texas Ballet Theater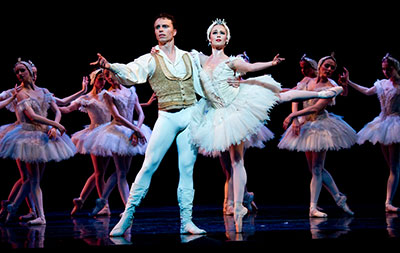 It's no easy job being half human and half swan. The ballerina must be fragile as a bird and able to push through some of the most technical choreography ever, including those darn 33 fouettes. Texas Ballet Theater principal Carolyn Judson's Odette/Odile was all that and more. And it doesn't hurt that she looks like a young Grace Kelly, and projects a kind of old world Hollywood glamour, which fit so well into Ben Stevenson's traditional Swan Lake. The fabulous Fort Worth Symphony, conducted by Michael Moricz, sounded perfectly dreamy as well.
Sara Webb's perfect arabesque & the Swanbros at Houston Ballet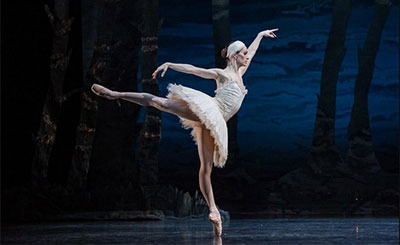 Swan Lake requires a certain level of perfection to pull the whole thing off. Sara Webb and her trusted partner, Connor Walsh, did that in spades in the company's recent performance of Stanton Welch's Swan Lake. There's a moment when Webb takes that perfect arabesque with an outstretched arm and a slightly drooped hand like a wing when we know, boom, we are witnessing vintage ballet bliss. As for this version of Swan Lake, Welch creates such lively choreography for the men in the first act. They dance, they hang out, they dance again, always with flash and precision, thanks to the strong crop of men in the company right now. Village scenes are rarely this testosterone fueled. Welch is a marvel at moving groups and he does this so well here.
Inprint's Poetry Buskers, Soto at MFAH, Sharon Engelstein at Art in the  Park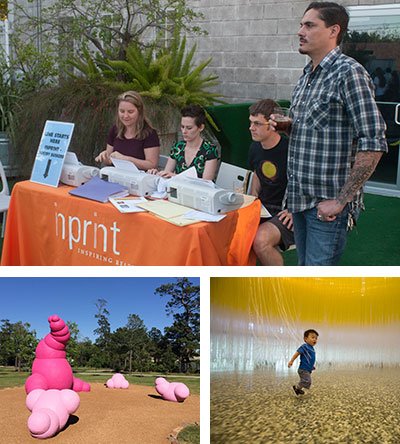 I have to go a little performaniac on you and include some art forms we don't necessarily consider performance. Bless those Inprint instant poets who show up at various arts events with their blazing Selectrics ready to craft a poem based on a theme we hand to them. I'm the proud recipient of seven instant poems this season, all of which are brilliant. Jesús Rafael Soto's Houston Penetrable is all about us. It's a work that requires human interaction. I love the feeling of walking through it, perturbing its strands and seeing how the movement plays out. Lately, I have been watching little folk explore the Soto. Engelstein's  Dillidiidae popped up on one of my weekly walks in Hermann Park. Those giant pink orbs (and one chartreuse green one) seemed as if they recently escaped from the outtakes of Fantastia. The mom orb and her babies appear caught mid-dance. There's a way the pink bounces off the the green of the park that feels vibratory. Also, most often I see children bouncing off the sculpture. So they are most definitely performance generators.
—NANCY WOZNY