DB14 Installation, 2014.
---
Art Beef/Beefhaus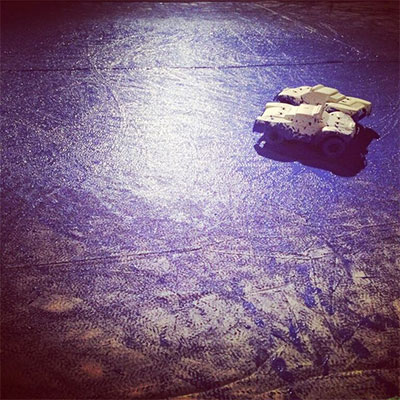 There's a haunting quality to the rooms of Beefhaus. Not quite haunting maybe, but perhaps an outside-of-time quality that de-marks the space from what came before. There are markings left over from previous installations, reminders of the artists who have made their work in the gallery's two years. During an opening, or visit, one feels as though one is walking into a storefront that operates outside our notions of continuity and place.
The space Beefhaus occupies in Exposition Park is worn, tired, and dusty: it's part of its charm, as well as its niche. It's unlike any other space in Dallas: blending low-brow aesthetics with high-minded, yet unpretentious ideals.
Founded in 2010, the collective Art Beef came first, comprised of Dallas-based artists. The original group was Adam Rico, Zachary Broadhurst, Crisman Liverman, Nicolas Mathis, Luke Harnden, and William Binnie. Art Beef/Beefhaus co-founder Harnden was part of a graffiti crew in his late teens and early twenties; he remembers the initial idea for a collective being an extension of his days as a graffiti artist, working within the unity of a crew.
"It was birthed out of conversations I was having with Adam and William; I think I maybe made the initial push, visiting people, saying, 'Let's do something!' We needed everybody on board; in order for something to happen we all had to contribute in some way. It's about having a crew that you work with and kind of this anonymity as well. You have an agreed-upon mission in some way, even if it's loose."
Early on, members of Art Beef worked as a collective, working collaboratively on projects in vacant storefronts throughout the city. Art Beef/Beefhaus co-founder Binnie, who now lives in North Adams, Mass. explains, "While the vacant storefronts were generally free to use so long as we kept the "For Rent" sign in the window at the request of the property owners, we eventually decided that finding a more permanent space would allow us to program further out versus having what were essentially pop-up exhibitions with very short notice."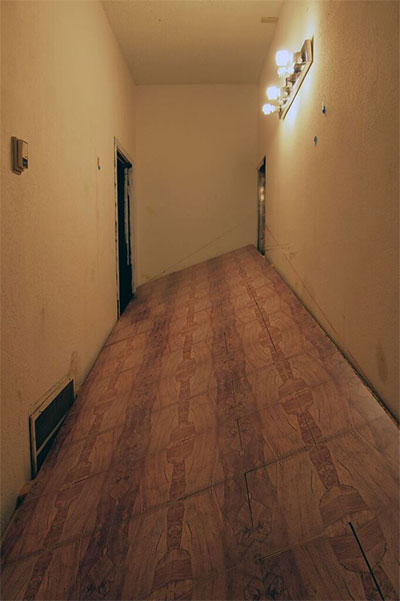 In 2013, Art Beef created Beefhaus, their DIY gallery space, in a building where Binnie knew the property owners. Beefhaus was uninterested in commercial interests and operated in direct contrast to authorship, hierarchy, and hegemonic contemporary arts programming. "At the time, I didn't think it would last more than six months," Binnie says.
The building that Beefhaus occupies was built in 1917 and at one time served as a jeweler, which explains the vault that sits in one of the rooms in the middle of the building, an oddity worked around and into exhibitions. Harnden describes the space as "charged."
"A lot of the work that has gone on in Beefhaus directly responds to the space itself." When he mentions that, one immediately thinks of past shows where the space has been played with in exciting ways. Future Beefhaus member, Randy Guthmiller turned the room with the safe into a Shape room with karaoke; Justin Hunter Allen installed a painting in the bathtub in the back of the space. Performance Southwest hosted a performance art festival.
Beefhaus has seen a great deal of turnover in its neighbors on both sides. The space to its left—once legendary dance club, Fallout Lounge—currently sits unoccupied, while on the right what was the longstanding Amsterdam Bar is now Eight Bells Alehouse. Eight Bells moving into the neighborhood could be signaling a long-needed change, increasing development and visibility to the under-appreciated area.
"Expo Park has had a rough go in the past few years. The neighborhood is one of those that goes through peaks and troughs every once and a while. We just need it not to peak so much that we get the boot," Binnie says.
During the gallery's first two years, it was part of a DIY scene in Dallas that included like-minded spaces such as OFG.XXX, the individual spaces under the S.C.A.B. Umbrella (Studio Don't F**k This Up, That That, and Homeland Security), The Safe Room, Ware:Wolf:Haus, Two Bronze Doors, and the pop-up storefront exhibition spaces of Deep Ellum Windows.
"When we first started Beefhaus it was simply because we were frustrated by the way art functioned in the city, which is to say almost purely as a commodity for the wealthy who were presumably bored of collecting expensive, useful goods, and found it exciting to collect expensive goods that are almost by definition useless." says Binnie.
During this period, Beefhaus separated itself from other spaces by dedicating its programming to others working outside of the Art Beef collective. It was a place for artists to collaborate (see Jeff Gibbons and Gregory Ruppe's "Pure Duration" video series), emerging artists to obtain opportunities (see Patrick Romeo's "Actually"), as well as a welcoming space for other creatives to collaborate through an intentionality of idea and unity (Michael Kennedy Costa and Keith J. Varadi's "Personal Fantasies, LLC.", curated by Sally Glass.)
"It wasn't about using this as a platform to further our own individual things," Harden explains. "It was its own entity, however that manifested." In the early throes of starting any collaborative project, healthy discourse arises that shapes dynamics and builds a unified ideal. Beefhaus was no exception, with some members early on considering using the space as an opportunity to exhibit members within the group's own practices.
"It was a contentious issue at first, a few people wanted to show some of their own work or wanted the ability to do so. We left it sort of loose at first," Harnden remembers. "The idea is that this is not about us individually, if we were going to do something that was coming as a voice it would be coming from Art Beef and not the group of individual artists. If we were going to show our own work, it would have to be under the auspice of Art Beef."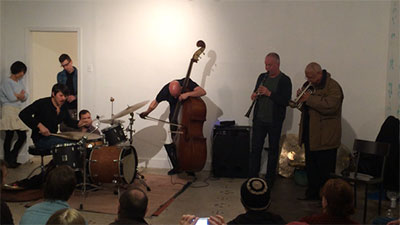 Two years later, of the underground gallery community Beefhaus was part of, only Homeland Security remains active. All the others have closed down, gone on hiatus, or been shuttered due to financial situation. "Dallas thinks it likes art, but it doesn't. It likes spectacle for which art is the rug." Binnie remarks.
Beefhaus endures because of a small group of investors that are dedicated to its survival: its members. Each member pays $88 a month as a membership fee. They meet when they need to. There's a focus on not over-thinking it.
"We all contribute to the rent and costs of operations, so there's no expectation on the artists to create work that is commercially viable. We do encourage donations, 20% donation of sales, and we don't discourage sales at all. It's sort of like running in-between these extremes of a not-for-profit and a commercial gallery. We are not willing to sacrifice the autonomy of the individual artist."
But surviving isn't easy. Almost a year ago some members, like Binnie, moved away; others moved on from the project. Today, only Harnden, Nic Mathis, Crisman Liverman and Adam Rico remain of the original group. There was talk of possibly packing it in. But another option became clear: Bring in fresh blood.
"We had to re-energize," he says. "There was that moment; closing was something I was coming to terms with. I was looking for anyone to be like, "No, no, no, something's happening that's bigger than yourself; are you just going to neglect it?" The remaining members began looking for new members that had certain sensibilities, artists who were willing to go out on a limb and put themselves at risk for a project like Beefhaus. "It was an attitude we were trying to have."
Today, Art Beef/Beefhaus membership looks much more diverse. Current members include artists H. Schenck, Patrick Romeo, Alison Starr, Randy Guthmiller, Tim Best, and Nicholas Mathis; founding members Rico and Harnden; and Pierre Krause, a board member.
"There's strength in diversity," Harnden says. "We wanted to do it without doing it for the sake of being diverse. We wanted people who were open to an expansive process and programming. It's an amorphous thing. Beefhaus seems a little dangerous sometimes." New member Schenck says the space's "street-cred" is what drew him to join the group:"Beefhaus is this really cool thing where I can still express my points and opinions, but more through a curatorial practice. The flexibility of Beefhaus— having more of an organic element, being less about the structure, and the money too—it's a model of artistic exploration."
Romeo began as an exhibiting artist and now serves as one of the group's integral members, taking the reins, along with Harnden, on install, de-install, and cleaning.
"Alison Starr has been helping with open hours, Tim Best with install shots, Randy Guthmiller with printing flyers and curating his first shows," Romeo says, "We all do our part. We certainly need 'silent' members, though, because that keeps costs low. We operate on anarchist unanimous rules: no leaders, only workers."
Harnden believes that the size of the space allows for this special kind of leadership structure to thrive, noting that if the space and organization were larger, it would have a more difficult time existing as such.
Romeo curated the first show under new leadership, in January: A two-person exhibition which featured composer Joshua Westerman and video artist, William Sarradet, followed by a group video show called "Bee-Flix" which featured both Dallas-based and national artists.
Beefhaus exists without the typical commercial gallery constraints of a for-profit business by allowing artists and curators to do whatever they want, continuing what Binnie calls a "crudeness or rawness that is generally discouraged by the market. Most artists harness that lack of pressure to really use the space as a material itself and experiment in ways they likely would not in a commercial gallery setting."
Beefhaus does not have a timetable for deciding on how long they will remain in their current space or if they will eventually exist in multiple spaces. With new members, a set schedule of shows planned out for this year, and plenty of ideas, all that matters is enduring.
—LEE ESCOBEDO