The Jets mid-leap shouting, "When you're a Jet," in West Side Story, Tevye whispering, "If I were a rich man" in Fiddler on the Roof, and Mary Martin soaring through the air crooning, "I'm flying" in Peter Pan, immediately evoke the genius of Jerome Robbins, the most important Broadway director of the 20th Century.
Houston gets a welcome blast of Robbins' legendary work when Theatre Under The Stars (TUTS) presents Jerome Robbins' Broadway, a sweeping anthology of the American choreographer's work all on one night. What better way to celebrate the Robbins' Centennial than seeing 18 masterpieces from his most iconic shows. It's like getting a thorough Robbins education in under three hours.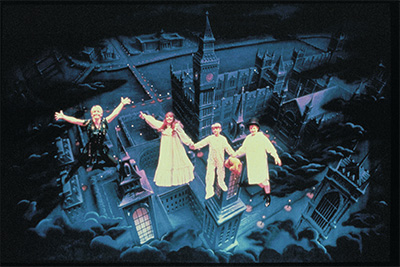 The TUTS show will be the second production in the US since the tour ended. It's been several decades since the tour touched down in Houston during the 1990s, so it will be a first for most of the audience.
For Dan Knechtges, TUTS Artistic Director, the timing couldn't be better. "We have a whole generation who have not experienced his work on Broadway firsthand. Maybe they have seen videos, but for so many, this will be their first exposure to Robbins' work. It's an opportunity to understand his contribution, which shaped and changed the history of musical theater forever."
Knechtges, a musical theater history wonk, offers some perspective, declaring, "Robbins was the first star director. Before Robbins, directors did not have so such clout or power. He was the first to introduce visual storytelling."
The TUTS show has its own star director in Cynthia Onrubia, one of Robbins' top assistants in the original production. She was in the room with Robbins during much of the process, and has a profound grasp of his oeuvre. Onrubia states, "He paved the way," referring to all the choreographer/directors who came after, like Bob Fosse, Michael Bennett, Christopher Wheeldon, and Susan Stroman.
Knechtges is thrilled to have such an authentic tie to the Robbins legacy working alongside him at TUTS. "We will have a direct line from Robbins in Cynthia," adds Knechtges. She is continuing the Robbins legacy, right here in Houston, with several local artists involved. The production is a first for Houston on many fronts.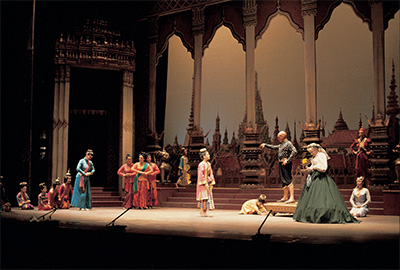 Jerome Robbins' Broadway was a huge undertaking when Robbins conceived it over a decade or longer. It not only had an extensive gestation period, but also the longest rehearsal period in the history of Broadway. Onrubia recalls the process as if it were yesterday. "Jerry took weeks just to even decide who would be assisting him," recalls Onrubia. "He had to watch how we danced his movement. How people taught his movement was so important to him." Onrubia has immersed herself in Robbins' many styles. "Each piece is so different," she adds. Robbins versatility was the stuff of legends. In his career, he floated effortlessly between the ballet stage at New York City Ballet and Broadway.
For Robbins, choreography existed in service to the work. Being a strong dancer is just not enough. The arc of the story is most important. "It's not just the steps," Onrubia says. "The dancers have to be in touch with their emotions and be completely honest in the movement."
Premiering in 1989 to rave reviews and winning six Tony Awards, Jerome Robbins' Broadway includes iconic numbers from the shows we know and love, such as West Side Story, Fiddler on the Roof, The King and I, Peter Pan, and Gypsy. We will also see early pieces that might be new to audiences, such as Billion Dollar Baby, High Button Shoes, and Miss Liberty. His very first show, On the Town, which grew out of the ballet Fancy Free, recently performed by Houston Ballet, completes the mix.
A quick glance at the credits of the show, with names of such giants as James M. Barrie, Irving Berlin, Leonard Bernstein, Betty Comden, Adolph Green, Oscar Hammerstein II, Sheldon Harnick, Arthur Laurents, Richard Rodgers and Stephen Sondheim, gives one an idea of the tremendous scope of the project. "It is a huge show," adds Onrubia.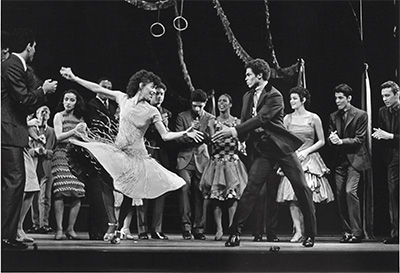 Knechtges is over the moon to be sharing these gems on the TUTS stage, especially the lesser known works, like the madcap mayhem door-slamming Keystone Kops farce from High Button Shoes. "It's a such a highlight, a total showstopper, so funny and so character driven," Knechtges says. "With eight doors swinging, it's delightful beyond words. These kinds of numbers don't exist today because modern musicals have moved away from this kind of storytelling."
Jerome Robbins' Broadway may seem like a crash course in the choreographer's canon, yet it's meticulously arranged to maximize the impact for an audience.
"The numbers do not appear chronologically, instead we have an arc where lighter pieces are followed by deeper sections," explains Knechtges. "Audiences will be wowed by West Side Story, then the dancers crank out a hilariously funny charleston from Billion Dollar Baby. The entertainment value is off the charts."
Robbins was a master of narrative flow. So how will we get that flow with so many shows? Easily, according to Onrubia, "The narrator places us in the world of each show," she says. "He sets the tone." Originally played by Jason Alexander (mostly known these days for his role of George Costanza in Seinfeld), the role is much larger than a narrator, and is referred to by insiders as "the setter." It provides that famous Robbins through line, and makes the whole show feel, well, like a show!
Frank Rich gushed in the New York Times when the musical opened in 1989, that "the American musical theater's greatest director and choreographer doesn't merely bring back the thunderous excitement of songs and dances from classic musicals… he pulls off the miracle of recreating that ecstatic baptism, that first glimpse of Broadway lights, of every Broadway theatergoer's youth." From May 28-June 9 that miracle comes to Houston, when TUTS takes on the show of shows, Jerome Robbins' Broadway.
-NANCY WOZNY
Reprinted with Permission from Theater Under The Stars.