Wagner's Ring at Houston Grand Opera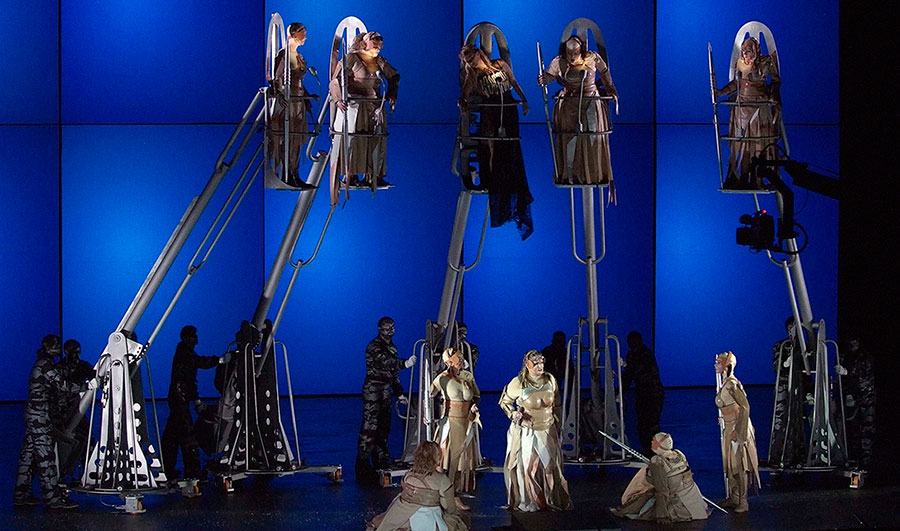 2007 La Fura dels Baus' production of Die Walküre. Photo by Tato Baeza.
---
Houston Grand Opera is treating its audience to the Everest of musical-theatrical storytelling, told by an exceptional cast and wrapped in a revealing, exciting production that originated with Spain's famously gutsy theatrical production team, La Fura dels Baus. Like the multi-part epic that we've all come to enjoy and anticipate in film, Houston's serialized operatic saga keeps us coming back, wondering and curious, for the next chapter. It's The Ring, y'all.
In Die Walküre, April 18-23, the second installment of Richard Wagner's Ring of the Nibelung, the story of Wotan and Freia, Siegfried and Sieglinde moves to earth from Valhalla, the cloud-bound home of the gods. Having ransomed his wife Freia with the golden Ring of the Nibelung in last season's Das Rheingold, Wotan sets about regaining the ring and its unique power. It's a family drama from beginning to end: Wotan sacrifices his son, Siegmund, renounces his daughter, Sieglinde, and abandons his favorite child, Brünnhilde, in a ring of fire.
While larger opera companies usually dedicate significant portions of a single season to presenting a complete Ring "cycle", including all four operas (usually in a single repertory period of 3-6 weeks, taxing audiences and performing resources in equal degrees), HGO has opted instead to present an extended cycle, offering one Ring opera per season through the 2016-17 season. Artistic and Music Director Patrick Summers summarizes the company's reasons for a 4-year run around the Ring in two words: "Artistic advantage."
"When you commit to a full Ring cycle, you're facing a work that comes in at a little bit more than 15 hours of music in performance," says Summers (not to mention a cumulative16-20 weeks of rehearsal time). "If you're singing a Wagner role for the first time, you might find the whole thing too formidable. A slow immersion, one opera at a time, gives artistic advantage to the entire company, orchestra and chorus included. We can take our time with a very profound work of art. HGO's decision to do our first Ring this way also meant that we could entice a top-notch cast of newer Wagnerians, artists who are eager to take on this particular set of vocal and dramatic challenges in an environment of trust and confidence."
Houston has assembled an exceptionally accomplished, young cast for its 4-year project, led by the remarkable American soprano Christine Goerke, in her first U.S. appearances in the role of Brünnhilde. She's joined by Iain Patterson as Wotan; Jamie Barton—an HGO studio alumna, and also a winner of the BBC Cardiff Singer of the World competition—sings the role of Fricka. Karita Mattila is Sieglinde, and Simon O'Neill is Siegmund; Ain Anger is Hunding. The Valkyries—the female warriors of Valhalla who decide the fates of humans—include Meredith Arwady, Kelly Kaduce, Faith Sherman, Natalia Romaniw, Catherine Martin, Eve Gigliotti, Julie Makarov and Renée Tatum.
Summers notes, "Building Houston's first Ring has been a magnificent journey for me. I have assisted on Rings in several opera houses, including San Francisco, but this is the first one I am leading, and I love being able to take an immersive approach." He takes a breath and adds, "Two seasons into it, I have already learned more from this experience than I have learned from any other Ring."
Beyond the artistic advantage, there's a measurable advantage for the audience as well. Subscription sales are strong at HGO, with subscribers enjoying a season filled with variety, and not overtaken by a single composer. Meanwhile, single-ticket sales for Die Walküre have been even stronger than they were for last year's Das Rheingold; most performances were sold out several months in advance of the April opening (a few seats remain as of this writing), with audience from out-of-town on the rise. If you are tempted to experience your first Die Walküre (or your first Wagner), it's worth putting your name on an HGO waiting list, because you will experience the opera in a groundbreaking production that can be seen nowhere else but in Houston.
Notable for its lack of horned helmets, Houston Grand Opera's inaugural Ring is distinguished by a production that, in Summers' eyes, "reveals Wagner's vision of this piece and reclaims it for the theater." Director Carlus Padrissa, set designer Roland Olbeter, and their Fura dels Baus cohort have history of developing impactful street theater and returning spoken theater to its anarchic folk-roots. According to Summers, when initially approached about the Ring (by an opera company in Valencia), Padrissa had never seen nor heard Wagner's magnum opus. He took a rigorous, creative approach to the challenge of understanding it, immersing himself Wagner's source materials: Norway's Volsunga Saga and the poetic Eddas, and the classical Greek theater—the works of Aeschylus in particular. The resultant production is "grounded in the human roots of literature and theater," says Summers.
An antique deus-ex-machina device inspired Padrissa's vision of the place that the gods hold throughout the four-opera production: They are elevated from the stage, each occupying a "cherry-picker" crane, but rather than directing their own motion, the gods are moved by clearly-visible humans. (Those who saw last season's Das Rheingold will remember that Loge, being a demigod, was on a Segway, which he operated himself.) "The imagery of the production is antique, but the conveyance is absolutely modern," says Summers.
The centrality of the human to this production—in scale, in philosophy—is compelling for Summers. "The Gold itself is human," he states, referring to the mythical Rheingold, the polarizing element at the center of the four operas that make up the Ring. In Padrissa's vision, it is no mere lump of metal, but a crowd of gold-clad people. Summers adds that the representation of Valhalla by an "exoskeleton made up of the people required to build the city of the gods" represents the human toil and the enormous cost of creating and maintaining great shared cultural and psychological constructs.
The production "liberates the operas of the Ring cycle from a narrow historical view, from the tendency to associate them exclusively with the events of the time of their creation," says Summers, adding that it delivers a Ring that is relevant for contemporary audiences. After all, he observes, science fiction and the Ring share some key source materials; "This Ring is magnificent in its clarity and vision. It is not a deconstruction of an epic, but rather the construction of a living, breathing, human journey."
—ELIZABETH BAISLEY