Ryder Richards, Maya and Stack, Courtesy Artpace
---
For the first time, Artpace has asked the guest curator for its International Artists-in-Residence program to select Texas artists who weren't chosen for the AIR program to be in an exhibit in the Hudson Showroom through Dec. 31. Rather than "also rans," the three artists in Objectives, selected by Denise Markonish, a curator at the Massachusetts Museum of Contemporary Art (MASSMoCA), demonstrate the depth of talent in the Lone Star State.
Veronique Le Melle, who became director of Artpace last January having served  for seven years as president and CEO of the Boston Center for the Arts, says Objectives reflects her desire for Artpace to be more open and transparent about how artists are selected.
"There's just one slot for a Texas-based artist in each of our three AIR programs each year," Le Melle says. "But we have a whole lot of artists applying through our Texas Open Call. Asking the guest curator to select artists for the Hudson Showroom grew out of a conversation with a curator last spring when she said she wished she could select more than just one Texas artist. Texas is a big state and this reflects our re-commitment to working with Texas artists."
For the Fall AIR exhibit opening Nov. 10, Markonish selected Kim Morgan of Canada, Kim Faler of Massachusetts and Lily Cox-Richard of Houston. For Objectives, she chose three artists working with found objects that "reference the legacy of minimalism" while "continuing the conversations at Artpace this fall about process and the malleability of sculpture."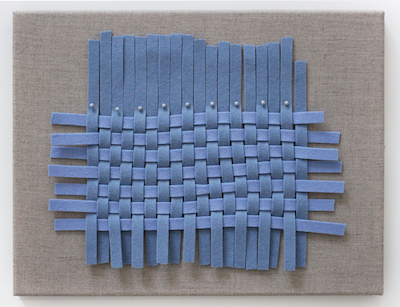 Looking over the wall installation titled The Blue Hour by Jessica Halonen, an associate professor of art at San Antonio's Trinity University, is like peeking surreptitiously into an intimate, three-dimensional diary. A former Core Fellow at the Glassell School of Art (Houston Museum of Fine Arts), Halonen lives in Austin and recently spent time in Berlin, Germany, as part of a residency sponsored by the Blue Star Contemporary Art Museum.
Combining painting and sculpture, her arrangement of geometric drawings and paintings, knick-knacks and small assemblages was inspired by her family history, chance encounters in Berlin, the blue of the sky, and pigments such as Prussian blue. Mantel features curious objects such as a miniature Greek bust, false teeth, wire tangle, pills and other items carefully arranged on a white shelf like family heirlooms. Interwoven blue fabric in Untitled (Blue Weave) was inspired by the tile façade of The Palace of Tears, a former East Berlin checkpoint. While her small compositions are not all related, they each convey a feeling of loss and regret.
Providing some levity are the curiously green creations of Polish-born interdisciplinary artist Kamila Szczesna, who now lives and works in Galveston. Working with expandable foam, resin, spray paint, cloth and steel, she makes bulbous, multi-pronged, greenish sculptures that appear alive, bobbing and weaving upon 360-degree inspection, which seem to shimmy as if in a fit of giggles.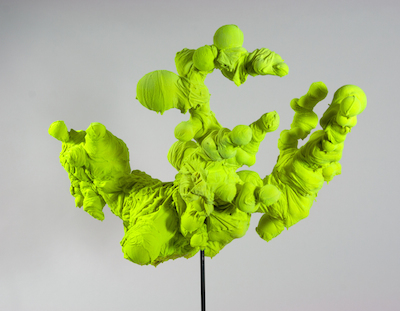 "My forms describe feelings created almost haphazardly, too new to bear names as such as impressions experienced by the viewer encountering the work," Szczesna writes in her artist's statement. "The pulled, drooped, squeezed and tensioned portions in the underlying forms of each sculpture point to and illustrate the physical reality to which we are subjected and to its sensory origin."
Ryder Richards, a Dallas artist and co-founder of the RJP Nomadic Gallery, works with the "least precious materials" he can acquire, discarded tires and building materials purchased at Home Depot. San Antonio has a notorious used tire dump on its South Side just waiting to erupt into environmental catastrophe, so his images of burning tires in the drawing Shield: Burn become an ominous warning of the controversy to come.
He uses bright orange ratchet straps to hold together his tire sculptures. Likely referencing outdoor neighborhood asphalt basketball courts, Work/Play: Ballcourt features a used tire containing a basketball jutting out overhead from the wall like an improvised sideways hoop.
His most ambitious work was yet to be created when the exhibit opened. Redaction of Labor III began as a stack of lumber, sheetrock and paint. During the course of the show, Richards plans to use the materials to build a wall that will cover an existing wall, essentially making it disappear while the new wall should blend in with its surroundings.
"To build a wall is to create a large minimalist painting from construction materials," Ryder explains in his artist's statement. "If it is done properly, which is to say obsessively, it will be promptly ignored as part of the space, it will become part of the architecture. The action makes manifest the paradox of invisible labor by cultural creators."
But Objectives helps to make visible the labor of Texas artists who previously were left waiting on the sidelines of the AIR Program. Under Le Melle's direction, Artpace promises to renew the institution's original intent of providing Texas artists a better chance to be noticed by influential, out-of-state curators.