Shotgun. Photo by Reid Robinson.
---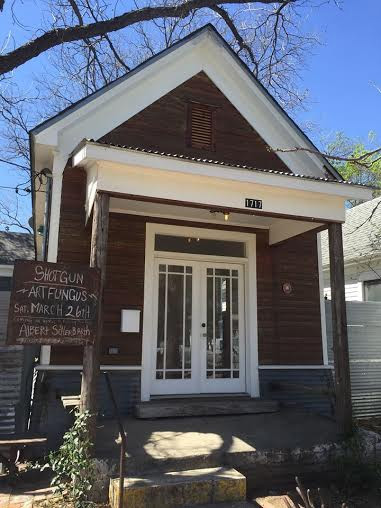 Shotgun sets up shop in South Dallas
Tucked away in the Cedars neighborhood of Dallas, Shotgun is the newest exhibition space to grace the deceptively quiet residential area just south of downtown with its presence. Equal parts historic and modern, the neighborhood has witnessed a DIY arts renaissance in the last couple of years. Alongside Pariah, another exhibition space in a similar vein, Shotgun is a welcome addition to a growing neighborhood. A concept launched from the same location that was previously RE Gallery, Shotgun opened on Mar. 26 with a show by the Art Fungus collective.
The opening was a cramped affair. Art Fungus' Thor Johnson, (former?) candidate for Dallas Art President, performed admirably as a carnival barker. Donning a mask, he humorously welcomed visitors, taunting and enjoining them to throw shoes at a hanging tarp with video of the artists projected against it. "Part of fungus is fun. Half the word is fun," said Andy Don Emmons of the band Inferno Texino and Art Fungus member, who likened the aesthetic of Shotgun and its neighbors to the atmosphere of Houston's Heights neighborhood.
Shotgun is an appropriate designation for the space, as it is a remnant of the kind of domiciles popular in the south in the early part of the 20th century. Barring any decorative or design obstruction, one can stand on the front porch and gaze through the open door all the way to the back of the home. Art Fungus, however, makes this action impossible; their works crawl up from the base of the walls all the way to the ceiling, covering it and any corridors along the way, essaying to touch viewers passing through rooms.
Many of the pieces on display inside are not "fine" in the sense that they represent an ideal combination of skill and reference or reverence; or that they conform to any universally accepted strictures. Instead, they are raw in nature, a jamming together of comics and culture, the pieces are alternately colorful and colorless and laden with text. They depict cult and pop-cultural figures in new contexts as well as monsters of the imagination with little discernible rhyme or reason. Movie posters and other nostalgic ephemera sometimes interrupt the placement of the work, and sculptures are scattered throughout the space. "It's kind of like a teenager's bedroom wall," admitted Art Fungus member Erik Schuessler with a laugh.
The general consensus amongst Art Fungus (whose members include the aforementioned Emmons, Schuessler, and Johnson, as well as Jason Cohen, Robert Chad Cook, and Jermy Elizabeth Johnson) is that Shotgun is a great place for their work, as it speaks to their sensibilities, which are at turns mid-to-lowbrow, wacky, and imbued with a kind of punk Americana. Emmons and Jason Cohen both expressed a desire to not only do more group exhibitions, but also curate shows there, "A lot of the people that we respect as artists don't really have a place to show in Dallas, so my thoughts are, 'Well, you know, it'd be nice to have a space where we can actually bring in people like Gary Panter, and some of the people who have inspired us as artists," said Cohen.
But Shotgun isn't a traditional gallery, and owner Mark Martinek asserted that, "[it's] a space that's sort of available for art, music, food… any kind of event that's small, so we kind of encourage a pretty broad array of people." He also stressed that the space has no one defining curatorial vision or ego. "What we're trying to encourage is culture and diversity, [to bring] a wide array of groups through the space. To provide a venue for what's happening in Dallas."
Up next at Art Fungus is Albert T. Scherbarth's Meat of the Nut, which opens April 16 with a reception from 8-11 P.M.