Bruce Wood Dance Project Artistic Director Kimi Nikaidoh with BWDP member David Escoto.
Photo by Brian Guilliaux.
---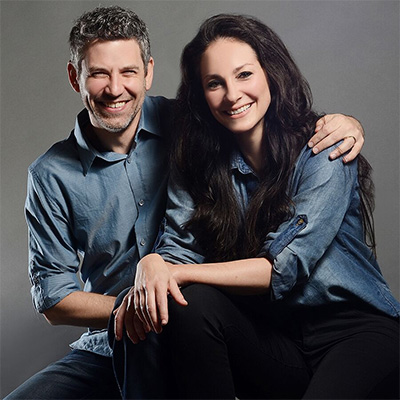 Bruce Wood Dance Project celebrates its sixth season with the Dallas premiere of Bruce Wood's Anything Goes, along with world premieres by BWDP répétiteur/rehearsal director Joy Atkins Bollinger and NobleMotion co-artistic director Andy Noble, on June 17-18 at Dallas City Performance Hall.   A + C editor Nancy Wozny visited BWDP artistic director Kimi Nikaidoh about the June show and running one of Dallas' most exciting dance companies.
What are some of the high points of your time at the helm of Bruce Wood Dance Project?
In March, BWDP hosted WoodWorks, a series of contemporary master classes open to the public. The four teachers—two from Texas and two from New York—shared their unique styles and perspectives, and each class ended with a roar of applause from all of our dancers and guests. Seeing the community bonding, individual growth, and general rejuvenation that took place over those two weeks was incredibly rewarding!
On the performance front, it was really exciting to take BWDP to New York in April. Le Train Bleu—a music ensemble that regularly collaborates with the Lar Lubovitch Dance Company—commissioned a dance by Katarzyna Skarpetowska to be performed at the National Sawdust in Brooklyn. I've always admired Kate, so I was delighted when she asked if she could create the work on BWDP. She made a lovely, haunting 11-minute dance for three women that we're proud to have as part of our growing repertoire, and she will be back in Dallas soon to set a longer work on the whole company.
Anything Goes sounds fun, but what's challenging in the work?
Anything Goes, set to a suite of songs by Cole Porter, is a pleasure to dance because it's a cheerful, clever, and sometimes irreverent piece. I think the challenge lies in delivering all the embedded jokes clearly but subtly. I picked Anything Goes for our June program after Joy and Albert (BWDP Artistic Associate) approached me to ask if we could do a more lighthearted piece from Bruce's repertoire at our next concert. I realized that, at least at our Dallas City Performance Hall series, we'd produced a disproportionate number of Bruce's more serious works. The diversity of moods and tones among his dances is a huge asset for us, and they were right to remind me to utilize that!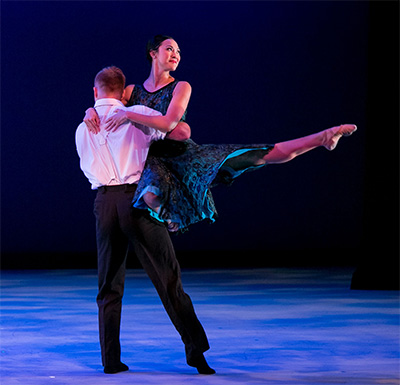 Bruce Wood was an incredibly prolific dance maker, so it's extraordinary to be able to have Dallas premieres available to the company.
He made so many great dances! Many times I've struggled to choose which of his ballets to produce for a given performance… It really is an amazing "problem" to have too many good choices. I love hearing from excited audience members after our shows, who seem high off the thrill of discovering another "new" Bruce dance. Bruce thrived on the choreographic process. I remember how invigorated he was at the outset of a new creation, and how he pushed himself again and again over the years to make something new, something different. Commissioning new dances isn't just a survival tactic for BWD —it's one way in which we're continuing his legacy.
Speaking of continuing to support new work, your rehearsal director/répétiteur Joy Bollinger is new to our readers. Tell us about her and her new work.
Joy Bollinger joined the Fort Worth-based Bruce Wood Dance Company in 2002, only a couple of years after I did, and quickly became a treasured friend and trusted ally. After dancing and touring with BWDC for four years and originating many roles created for her by Bruce, she co-directed the Arlington Heights High School Dance Department, developing a passion for teaching and choreography. She's a beauty with brains to match who has been indispensable to BWDP since it started in Dallas in 2011, performing with us and helping re-stage Bruce's work. The dance she created for the June program is thoughtfully crafted and highly creative; it's going to be a real treat for our audiences.
It's so great to see a work by Andy Noble on the June program. I love the way Texas dance is starting to dance with each other! How did you connect with Andy and know that his style would be right for the company?
I first saw Andy's work at Dallas DanceFest 2015, where I oohed and ahhed at it from the audience with a couple of BWDP dancers. He had two pieces on the festival program, one performed by students from Booker T. Washington and the other by his Houston-based company, NobleMotion Dance. I liked the accessible conceptual framework and the fluid-but-dynamic movement style he used for both works, and his ability to capitalize on the wide variety of strengths among his dancers convinced me he could make something exciting for us.
How do you balance dancing with running a company?
My ability to keep performing with BWDP and in occasional side-projects is largely thanks to the support of the BWDP team and my family. I've had a career littered with injuries, so maintaining my ability to dance professionally (through cross-training, physical therapy, etc.) is more time-consuming than it might be otherwise. Still, the company and my family express nothing but support for my dancing, and I'm tremendously grateful for that.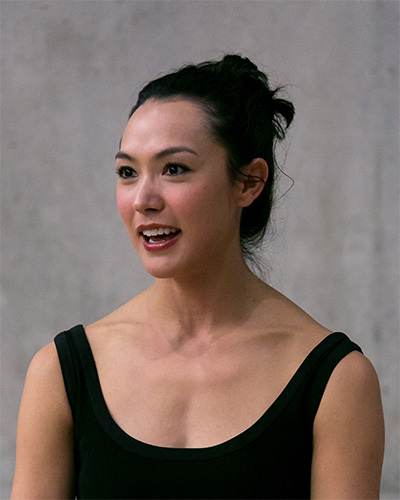 Both you and Albert Drake danced a work by the Nobles on ABC's American Crime. And Albert worked with Jonah Bokaer for Rules of the Game. Do you encourage dancers have some outside experiences?
I want to sound like a super-cool, open-minded boss here, but the honest answer is, "Sometimes." While BWDP is changing in many ways, we fully intend to remain an ensemble company capable of remarkable cohesiveness, and you can't fake that kind of thing. It takes time and a lot of physical, social and emotional effort on everyone's part to get a group of individuals to look and feel like a single, organic unit. That means I have to have dancers who are willing to put the company first, not because we own them, but because they happen to believe in the special impact a unified group of performers can make on their audiences. All that being said, of course I also know that everyone needs to mix things up every once in awhile. No person, workplace or formula can provide all of what any individual needs to grow. So when a dancer has an outside opportunity, I really am excited for them… And when I think they can take that opportunity without hurting the company, I encourage them to do it.
With shows at Austin Dance Festival in Austin, TX, and National Sawdust in Brooklyn, NY., it looks like BWDP is getting on the road more. Is that part of your plan?
It's definitely part of my plan! We're performing again in Austin in June and in Denver in July, so by the end of 2016 we will have plenty of mini-tours under our belts. I always knew Bruce's work was special, but after living in New York for more than ten years, touring nationally and internationally, and seeing a lot of dance, I know it is special. I want to share that work and the new dances BWDP commissions with as wide an audience as possible.
—NANCY WOZNY