Fusebox and CounterCurrent Share Artists and a Vision
---
IMAGE ABOVE:   Lagartijas Tiradas al Sol in El Rumor Del Incendio.  Photo courtesy of the artists.

---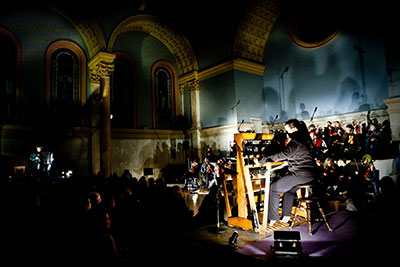 A woman weaves on a loom while fifty amateur violinists and an accordionist surround her with music. The aftermath of a young man's suicide unfolds on a large screen through social media. An Italian gelato maker distills the history of art into four delicious flavors.
This April, Texas audiences will get a front row seat as these unusual events unfold at two vibrant experimental performance festivals—Fusebox in Austin and CounterCurrent in Houston. Fusebox has a ten-year history of presenting adventurous art that blurs the boundaries between theater, dance, film, and visual art, while CounterCurrent 2014 debuts with the aim of bringing exciting and bold new interdisciplinary performance to the Houston arts scene. The festivals have different provenances, but both emphasize the hybrid nature of contemporary art and seek to inspire crossover between artistic mediums.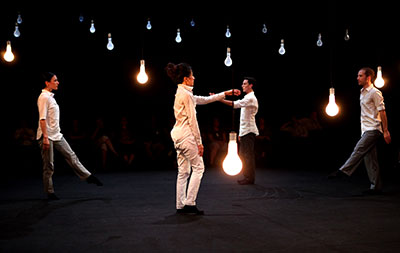 Fusebox, started in 2004 by executive and artistic director Ron Berry, was born out of Berry's long-time interest in creating conversations across different art forms, and sparking dialogue between Austin artists and artists from outside the city. Berry, a Houston native, moved to Austin after graduating from Earlham College in Indiana, where he studied theater and film. He formed the theater company Refraction Arts and converted a garage in East Austin into a performance space (the now-shuttered Blue Theater) where Fusebox was born. In its first year, Fusebox had a shoestring budget and a lineup of mostly local artists. Ten years later, the festival's budget has ballooned to over $400,000, with events taking place in over twenty locations, and including a diverse slate of local, national, and international artists.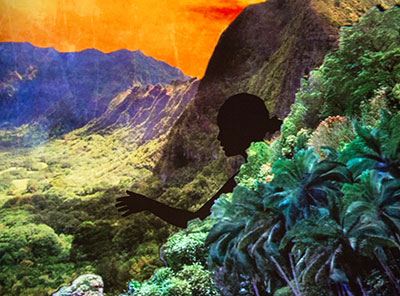 CounterCurrent is the brainchild of Karen Farber, executive director of the Cynthia Woods Mitchell Center for the Arts at the University of Houston. Farber grew up in New York and Los Angeles, earning degrees in experimental performance and performance studies from New York University. She moved to Houston in 2004, and worked in development at the Houston Grand Opera before landing the job of the first director of the Mitchell Center. "It was a dream position in my mind," Farber said, "because I was looking for a way to blend the visual and performing arts. What would these fields look like if these borders dissolved and something new was constructed?"
With CounterCurrent, Farber wanted to find a way to bring more contemporary performance to Houston, as well as build an audience for experimental performance, and she believed the Mitchell Center, with its flexible season schedule, was uniquely set up to facilitate this. "CounterCurrent, at its very core, is interdisciplinary," Farber said, and its inaugural line-up will include cutting-edge performances, installations, and experiences that cross between artistic forms. Farber drew inspiration from the success of Fusebox, though she envisions CounterCurrent as being uniquely tailored to Houston audiences. "Fusebox has built a fabulous audience and great critical energy around the festival," she said. "I would love to achieve what they have with community goodwill and support."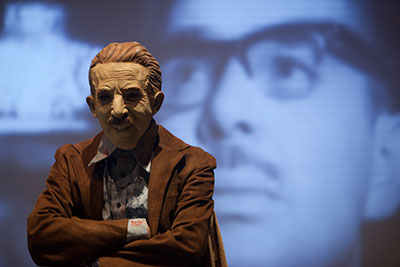 To program Fusebox, Berry and his team start by attending other U.S. Festivals, like the Time-Based Art Festival in Portland and New York's Under the Radar, while the search for international artists might take them to Chile for the Santiago a Mil International Theater festival. They identified three or four projects that excited them, and built a festival around those pieces, looking for other works that were speaking to those pieces, or were in direct opposition. Farber attends many of the same festivals to scout new work, and when looking to program the debut year of CounterCurrent, she looked for pieces that spoke to the themes of language/translation, transportation/disorientation, and collisions between environments.
Berry and Farber, who often run into each other while traveling, have started an exciting and necessary dialogue about experimental performance in Texas. Berry believes there's a real need for a festival like this in Houston, and is happy to see another experimental festival happening in Texas. In the future, the two hope to promote more inter-city discourse, with artists from each other's cities appearing at the festivals. This year, to maximize their programming budgets, Berry and Farber decided to share some performances. Farber explained that many countries have cultural ministries that will contribute money towards their artists touring internationally, but they are more likely to do so if the artists have multiple stops on their tours.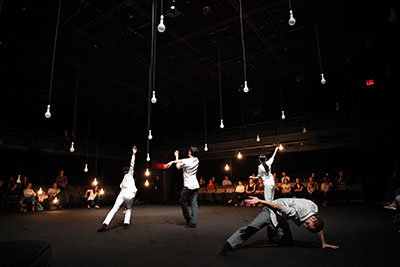 To allow performers to move easily between engagements, the festivals will run one after the other, CounterCurrent from April 9-13 and Fusebox from April 16-27. One piece the festivals will share is El Rumor del Incendio, an innovative documentary play from Mexico City-based company Lagartijas Tiradas al Sol. Farber described the piece as "a really exciting work about ancestors, which has a new resonance in this generation."
Another shared piece, Rerememberer, a performance installation from New York artist Suzanne Bocanegra, will feature a weaver working on a loom and fifty inexperienced local residents playing the violin. "People often cringe when they hear that," Farber said, "but it's a beautiful, haunting performance." Performance artist Miwa Matreyek will also appear at both festivals, offering two multi-media shows rich with fantasy and projected animation.
Each festival will also feature unique works. CounterCurrent offers Eclipse, choreographer Jonah Bokaer's collaboration with  film artist Anthony McCall; it's a dance/installation hybrid that combines movement, light, and visual design. Another spotlight performance is Byron Au Young's Piano Concerto-Houston, an installation commissioned by the Mitchell Center that features Seattle based composer Young, visual artist Susie J. Lee, and recorded performances by eleven local pianists.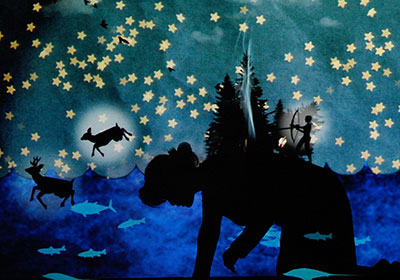 Fusebox will serve up exclusive works such as 33 RPM and a Few Seconds, a performance by Lebanese artists Rabih Mroué and Lina Saneh, which pieces together the final moments of a young man's life through fragments of digital communication. Berry thinks this work speaks directly to major issues of the day. "Some of the most important work happening out of that region [the Middle East] and internationally deals with information and the truth and fiction contained within information," Berry said. "This piece opens up a lot of questions."
Wunderbaum, a group from the Netherlands, will return to Fusebox this year with a piece called Looking for Paul, in which they bring a Rotterdam resident to Los Angeles to confront a sculptor whose work she believes is ruining her street. Digestible Feats, a series of events that feature collaborations between artists, chefs, and bartenders, will once again bring tasty treats to this year's festival, including a gelato-focused project called Art Flavours, a very Texas-centric Frito pie tour, and a mezcal tasting.
Local connections are important to Berry and Farber, who both want the festivals to be opportunities for artists to explore and engage with their respective cities. "From a macro view, I think of Fusebox as a platform for conversation and ideas, but that conversation starts with this place and community," Berry said.
Farber specifically wanted CounterCurrent to continue the Mitchell Center's mission of working with the local community, and one way to do that was to encourage artists to develop works in Houston that couldn't be developed anyplace else. For example, [the invisible city], an interactive multi-media project by Lacy Johnson, Josh Okun and Rob Ray will engage with Houston itself as it takes participants on a city-based exploration that unfolds through information accessed on cell phones.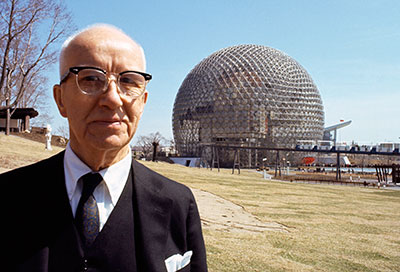 To encourage access, both festivals will be free to audience members. Fusebox will offer free tickets for the first time since its inception, in part as a way to celebrate the festival's tenth anniversary, and in part as a way for Berry to initiate a larger conversation about the value of the arts in our culture generally and in Austin specifically. Berry noticed that in the past, the festival's free events attracted a more diverse crowd, and he wanted to continue that trend. Though the work will be free to audiences, Berry is careful to note that the work is not free to make. To replace the income from ticket sales (about 10% of the annual budget), his team launched a Kickstarter campaign, and engaged some corporate sponsors, including AT&T.
Berry rejects the idea, put forth by some cultural critics, that making art free reduces its worth in the eyes of audience members. "Personally, the Menil Collection in Houston is one of my favorite museums, and it's always been free. Some of our most beloved programming throughout Fusebox has been free," he said. In true Fusebox fashion, Berry sees this free year as an experiment and plans to re-evaluate it next year after getting feedback from the community.
CounterCurrent will also offer free tickets, funded through the Mitchell Center's endowment. Part of Farber's mission is to build new audiences for contemporary performance, and free tickets are a way to invite in a larger segment of the population. Farber is optimistic that Houston audiences will embrace the new festival.  "I've always found the audience in Houston to be really adventurous," Farber said. "That's a really thrilling thing. People want new things here."
—CLAIRE CANAVAN