Hillerbrand+Magsamen, Higher Ground, HD Video, 2015.
---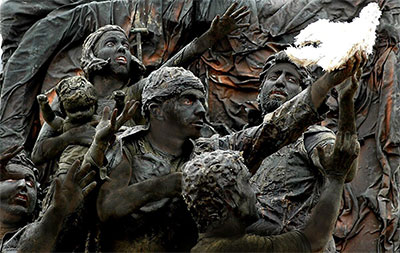 Houston Cinema Arts Festival's 7th year focused on a space theme.  From Magsamen + Hilderbrand's whimsical backyard adventure in Higher Ground to Trey Edward Shults' claustrophobic suburban kitchen in Krisha, to Jeanne Liotta's cosmic cinema Desired Constellations, to Luke and Andrew Wilson's hilarious hijinks in Satellite Beach, space—in all its manifestations: inner, outer, cultural, physical and architectural—took center stage. And what's not to love about a warm welcome from astronaut Scott Kelly from the space station! Kelly is such a natural astro-actor, I could totally binge watch TIME's A Year in Space.
But it might have been Chilean director Patricio Guzmán's The Pearl Button, the follow up from his stunning Nostalgia for the Light, that unites the stars, water and the history of Chile's indigenous people and the victims of General Pinochet, in yet another poetic masterwork. Under Guzmán's hand, the cosmos is not so "other," but deeply connected to our lives on earth.
The festival kicked off on a Texas note with Amy Berg's moving, albeit somewhat painful, documentary Janis: Little Girl Blue, one of many films about or by Texans this year. CineSpace Cinema on the Verge at She Works Flexible, offered a range of stunning space-themed installations. Most notable was Kelly Sears' menacing The Drift, where she posits that it's not all as it seems in the deep cosmos. It was also great to see two fine theater films, Ash and Money, the Estonian Theatre NO99's epic tale of the creation of a new political party Unified Estonia, and Fringe Story, Tor Ben Mayor's moving chronicle of the celebrated Israeli theater group Orto-Da, which includes wonderful footage of Yinon Tzafrir's signature work, Stones. There's often a thread in HCAF about the heroics of artists, and these two films captured the struggles and triumphs of  making theater in today's world.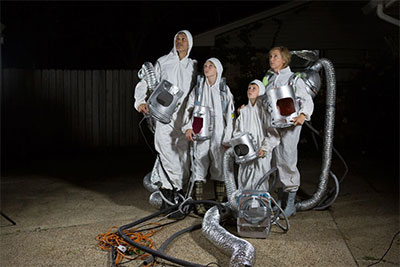 Other fine films in that vein included Jerry Blumenthal and Gordon Quinn's moving portrait of Leon Golub, Golub, Paolo Sorrentino's nostalgic tale of an aging conductor Youth, a rare glimpse into the dancemaking process of a great American choreographer in Kate Geis' Paul Taylor: Creative Domain, Stefan Haupt's tale of Barcelona's epic work in progress Cathedral Sagrada, Katie Cokinos' endearing I Dream Too Much.
Here's a handful of other films that I am still talking about.
Magsamen + Hilderbrand's Higher Ground  took the top award at the CineSpace contest judged by Richard Linklater, and rightly so, it was the one film that both captured the wild west hopefulness of space exploration, completely celebratory without pandering to the industry. Houston's well known arts couple often include their children in their elaborate DIY style work, and this one felt like one fabulous family artsy mission. A family sitting on the couch watching footage from outer space gets an idea, and within minutes they craft a space ship from junk lying around the house. I appreciated the nod to Apollo 13  (which also screened as part of CineSpace) in working with the stuff in front of you. The garbage pail helmets are so clever as is the straightforward approach to the material. The minimalist score adds a surreal vibe. Borrowing from silent film traditions with text sound bites punctuating the charming narrative, Higher Ground is both a tribute to sheer inventiveness and a virtuosic visual experience. Their silver glowing hodgepodge spaceship is a thing to marvel at, as is the interior, which is rich with surprising details.  It's quirky without being silly. Higher Ground, commissioned by the Houston Airport System and the City of Houston, is currently installed at AIH in Terminal A. You can next see Magsamen + Hilderbrand in their exhibit Gift Shop at Lawndale Art Center in March 11- April 16, and with a new installation at the Mitchell Center's CounterCurrent 2016 April 12-17.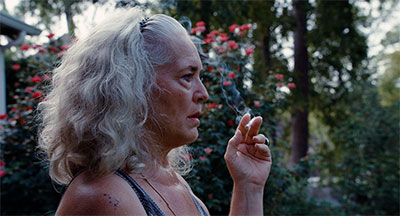 Houston native Trey Edward Shults received the Levantine Emerging Cinema Arts Award for Krisha, featuring the magnetic Krisha Fairchild. I haven't been so traumatized in a movie theater since Gina Rowlands in A Woman Under the Influence. The first film mentioned by HCAF artistic director Richard Hersksowitz during the post-show Q & A was in fact that very John Cassavetes film in discussing Shults' "miracle of a film." Shot in nine days in his own suburban house using a mix of non-actor family members, including himself, and actors, the film does indeed have a feeling of an extraordinary event. Shults may have coined a new genre, "Holiday Horror," in the way he captures the subversive captivity of a suburban family gathering and one ill-fated turkey. It's doomed from the first appetizer. Everything feels familiar. You know this family. Yet everything feels off kilter. Enter black sheep Krisha, a recovering, no show of a mom, and the already wobbly domesticity of this family's fake Tuscan country kitchen shatters to smithereens. From Drew Daniels' vertigo-inducing cinematography to Brian McOmber's dissonant, percussive score, Krisha is about as unsettling as it gets. It should be a prerequisite before any family holiday.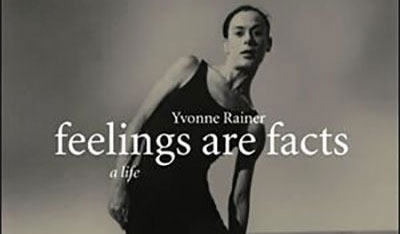 Yvonne Rainer has always been a mystery to many of us dance history geeks. She started a revolution with Trio A and then left if for the rest of us to sort out as she switched over to making films. Jack Walsh's Feelings are Facts: The Life on Yvonne Rainer places this seminal artist in a cultural, personal and historical perspective. With a terrific balance of archival footage and knowledgeable talking heads, this is a meaty and revealing documentary, and a must see for any post modern dancer or experimental filmmaker. Watching Rainer perform Trio A in exquisitely grainy footage as a young woman, then several decades later when she returned to dance, proved fitting bookends to Walsh's compelling film.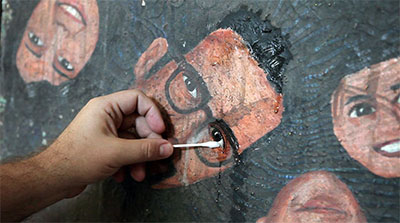 When Herskowitz named Almost There as a film not to miss, I was intrigued. Directed (and written) by Dan Rybicky and Aaron Wickenden, Almost There is the story of outsider artist Peter Anton. At least you think it is, until about 20 minutes into the film and realized this is also a story about people left behind, aging without family, artists operating outside of the art world and a filmmaker and his subject. We witness Rybicky uncover Anton's art work and his life in an archeological dig through Anton's rotting basement hovel. At no point did I have a good idea of what would come next. This film keeps changing its course, and we follow eagerly with all of our curiosity intact. Rybicky and Wickenden manage to break our hearts without becoming remotely sentimental. Prepare to weep, and perhaps fix that pesky mold growing in your kitchen. It's simply a gem of a film.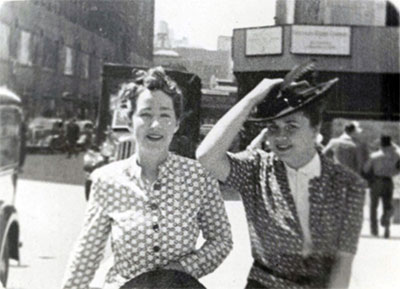 In HCAF's first collaboration with the Architecture Center Houston there were many excellent films screened. Barbara Hammer's Welcome to This House was one of them. Hammer's exquisite documentary about poet Elizabeth Bishop tells the story of this great American poet through through the spaces and homes she occupied. How Hammer frames a life within the frame of a home creates such powerful storytelling. She plays with presence and absence in such a way that evokes Bishop's descriptive phrasing. Through archival photographs, testimony by people in her life and present day footage of Bishop's dwellings, we are pulled into her life, words and her interior spirit. Kathleen Chalfant's delicate readings of Bishop's poems, combined with original music by Joan La Barbara, added to the delicate atmosphere. If a film could make one want to pick up a book of poems, especially those of Elizabeth Bishop, Welcome to This House is it.
I made it to more than I expected, but less than I had hoped to, due to a Texas-sized head cold mid festival. So it goes on the festival path: missing things is just part of the deal. At least, the films that I did not see are now on my radar. Look out for Texas showings of Lisa Immordino Vreeland's delicious Peggy Guggenheim: Art Addict (opening in Dallas at the Angelika on Jan. 8), Laurie Anderson's Heart of a Dog (Feb. 6-7 at the MFAH), Youth and Carol at local venues.
-NANCY WOZNY