---
IMAGE ABOVE: Kaitlin Hopkins, Head of the Musical Theatre Program at Texas State University. Photo Courtesy of Texas State.
---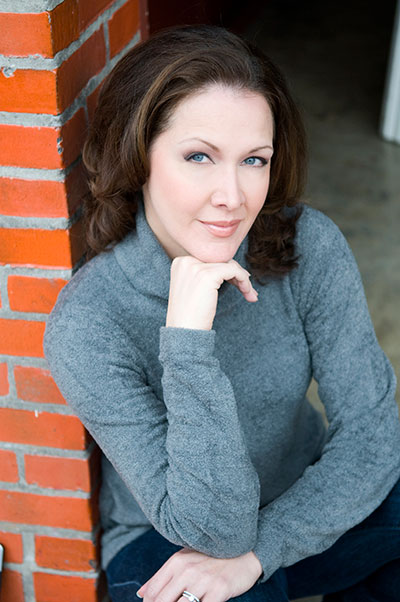 Kaitlin Hopkins is head of the Musical Theatre program at Texas State University, where her over 25 years of work on and off Broadway, and in regional theater, film, television, opera, and radio inform her work with Texas State's aspiring young actors. Hopkins originated the role of "Meredith Parker" in the critically acclaimed Bat Boy—the Musical, for which she received Drama Desk and Ovation award nominations; she also originated  "Claire" in the cult-hit Bare: a pop opera, "Jeannie" in The Great American Trailer Park Musical, and "Diane" in Disney's On The Record. Hopkins is directing the upcoming production of Anything Goes, April 8-15, the first musical in the University's new Performing Arts Building. She visited with A + C editor in chief Nancy Wozny on creating the curriculum for today's musical theater student.
Arts + Culture TX: When you got the call to consider starting a musical theater program at Texas State, what was the first thing that ran through your mind?
Kaitlin Hopkins: The first thing that ran through my mind was, "Are you sure they dialed the right number? Texas what? Are you crazy…I mean, umm can I call you back after my matinee?"
A + C: What were you performing?
KH: Dirty Dancing
A + C: The thought of moving to Texas often leaves one in a surreal state of mind, especially during an intermission rest from Dirty Dancing. It's a big change from the thick of the New York theater scene.
KH: It was quite a big decision, as my husband and I were both working professionally at the time, but it was literally our dream job, so even though it came at an unexpected moment, we couldn't wait to explore if this was possibly the right fit. Within a week of that phone call, we flew to San Marcos to make a presentation of what our one-year, five-year and ten-year plan would be for the program, taught a class, and met with the faculty, Chair of the Department, Dean of the School and Provost of the university.
A + C: Within in a week you had a ten-year plan? I want some of that coffee.   How did the curriculum come together for you?
KH: That has been an amazing process, and one that is ever-evolving and changing. As our industry changes, we make tweaks and adjustments to accommodate that so the students stay current in all areas of their field. One of the things that was helpful about putting together an outline of our long and short term plan was it started me looking at the entire picture of what you want someone to leave with. Then it became a matter of deciding at what point in their four-year process do you want them to take Dialects or Tap or Musical Theater history.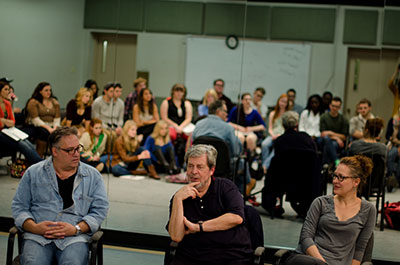 A +C: How did your own experience shape the curriculum?
KH: The curriculum was informed by all of the faculty that came aboard and all of our collective years of professional experience. One of the most rewarding aspects of creating a new program were all the discussions of the things we felt the students needed, in every area of study, in order to do this on the highest level, and then we created a delivery system for it. We also went back to New York and met with some of our Broadway pals who had graduated from the top programs within the past 5-10 years.
A+ C: I'm so glad to hear that. We need more of that kind of thinking in the training of young artists, more flow between academia and the professional world.
KH: That allowed us to collect data on the things they discovered when they went out into the professional world that they didn't get in their training, as well as evaluating the things they did get that they felt were the most helpful in practical application.
A + C: Can you give me a concrete example of a program that you developed that has that practical application?
KH: We developed a series of Business of the Business Labs that take place over their junior and senior year. They cover everything from teaching how to do their taxes, to all the contracts they will work under in theater, film and television, and what the expectations are in all those mediums once you get the job. They are designed to cover the things outside of the training in the "craft" aspect of their work and get into the "business" aspects of this profession, including marketing themselves, how to write a good cover letter and develop a strong relationship with your agent.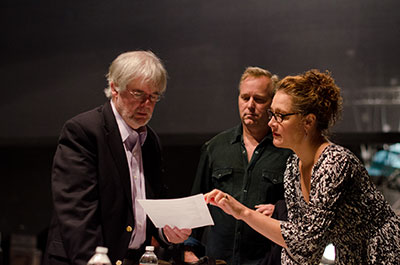 A + C:  Survival skills are key these days. I also see that guest artists are a big part of your program, too.
KH: Yes. Broadway professionals come as guest artists to campus every semester, which I think is imperative to the students being well prepared and also developing relationships in the industry. Recently, Adam Cates (choreographer/director) did two days of mock audition dance calls, and also heard the students sing to get to know their work for future shows he works on. Christopher Durang, Theresa Rebeck, and Tony Walton came down in addition to several casting directors, and stage directors who come down consistently to work with the students.
A + C: Anything Goes drops this month, your inaugural production in the new digs. Why did you choose this piece to baptize the new building?
KH: We wanted it to be something really fun and flashy, a big title that we felt the audiences would come out to see. What better than a big tap show with a classic Cole Porter score people can sing along to? It just felt right; the students have wanted to do a tap show for a while, and this seemed the perfect moment. Also, our choreographer and head of musical theater dance, Cassie Abate, is known for her tap choreography, so I knew that was going to an incredible show for her to sink her teeth into.
A+C: Nothing christens a building like the sound of thundering taps. What's your personal connection to Anything Goes?
KH: I had the pleasure of playing the role of "Hope Harcourt" in 2002 with the great Patti Lupone, when Lincoln Center reassembled the original cast from that legendary 1982 revival production.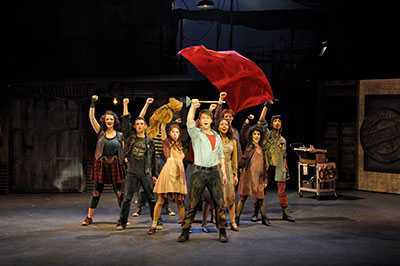 A + C: How would you say that the landscape of musical theater has changed just in the years you have been running the program? Can you be nimble enough to shift accordingly?
KH: The main way it's changing is in relationship to technology and how that is affecting the audition process. We are already working with students on how online and video submissions work now. The students are getting very skilled at shooting and editing their own video auditions, along with having everything in digital formats that they can get out there in a hurry. I suggest they keep all the videos they record for auditions, as often they can use them again for other jobs.
Things move so quickly in our industry. You might be asked to audition for a show and be emailed 20 pages of material that you have to be able to learn at performance level, shoot and send back within 48 hours. A lot of what they are practicing is how to work quickly but still do quality work.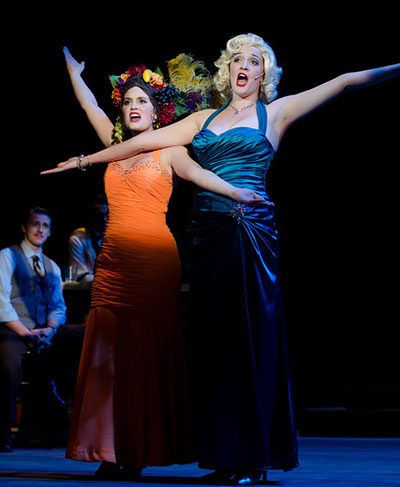 There is also an increasing amount of pop and rock music influencing musical theater scores. An ongoing process in their voice training is making sure that they sing every style of music authentically, including all the different pop and rock genres, and have all that material ready to go in their audition books.
A+C: Do you still perform?
KH: I was able to do a production of my favorite Noel Coward play this past summer, Present Laughter, directed by David Lee (Fraiser, Cheers) with some incredible Broadway actors that I loved working with, Michael Cumpsty and Veanne Cox among them. And when you are teaching and directing, you are constantly illustrating and in a creative process, so it feels very similar to the feeling I have when I perform. It doesn't matter if you are doing that through a performance, directing or producing a show, or teaching a class, they all feel the same in the satisfaction and rush you feel in being a creative artist in the world.