Paul Menzel, Luis Galindo and Philip Hays in the Gravity Players production of Stephen Adly Guirgis' The Last Days of Judas Iscariot, through Sept. 3 at Chelsea Market Theatre.
Photo by Pin Lim.
---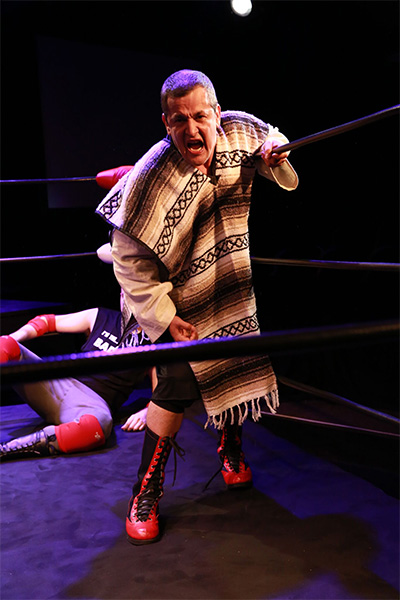 Since I moved to Texas, Luis Galindo has been one the local actors that I most look forward to seeing on stage. A native of Alvin, Texas, Galindo has worked as an actor in New York, Chicago, and Los Angeles in addition to Delaware, where he received his MFA at The University of Delaware Professional Theatre Training Program. In Los Angeles, Galindo worked at the Independent Shakespeare Company, Shakespeare Center Los Angeles, and Company of Angels. Since moving back to Houston in 2014, he has been one of the area's most prolific actors, working at theaters such as Stages Repertory Theatre, Catastrophic Theatre, 4th Wall Theatre Company, and the Alley Theatre. His turn as Mace Guerrero in The Elaborate Entrance of Chad Deity at Stages earned him Houston Press' Best Trouper Award in 2016. Currently, he is performing in The Last Days of Judas Iscariot at Gravity Players, through Sept. 3 at Chelsea Market Theatre.  In 2018, he plays Arcadio Rogers Rodriguez in Alma En Venta at Stages Repertory Theatre, Jan. 24-Feb. 11, 2018.
I visited with Galindo via email about his career as an actor in Texas.
You are playing El-Fayoumy, the prosecutor in Judas' trial, in Stephen Adly Guirgis' The Last Days of Judas Iscariot at Gravity Players. Tell us more.
I've wanted to do this play since I first read it in 2006. I have been working on monologues from the play since then and even using them as audition pieces. Guirgis is my favorite playwright; his voice makes sense to me. After the core members of Gravity Players did The Motherfucker With The Hat, we decided we should continue working together and decided on another Guirgis play; Judas Iscariot was our first choice. The large cast would give us an opportunity to again use the process of true collaboration with all the artists involved. So many productions with companies consist of an actor going in and fitting into the mold of the producer and director's vision, but Gravity Players opens up the doors to ideas on all aspects of production from costume design, to direction, to characterization. The weight of this play made sense in keeping with our ideals and name.
What were the challenges?
Being funny is hard enough, but being funny and driving the antagonist side of the argument of the play at the same time is a balancing act that is a fun challenge. This is the first play in a few years where I didn't have to memorize long monologues so the shorter passages, which are many, became a whole new challenge, it almost seems as though you have to concentrate on the arguments even more and because it was a courtroom drama, it also has a velocity that requires a great deal of presence.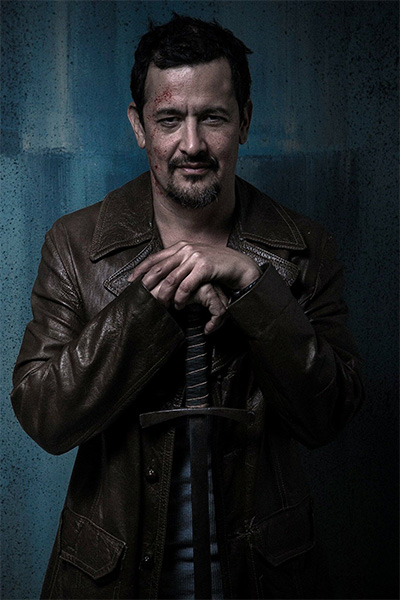 How do you approach a role?
The playwright gives me what I need. How do they talk, what words do they use, what is their objective, etc. The rest comes from everywhere you've been, everyone you've met, music you hear, art film, life. Anything you can use to enrich the portrayal is fair game, in my opinion. Imagination gets you  what you need.
Many of your fans know you from roles such as Bill in Snow White at Catastrophic and Mace in Chad Deity at Stages. What have been the one or two productions that you cherish from your time as an actor in Houston? What makes these so special to you?
I'd say those two were very special to me. Josh Morrison, who is a dear friend of mine, directed me in Chad Deity, and that was one of the most challenging and rewarding experiences of my career. Period. The Motherfu#@er With the Hat at Obsidian Theatre, where the Gravity Players gang first worked together, was a very special highlight. It made me think, " Yeah, I want to keep working with these people."
You've played a variety of classic and contemporary roles. What other roles are still on your acting bucket list?
I'll probably never play Hamlet and that stings like hell. I'd like to try Iago, Lear, Richard III. I'd love to give Macbeth another go. For me, Shakespeare is still the proving ground. I am drawn to these plays because they are the most demanding. They require everything you have as an actor and for me, that's what it's all about, plus the writing is pretty good.
You worked as an actor for a while in Los Angeles before moving back to Houston. What makes the Houston theater scene different from Los Angeles? What has been great? What hasn't been so great?
Houston and LA are obviously very different but I wouldn't have made the choice to move back so easily had I not seen a thriving theater community, and one that pays people is always a plus. In LA, there is so much theater going on all the time, and that is great and exciting and energetic, and the scene is as expansive as the city. Here in Houston, you get to know a large portion of the scene and you become friends, in some cases, family. I'm not saying that's not true of LA, I really do love LA, but this is home, and I feel much more connected to the scene here. I feel like a contributor.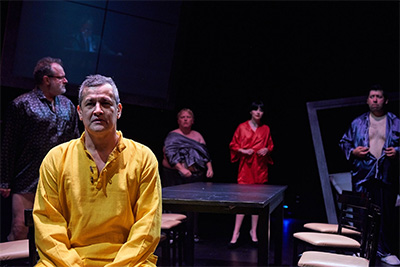 Can you tell us a little more about your involvement with Gravity Players? What are you hoping to add to the Houston theater scene?
I am a co-founder of Gravity Players. My involvement ranges from production and design choices, casting, fund raising, concepts, and performance. I am hoping to add another level of diversity to the Houston Theater scene. With the varying cross section of life, race, and gender of our founders–Courtney Lomelo, Patricia Duran, and James Belcher–we feel as though we can choose plays that will be appealing to the community as a whole. We are just being born, so locking it down to one specific hope or mission is difficult now, but as we continue to collaborate, we hope to become a main staple of Houston theater that will unite the community.
What advice do you have for early career actors trying to make it as a theatre artist in Houston?
I'd say, take your training seriously. Get as much as you can. Work harder than you think you have to at honing your craft. Be on time! Apologize profusely if you're not. Be nice, but don't let anyone push you around.
—TREVOR BOFFONE