Steph Garrett.
---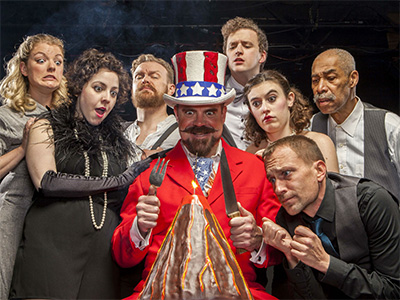 Steph Garrett is an actor, puppeteer, and voice actor in Dallas who is known for her versatility both with performance styles (her comedic roles are plentiful and popular, but her dramatic work has also drawn raves) and musicianship (she plays percussion, saxophone, oboe, and the ukulele).   She is a fixture at Dallas Children's Theater, and has also toured the country with Wishing Star Productions, appeared regularly at WaterTower Theatre and Theatre Three, and performed with nomad companies such as Shakespeare in the Bar, Upstart Productions, Audacity Theatre Lab, and The Drama Club. Garrett was a part of the recent world premiere Pompeii!!, a musical satire by Cameron Cobb, Michael Federico, and Max Hartman that Kitchen Dog Theater produced in spring 2018. Garrett visited with A+C writer Lindsey Wilson about her varied career in North Texas.
You're originally from Colorado Springs, Colorado. How did you end up in Dallas?
I received a BA in theater performance from Southern Illinois University and was based in Chicago while touring nationally. Dallas Children's Theater contracted me as an actor/puppeteer for a show, and I thought that would be the only work I would do in Dallas. But then I kept working locally and kept meeting amazing people, so I stayed!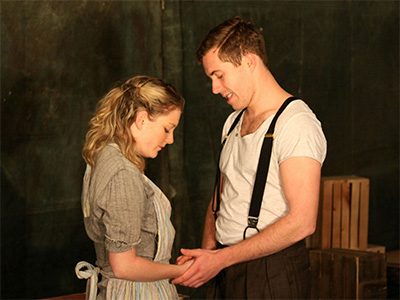 What has Dallas-Fort Worth been like as a place to grow as an actor?
DFW is a very familiar environment. Often, you can go to an audition or a callback and see someone you know. This community cares for each other and that caring alone fosters growth. I have certainly had the pleasure of working with creative and compassionate individuals who have helped me grow and challenge me in defining ways.
What sticks out in your mind as a "threshold moment" for you here?
I kind of think getting to Dallas in the first place was a pretty big "threshold moment." But once I was here, meeting Tiffany Riley and Dick Monday, the co-founders of the education-through-humor nonprofit Foundation for Laughter, inspired me to get into clowning and further my therapeutic work [besides working with medical clowning programs at pediatric hospitals, Garrett specializes in teaching/reaching children with diverse needs and is often an advisor on shows that portray people on the spectrum]. Meeting Jad Saxton, a prominent local anime voiceover artist, helped me cross into the voiceover industry with FUNimation. Meeting associate artistic directors Nancy Schaeffer and Artie Olaisen gave me a home to work, grow, and inspire at Dallas Children's Theater. There are countless moments I am grateful for.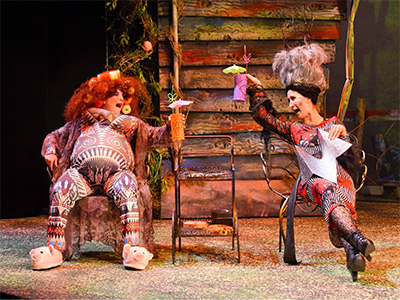 What do you think are some key roles you've had in DFW?
Well, Enron in 2013 at Theatre Three introduced Jeffrey Schmidt and me to one another's work, and he is someone who has always challenged me creatively [Schmidt is now the artistic director of Theatre Three, and is one of the co-founders of The Drama Club]. That production was the impetus for our future collaborations. Waiting for Lefty with Upstart Productions, under the direction of David Meglino, allowed me to explore a character that was more mature than roles I had previously been portraying in DFW. And finally, playing characters that Charlie Chaplin originated in The Great Dictator for Audacity Theatre Lab at the Festival of Independent Theatres in 2017 was key to furthering my development as a multi-faceted performer.
Physicality is one of your hallmarks, and you've played everything from traditional female roles to male roles and even several animals. How do you like to approach your characters?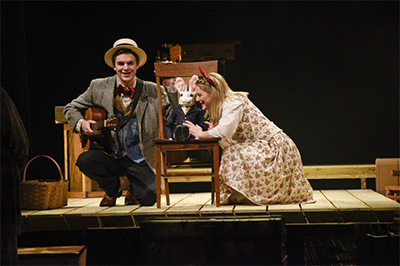 I am a very physical actor, so I typically approach characters from the outside in. When developing a character, I first try to determine what role they play in the overall story and then cultivate a physicality based on what the text tells me. For example, when doing Kate Hamill's Pride and Prejudice at WaterTower Theater, I played both Lydia and Lady
Catherine. It was fun to find the parallels and differences through the physical exploration of these two characters. Lydia is very impulsive and flighty, and she is the youngest character in the play. Therefore, I developed a very quick internal tempo. The pitch of my voice was higher, and my movements were impulsive as I fluttered about the stage, talking with my hands and changing direction constantly. These physical choices informed my character choices and how I related to the other characters in the play. Conversely, Lady Catherine is more esteemed, domineering, and calculated, so my Lady Catherine had a lower voice, a slower internal rhythm, and always tried to be the tallest person in the room. Just like with Lydia, Lady Catherine's physicality informed the rest of my character choices from there.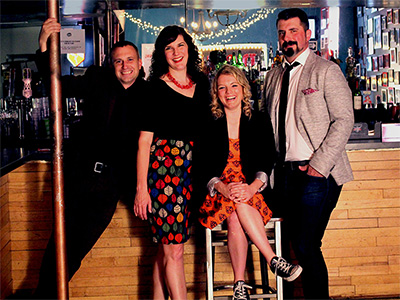 What is your dream role to perform in Dallas?
Honestly, anything that challenges me professionally, socially, and artistically.
Have any advice for actors moving here?
Meet everyone. Go to shows. Find ways to integrate yourself not only in the theater community, but also the community at large.
-LINDSEY WILSON