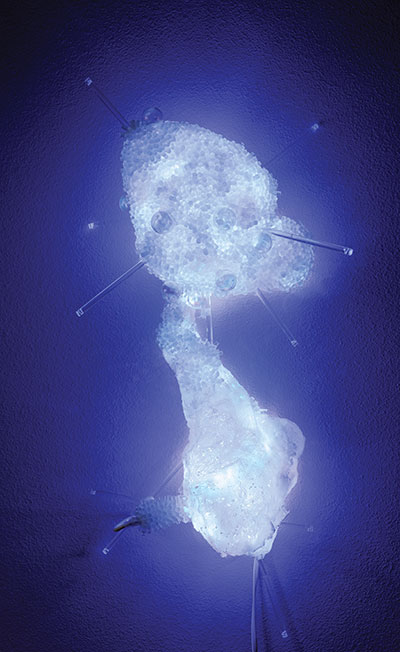 DALLAS—In her current body of work, Conroe-based artist Adela Andea uses lenticulars. She identifies the small curved forms as "magnifying foils." Either way, these thinly layered surfaces of plastic lenses are usually reserved for flat figural representation within the realm of art—or, one might say, kitsch. The layers of lenses that make a lenticular function create depth where there is none. In the realm of image making, they serve up dynamism and fun. Think here of the devotional images of Jesus or Mary that, when you walk past them, seem to move. One way you traverse, Mary casts her blessing; the other, she lights a cigarette.
There is little kitsch in the way of the religious devotional in Andea's work. Her use of the magnifying foil is not so literal. In Cryogenic Structure #1-8 she has used them not as flat surfaces but as sculptural form to set in relief floating translucent figures in three and four dimensions. The shapes of the Cryogenic Structures suggest creatures from another world: they are floating celestial beings connected by light-spun filaments of plastic. As cryogenic, they are frozen but alive. She describes them as "bioluminescent;" They live through light and the metaphor of crystallized water.
Like the feedback loops that make machines and biological species move, Andea's electric objects are systems. The movement of light and water in certain pieces mimics the circle of energies roving through both engine and nervous system alike. Navcaq has water bubbling in a plastic box at the center. It quietly gurgles like a fish tank filtering its system. Cold cathode fluorescent lights in red, yellow, and blue shoot out from its core, giving it an underwater otherness.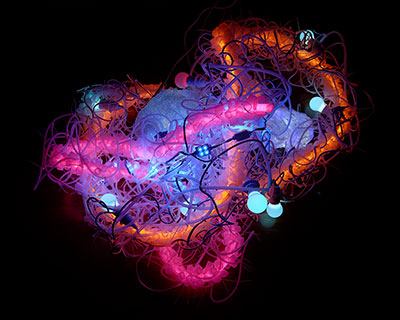 Beyond the introduction of magnifying foils, this fathomless new work concerns solemn and serious issues. Andea has been inspired by the experience of the sublimities of climate change that occupy the opposite end of the spectrum from our own. Distinct from the 116-degree heat of a Dallas summer, Andea's recent trip to Alaska set in motion a set of themes including crystals, shoots, and systems out of whack. In homage, Andea has given these pieces Inuit names, such Navcaq, meaning "neurotic snow," Kaneq, meaning "frost," and Nevluk, meaning "clinging debris." Crackling and tumbling glaciers and a polar ice cap turning to water have inspired a body of work both fraught and beautiful because of the dire situation of our shared ecology known as Earth.
The subtle lesson of this work is interconnection. Like the bulbs and colored tubes that snake around in the corner in Kaneq, connecting floor to walls to ceiling, the desert Southwest of our own backyard is connected to melting glaciers in Alaska. Andea's uses a matrix of hydrogen, oxygen, luminescence, plastic, and electricity in order to reinforce the flexibility, power, and preciousness of our own ecology. She tells us through light-form that is at once playful and evanescent, yet fully present, that we are animal and machine, both hot desert sand and melting ice.
—CHARISSA N. TERRANOVA
---
Adela Andea – Zero Degrees Celsius
Cris Worley Fine Arts
Through Feb. 15