For more than 20 years Dallas-based artist Charlotte Smith has reveled in experimenting with paint, and occasionally other materials, creating a signature style grounded in process-driven abstraction. She is known for physically pushing the boundaries of her medium, methodically pouring dots of paint, layering and building up paint surfaces, allowing amorphous formations to take on a life of their own and dance upon the canvas.

The result of Smith's most recent experimentations will be on display at
Camiba Gallery
in Austin Aug. 25 through Sept. 24. In this solo exhibition titled
Entangled
, the artist has pushed her emergent "thread" forms to the fore, weaving vibrant, rhythmic patterns that bustle with movement, while engaging the viewer for a closer, more contemplative look.
"I'm always experimenting with paint," says Smith, "but I continue to expand on what I already know." She had begun experimenting with more 3-dimensional pieces, accumulating strands of paint drops so thick they eventually hung off the canvas. Then came the more sculptural "paint balls," rows upon rows of paint dots laboriously laid down, dried, and built up like so many stalagmites, then rolled up like a ball.
Now Smith has found a way to contain these unruly painted threads on canvas. In the large work bearing the exhibition title Entangled, the artist lets chance play a role in the creation of the piece, giving it an organic and improvisatory feel. "I took a thread and started unspooling it and just let it lay down," explains Smith. "I found it made more interesting shapes than if I placed them. I just let them curl around and do what they do." The resulting canvas, densely loaded with pattern and color, has a sense of intuitive organization, despite yielding an element of control.

­­­
"When you are an abstract painter," muses Smith, "you find people always bring their own stories into the painting. I like the idea of people asking 'what is that?' I want people to be engaged and look at it and bring their own thoughts and feelings to it." One of Smith's friends said the visual buzz in
Entangled
reminded her of the "Flight of the Bumblebee." I thought of the swirling colors of Murano glass and Medusa's hair of writhing snakes.
While her paintings are not meant to be programmatic or narrative, Smith's vision is both instinctive and intentional, and perhaps comes subconsciously from the richness of her personal visual experiences. "I've been a flight attendant with Southwest Airlines for 45 years. I have a great love of the sky and seeing the horizon and having those long vistas. It's really interesting when you are looking at the landscape from above." Ribbons of bejeweled dots of paint, laid down wet-on-wet, flow freely like rivers converging and diverging, threaded by circuitous paths winding in every direction.
In Co-Mingled I and II, Smith experiments with using tape as a resist, then paints over it after the initial pours to create some geometry in the pieces. The dotted threads are as riotous as ever, but Smith invites the viewer to follow the threads and connect the dots, to let the tangled and chaotic turn into a meditative journey of looking and engaging. The solid painted bands form visual borders through which the dotted lines cross over and under, overlap and intertwine, like fragmented threads of thoughts that are lost and found.
In the richly textured work
Blue Flowing
, waves of variegated blue hues undulate across the canvas, encompassing the dark abyss of the ocean depths and the foaming blue-green streaks on its surface, and all the mysteries in between. Looking closer, hints of the thread forms appear in minute detail all across the canvas. The viewer has to zoom in to find that subtle connection. "I've spent a lot of time by the sea in Florida," says Smith. "There is definitely a water and wave influence here."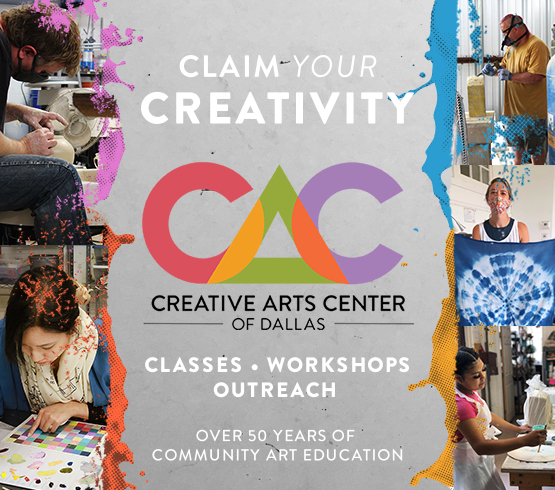 "I'm all in for beauty," she says. This is evident in the work
Undoing
, an evocative figurative piece that conjures a female body in graceful movement, threads unspooling around her, as she abandons herself to the dance of life, undoing the ties that hold her in place. "It didn't start out being figurative," explains Smith. "The way the canvas started dipping made the paint run toward the center. When I finished, it looked like a dancing figure. I looked at it and I loved it."
—SHERRY CHENG