WindSync members Tracy Jacobson, Garrett Hudson, Jack Marquardt, Emily Tsai and Anni Hochhalter at Rice Gallery in front of Ben Butler's Unbounded installation at Rice University.
Photo by Lynn Lane.
---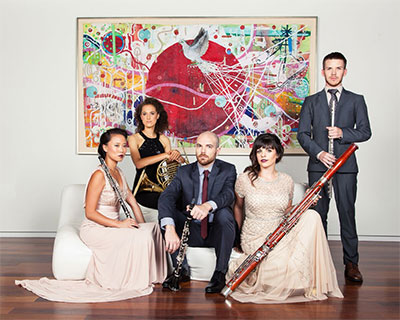 It has been six years since bassoonist Tracy Jacobson ran through the halls of Shepherd School of Music at Rice University, asking her friends if they would join her in playing in a woodwind quintet. That's not necessarily an unusual scene. Many students have done the same. Some of them, usually string players, even intend on making a career for themselves as chamber musicians. Although professional string quartets seem to come and go as fast as a Texas winter, the same is not true for woodwind quintets. There are only a few such ensembles working in the entire United States. One of them is the very quintet Jacobson founded, Houston's WindSync. Although this maverick collective of virtuosos started out modestly, they've made their mark in just six short years.
Jacobson knew that she had a tough road ahead, but her can-do spirit kept her plans in motion. "There was not one model that exactly fit our career trajectory, or the speed of our growth, so we borrowed bits and pieces from other groups, such as eighth blackbird, Dallas Brass, Imani Winds and the Canadian Brass," explains Jacobson.
And what a whirlwind it has been for this young troupe: In 2011, they were the ensemble in residence for the Da Camera of Houston Young Artist Program. In 2012, they won the Concert Artists Guild Victor Elmaleh International Competition. The next year, they made their New York debut at Carnegie Hall's Weill Recital Hall. They've also given lecture-recitals at Stanford University, performed educational programs for the Seattle Symphony, and presented countless outreach and pop-up concerts in schools, community centers, and even on street corners, across the continent.
Their next Houston concert takes place Feb. 13 on the Zilkha Hall stage of the Hobby Center for the Performing Arts. It's a place they've called home for the past three years. The show comes at the midpoint of a season filled with a flurry of activity. In addition to spending most of the last six months playing concerts throughout North America, they've followed up last year's CD Common Thread with Aria, and signed with United Talent Agency. They've also been breaking in a new member of the ensemble, oboist Emily Tsai, who joins Anni Hochhalter (horn) and Jack Marquardt (clarinet), who have both been with the ensemble for a few years now. Jacobson (bassoon) and Garrett Hudson (flute) are both founding members.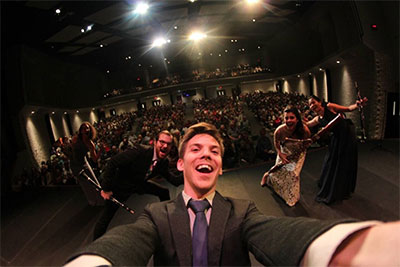 The Hobby Center program, Something About a Rose, brings together many of the elements that distinguish WindSync as an ensemble at the forefront of classical music. Like a song by Schubert, the program is through-composed. It tells a story and, in this case, is centered around music that was inspired by Shakespeare.
An excerpt from Felix Mendelssohn's incidental music for A Midsummer Night's Dream is featured, alongside a suite from Leonard Bernstein's West Side Story and Igor Stravinsky's Pulcinella. The music, all from larger orchestral works, is transcribed and arranged by Marquardt. For Pulcinella, they'll be joined by members of the High School for the Performing and Visual Arts (HSPVA) Dance Department. Radiohead's Exit Music (For a Film) is also on the bill. "It's tied in with the Shakespeare theme, too, because it was created for the 1996 film Romeo + Juliet and never used," quips Jacobson. They will also be playing Winter Music, by the young composer Adam Schoenberg, which does not have anything to do with the theme. Jacobson stands by that programming choice. "We just like it and enjoy playing it," she adds with a smile. For WindSync, an ensemble that has performed Prokofiev's Peter and the Wolf in costume and Ravel's Bolero with choreography, it's just another day at the proverbial office.
As is always the case, they'll perform from memory and without music. They'll also bring their signature theatrical whimsy to the concert, which has been meticulously curated and produced. If they look like they are having fun on stage it's because they are, but don't mistake frivolity for a lack of rigor. Each member is fully capable of taking the microphone and enchanting the audience with their knowledge, savvy charm and rapport. "We think of it as how a curator would curate a museum exhibit," says Jacobson. "We want our concerts to be accessible, but also to be appreciated in a way that is meaningful for the audience."
Programming and theatrics aside, their sound is polished and precise. WindSync does what few ensembles are able to do. They take five completely different instruments and blend them together as one.
The WindSync story started at Rice, while Jacobson was thinking about life after music school. In 2009, she was encouraged by her Shepherd School of Music teachers Janet Rarick and Benjamin Kamins to attend Preparing the Generation-E Musician, a conferencesponsored by the National Association of Schools of Music. During one of the workshopsparticipants were asked to come up with an entrepreneurial idea and then implement that idea at their respective schools.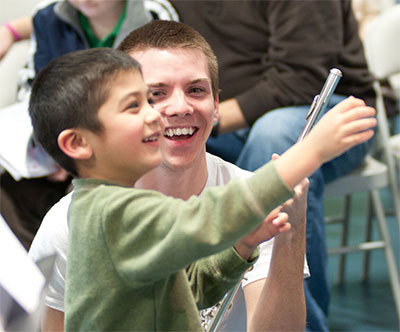 Jacobson designed an incubator program for young musicians. Dubbed "The Music Bus Tour," it would select chamber music ensembles, that had just graduated from music school, and help them transition into professional life. She envisioned not only concerts, but coaching and workshops in everything from business and finance to various kinds of seemingly disparate audience engagement tools, like acting and dancing. "I came away from this conference with this idea, but the only problem was that I needed an ensemble to pilot the program with. We didn't even have a name at that point," Jacobson remembers.
In contrast to their current hectic schedule, the group started out with a small season of performances at Shepherd. There was only one small tour that year, but soon what started as a kind of internship program quickly morphed into the ensemble now nationally known as WindSync.
They would eventually incorporate those classes in finance and business into a fully-fledged nonprofit complete with a board of directors and a rotating roster of administrative positions, which the musicians all share. There are directors of finance, development, and touring, in addition to an executive director. The musicians rotate between these roles each season. Marquardt also devotes much of his time off-stage to being the ensemble's in-house arranger.
WindSync's story has been one of continual evolution. Initially their aim was simply to create a full-time job for themselves. In recent seasons, they have focused more on touring. Last year, they were on the road throughout North America for a total of eight months, but after a thirty-eight day continuous stretch of performances, they decided they needed more balance. As a result, this year they're working on cultivating a deeper relationship with their audiences in Houston, which continues to be their professional home.
Jacobson insists that a group like WindSync couldn't exist in a different city. "Houston has been so important to the birth and growth of this ensemble," she says. "We have a strong base of support here, which includes many people who have been with us from day one." And, she's right, their fans are fanatic. They even had a delegation of supporters attend their sold-out Carnegie Hall concert.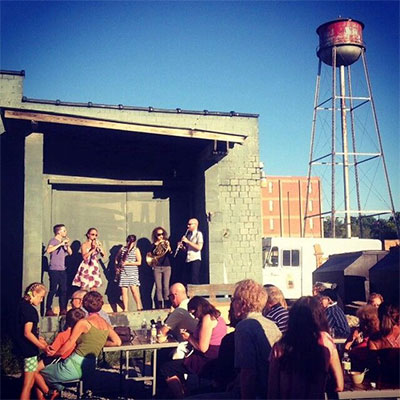 WindSync continues to redefine what it means to be performers of classical music in today's performing arts landscape. Their outstanding outreach programs are a model for any organization, and have attracted the notice of chamber music presenters around the country. They've done several extended community residencies and frequently play concerts in schools, community centers, on street corners, and even in prisons. WindSync will perform any place where they can strategically get in front of an audience that wouldn't otherwise choose to hear classical music.
"Believe it, or not," says Jacobson, "one of our most unexpected successful pop-up concerts was in a Walmart in North Carolina." About eighty people gathered to hear them perform an in-store program. It turns out that curating the appropriate space for a concert is just as important as selecting the music.
They performed at the Cleveland Correctional Facility under the auspices of a program designed to help inmates readjust to life on the outside. It had been twenty years since some of their audience had last heard live music. The response was lasting and profound. In the wake of their WindSync experience, many of the inmates chose to listen to classical radio instead of watching television during time off. The musicians have also run into some of those now-former inmates at their own concerts and in the community. "It was an incredibly humanizing moment," says  Hochhalter. "We were reminded just how healing music can be."
Now that they've traversed much of North America, they'd like to develop more of an international presence. They have already toured to China and Taiwan, and this April they head to Panama. "That's a big part of what we hope for moving forward," adds Jacobson. Ambition, excellence and optimism continue to propel WindSync forward. Thankfully, their vision is as big and pure as their sound.
—CHRIS JOHNSON