Ryan Crowder as King Lear, Joseph Garlock as Kent in King Lear at the American Shakespeare Center.
Photo by  Pat Jarrett.
---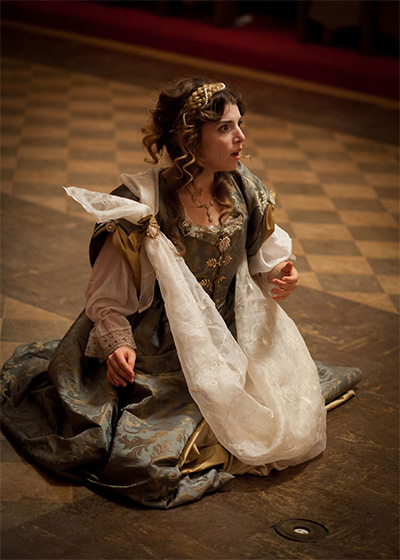 Austin's Hidden Room Theatre is steadily building an international reputation for their almost archaeological approach to performance.  Rather than charting new territory with their theatrical experiments, Beth Burns and her merry band of collaborators instead turn to the past, reclaiming scripts and forms of theater once lost, forgotten, or dismissed as foolish.
Riding high on the success of their productions of Der Bestrafte Brudermord (the bizarre 1710 puppet adaptation of Hamlet) and The History of King Lear(a staging of Nahum Tate's 1681 adaptation that ends happily), Hidden Room is set to tackle new and exciting challenges as they team up with the University of Texas' Harry Ransom Center this year.
Brudermord and Lear garnered international recognition, with invitations to perform at Oxford, the British Library, and Shakespeare's Globe (a tour that will hopefully come to fruition in summer of 2017). In the meantime, a clip from the Austin production of Brudermord is running this summer as part of the British Library's exhibit on Shakespeare –Shakespeare in Ten Acts.
Burns is thrilled to have Brudermord included in the exhibit. She explains, "I feel like it's important to make sure that people know that Texas is a place where intellectually curious and challenging art gets made and appreciated. Because I think there's a bit of a misunderstanding in the UK about America and about Texas specifically—all the stereotypes that one might expect."
And Burns is similarly determined to disrupt stereotypes about Restoration theatre. Working with Oxford Don of Early Modern Drama Tiffany Stern and Dr. Farah Karim-Cooper, Head of Research and Higher Education at Shakespeare's Globe, Hidden Room set out to mount Tate's Lear by adhering as closely to Restoration practices as possible.
Though the Riverside Shakespeare Company mounted a successful production of Tate's Lear in 1985, their production was tongue in cheek—framing it as a play within a play, mocking Restoration style. Hidden Room, in contrast, approached the work with a sincere interest in exploring what gestural acting might bring to the show.
Using Dr. Karim-Cooper's contemporary book on Shakespearean acting and John Bulwer's 1644 treatise on gesture, Burns directed her actors according to Restoration practices—whereby actors, in preparing for their parts, would list out the passions of each line (begging, wooing, etc.) and draw on the glossary of gestures for each passion. And the experiment paid off.
Burns can't stifle her pride and enthusiasm, "The gesture worked on stage. Restoration gesture, when done properly, was not laughable—as we had been told it would be, and as we had feared it would be. It was not only beautiful, but clarified dramatic intention. People would tell me afterwards that the text was so clear to them. That they understood every intention, and that not only did it not seem foolish anymore but that sometimes they missed it if an actor didn't do a gesture for something."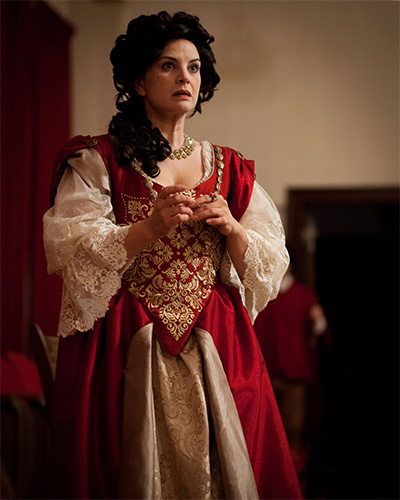 Burns says she never wants to do another play that doesn't incorporate gesture, even subtly, "because I just can't stand it when actors have these big slabs of meat hanging down that they don't do anything with. Those are tools. And if you have a tool, why not use it?"
Gesture will certainly be a feature of Hidden Room's 2017 production Booth's Richard, a performance of Richard III, based on John Wilkes Booth's personal prompt book—an artifact from the Ransom Center's collection unearthed by Eric Colleary, HRC curator of theater and performing arts.
Working from Booth's hand-written notes, they'll be doing all that they can to reproduce the production value of a play from 1861. The project interests Burns for its potential in terms of both theatrical and American history.
Burns points out, "There's not much work on trying to seriously recreate what theater was like in the 1800s. Like a lot of theater, it gets dismissed, as 'surely this is stupid. Surely this is poorly done and not to our taste.' And we just really don't know. Those guys liked it! So it can't be all that bad or it wouldn't have gone on every night."
She continues, "when you have a cast of 50 or more people, like you do in Booth's Richard, and you've got eight people carrying flags and four trumpeters and it's just a huge production where the people are the scenery… you're bound to have plenty of people that can't act up there. It'd be really hard to have that many good actors on stage. And so for every John Wilkes Booth, you have plenty of day players that were off the street and were curious about theater but weren't particularly well trained. That's where you start getting this reputation of theater being hack-y in this time period in particular."
Though Booth was thoroughly maligned after assassinating Lincoln, Burns and Colleary have been uncovering reviews that praised him as an innovative and outstanding actor—which makes the project all the more compelling for Burns.
She says, "I think the more interesting story here is that he wasn't just a two-bit hack and bitter and angry, but rather was a noted and celebrated actor who gets mixed up in a ring of politics, whereby he decides that killing the president is an act of patriotism. It shows how dangerous that kind of rhetoric is."
Booth's Richard is just one of hopefully many exciting collaborations between Hidden Room and the Ransom Center. Also in the works, Hidden Room is using the Center's collection to devise a piece about Harry Houdini in honor of the 90th anniversary of the magician's death (Oct. 31, 1926) —drawing on the correspondence between Houdini and Sir Arthur Conan Doyle.
—CATE BLOUKE