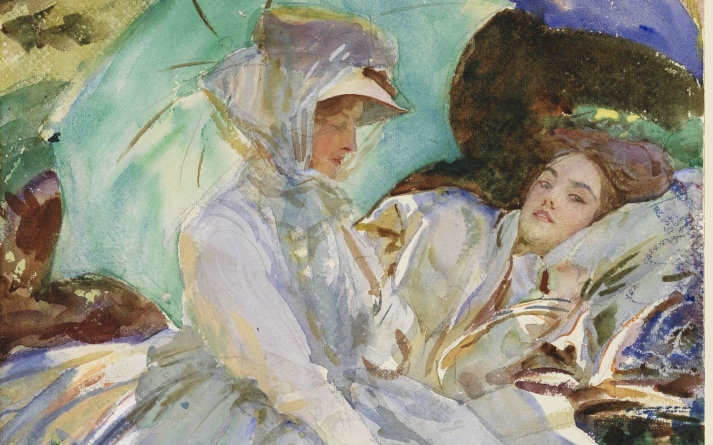 $argent and Binge Viewing
---
IMAGE: John Singer Sargent, Simplon Pass: Reading (detail), c. 1911, opaque and translucent watercolor and wax resist with graphite underdrawing, Museum of Fine Arts, Boston, The Hayden Collection—Charles Henry Hayden Fund. Photograph © 2013 Museum of Fine Arts, Boston
---
Over at the Houston Press, Randy Tibbits raves about John Singer Sargent: The Watercolors at the Museum of Fine Arts, Houston as an exhibition. As a viewer experience, not so much:
Even for all its glories, there's a near fatal flaw in this exhibition: the ticket price. It's unfortunate that modern museum economics require (or is it excuse?) ticketing any exhibition, but in this case it's particularly galling. In fact, the words "crying shame" come to mind.

Though Sargent was right that there's added power in his watercolors hanging together, their subtle elegance begs that each also be savored individually. This show needs to be taken in as lots of little art encounters over many visits as the mood strikes. Otherwise it's like getting a fifth of great whiskey that you have to slug down in a single night. What a hangover. And you're likely to remember about as much the next morning.

But at $23 a visit (somewhat, but not much, less on weekdays or for various categories), how many of us regular folks can afford to go more than once or twice? Not even becoming an MFAH member helps that much, since even the $1,500 level includes only six free visits.

Put me down as an advocate of responsible art consumption. There's got to be a better way than this reckless binge viewing. It would be best, of course, if a sugar daddy or mommy from among Houston's 1 percent made the show free. Barring that, how about an exhibition-long pass at a reasonable price (I'm talking $10s here, not $100s) that lets you drop in as often as you like? Or even — dare I say it? — a free day every week or two? With a billion-dollar endowment, second only to that of New York's Metropolitan Museum among art museums, surely MFAH can afford to let us see the art they bring as it should be seen. Otherwise why bring it at all?
First Michael Hardy at Houstonia backs me up on the MFAH's frequent general-admission hikes, and now this. I've been complaining about the MFAH's pricing for years, but 2014 may be the year the cause is starting to gather steam.
Tibbits's complaint about the Sargent show echoes my criticism of the MFAH's disgraceful decision to ticket its WAR/Photography show, when I bemoaned "the MFAH's growing tendency to charge extra for seemingly any show it can— even to present work from its own collection, as in last year's only nominally curated Helmut Newton show, or when the need to sell tickets sits uneasily alongside curators' intentions for their exhibitions. (WAR/PHOTOGRAPHY co-curator Anne Wilkes Tucker says the sprawling show is meant for repeat visits, but while (communications and marketing director Mary) Haus says MFAH guest services will honor ticketholders' request to come back and finish seeing the show … for free, it's up to visitors to ask. Most will likely assume they have to rush through it to get their money's worth. How can that help but cloud their impression of the MFAH?)"
That may have explained why I had the WAR/PHOTOGRAPHY galleries to myself every time I visited. The MFAH may have learned from that experience to surcharge more selectively. It did not require a special ticket last summer's James Turrell survey or for the current Georges Braque retrospective, and thanks to free general admission on Thursdays courtesy of Shell, even people who can't afford membership have been able to give those shows the repeat visits they deserve. (Seriously, if you aren't taking every chance you get to drop in on the rooms with Braque's Analytic Cubist paintings, which get more breathtaking with each visit, you're cheating yourself.) That luxury stands in contrast to last year's specially ticketed, no-reentry Picasso Black and White, which visitors gulped down like Tibbits's proverbial fifth of great whiskey.
Of course, there's a time when binge viewing is not only appropriate but the most viable option available: When you're a tourist, which is what most museumgoers are in New York, where director Gary Tinterow has spent most of his career. (Another is when you're at an art fair, but don't get me started.) But one of the truly special things about hometown museums is that they can afford their residents the kind of low-dose, repeated viewing that Tibbits and I are talking about–the kind that nurtures a real relationship with artworks–and that the Menil Collection makes easy with its free admission across the board (the gold standard).
And one of the reasons I'm encouraged by the MFAH's hire of Caroline Goeser as W.T. and Louise J. Moran Chair of the Department of Learning and Interpretation is that she's not coming from a tourist city's museum culture, but from the Cleveland Museum of Art, which has free general admission. Another is that it's supposed to signal a greater emphasis on the visitor's experience and perspective. Listen up, MFAH: In Tibbits you have an exemplary local viewer who's telling you how your ticketing policy is hurting the visitor's experience and offering some solutions. Time to stop treating the locals like tourists.
Related: Texas Twofer: Sargent and Sorolla