A Festival with a Past and a Future
---
IMAGE ABOVE: Art City Austin. Photo by Babak PejmanAryan.
---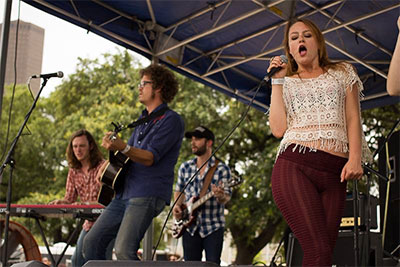 The legacy of the recently departed matriarch of Austin's art scene, Peggy Frary, lives on in the upcoming Art City Austin, a weekend long celebration of our capital's vibrant art scene. Hosted by Art Alliance Austin, the event will occupy Cesar Chavez Street, with its sloping greenery leading down to the Lady Bird Lake Trail and the very chic 2nd  Street District. Festival goers will find the experience more akin to a block party than your traditional arts festival.
Frary founded the festival, then called Fiesta, back in 1950 with the Women's Art Guild as a fundraiser for the Laguna Gloria Museum. Fiesta funded the growth of Laguna Gloria's educational programs and exhibitions. Towards the end of the twentieth century, the festival grew into an immense fundraising effort, involving thousands of volunteers and yielding a quarter-million in funds. According to organizer Eckert, the organization has gone "through many changes: Fiesta at Laguna Gloria, Austin Fine Arts Festival at Republic Square, and now Art City Austin on Cesar Chavez." In the decades since the festival's inception, organizers have pinpointed the exact weekend of optimal sunshine before we all become subservient to oppressive summer heat.
The festival's proximity to nearby greenery will hopefully inspire picnic enthusiasts to flock en masse to dine on some of Austin's most beloved food trailers. Succumb to the power of Chi'Lantro's famous kimchi fries and enjoy arguably the finest dog in town at Best Wurst. In the likely event that the Barton Springs salamander saw his shadow, foretelling an early summer, festival attendees can pretend it's still winter in their mouths at CoolHaus, the ice cream trailer that won the prestigious most-tweeted-about-food-trailer award during SXSW. Ultra chic Asian-fusion hot dogs aside, County Fair Catering will bring the funnel cakes, cotton candy and lemonade.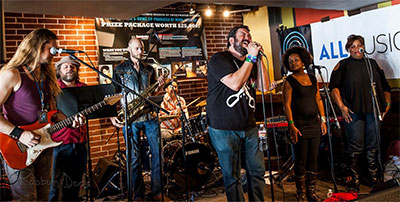 The festival grounds will be fortified by temporary pop-up galleries housing the 124 local and national artists. A variety of media, ranging from traditional photography to sculptures made of succulents, will be represented and juried. I am especially looking forward to the soft paletted surrealism of Anne Byrd and the antiquated illustrations of Dead Wilder, which seem plucked from a primer on armchair biology. Craft-wise, I cannot wait to see the designs of BDJ Craftworks, the brand of elegant carpenter and podcast host Brian David Johnson.
Visual art is not the only form which festival goers can indulge; an impressive music line up will fill the fairgrounds with local favorites. A day stage hosted by KUTX 98.9, "The Austin Music Experience," will feature acts such as Nakia, Elizabeth McQueen, Emily Bell, The Rocketboys, Erin Ivey, Mobley and Grace London. One of my favorite things about the Austin music scene is that it is rarely bound by the limitations of venues. Just walk down 6th Street at night and you'll see the guy with the wolf mask playing violin, a gaggle of soul-patched singer songwriters, brass bands and bucket drummers busking for tips. Art City Austin is honoring the busking tradition by hosting two stages, aka "pitches" in busk-speak, in collaboration with the Austin Busking Project which will feature a hand picked selection of Austin's best street musicians.
Art Alliance Austin will be promoting alternative transportation and eco-friendly behaviors through a variety of discounts. Those who arrive by bicycle or have a capital metro card will receive a 50 percent discount on entry. This is a great deal if you consider the added bonus of not having to trudge through downtown traffic for a parking space.
However, it is a family event and it's hard to fit the whole family on your handlebars and pegs, so there will be paid parking available at the One Texas Center across the lake. Furthermore, there will be an educational and fun area for children where they can learn learn basic painterly skills. Think of it as an opportunity to find out if your child is more of a Bob Ross or Gustav Klimt type; the implications are far reaching. Regardless of where your children fall on the future artist spectrum, families can rejoice in face painting and play dress up for themed photo booths of previous eras.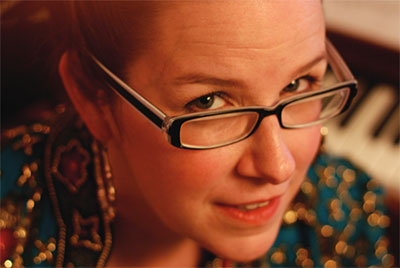 Just as Art Alliance Austin's previous event, Art Night, featured an unveiling of the new work by Denise Prince, funds from Art City Austin will go towards a new installation for Art Week. According to Eckert, a "re-purposed soda vending machine will be rigged up to play audio clips recorded around and indicative of Austin's current and rapidly changing cultural landscape. The vending machine will be free to operate, but any money incidentally collected will be donated to local nonprofits." Moreover, funds from the festival go to promote artist visibility within Austin as well as the national visibility of Austin as a center for the arts. Art Alliance Austin has always made an effort to ensure that the public works they commission are playfully inviting to the general populace. Previously, there was "the Red Swing Project which introduced a swing into the cityscape" and the "'Play Me, I'm Yours' piano project, in which 15 pianos were installed in public locations around the central city, and anyone was free to play them," said Eckert.
I look forward to carefully packing my picnic basket with all the goat cheese, salami and crackers my budget can allow, perusing the galleries like an extra in Renoir's Moulin De La Galette, and knowing all the while that my pleasant afternoon is contributing to Austin's cultural capital. Art City Austin will be held on the afternoons of April 12-13 along Cesar Chavez Street and the 2nd Street District.
—PHILLIP JOHN