Frame Dance Productions takes to MetroRail on Nov. 8.
Photo by Lorie Evans.
---
Mobile Performance in Texas
Sometimes, a theater seat can feel a touch like a form of captivity. It doesn't have to be that way. Right now in Texas there are some innovative projects that put the audience in motion, be it traipsing through the galleries of Blanton Museum of Art, riding one of Nameless Sound's sonic bikes through Houston's East End, following Houston's Frame Dance dancers on the MetroRail, or wandering the streets of River North for San Antonio's lively Luminaria festival.
Frame Dance Premieres Metro Dances with Composer Charles Halka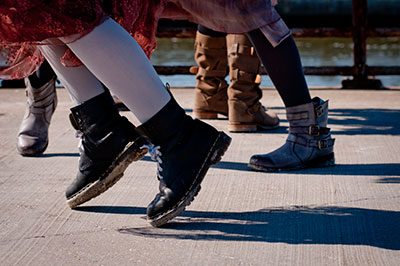 Frame Dance artistic director Lydia Hance has little interest in traditional performance spaces. In fact, her most recent shows have occurred in the back of a truck and Good Dog Houston. She prefers audiences members to be scattered among the performers. She's ready to take it to a new level on Nov. 8 at 4pm with Metro Dances, which begins at Hermann Park/Rice University and ends at the Preston stop for a final performance at Market Square.
Dancing will occur on and off the train, and audiences are free to come and go. Halka, a former winner of Frame Dance Composer's contest, will provide the mobile score. This will mark his third collaboration with the troupe. Of course, the only ticket involved is a $1.25 MetroRail pass. The show is nicely timed to coincide with Musiqa's Market Square opening night concert.
Hance describes Metro Dances as a locomotive, mobile and public performance. "MetroRail is a space that people already have an expectation for," explains Hance. "We know our physical role: buy ticket, wait, board, sit, get off. I want to turn that upside down and make it more exciting. If there are two things that Houston complains about, it is the heat and travel to and from work and leisure. Finding new ways of enjoying transportation opens up the possibility to make anything more exciting. And what could be more crazy than a moving stage? The dancers and musicians are in for as much as a thrill as the audience. You won't miss us: fearless dancers and percussionists dressed in bright yellow."
Nameless Sound and Ripley House present 2nd Ward – A Bicycle Opera under the direction of Kaffe Matthews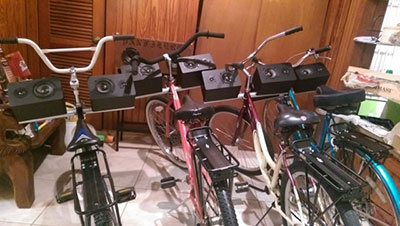 The idea of a "bike opera" alone got my attention, and indeed it's one of the most compelling aspects to Houston Arts Alliance's Transported + Renewed project. Nameless Sound's contribution to this project is  2nd Ward – A Bicycle Opera, an interactive project by British artist Kaffe Matthews, produced by Nameless Sound, made in collaboration with the Bicrophonic Research Institute, and Vampire Squid Labs.
The project also involves your legs on a bike, available at Ripley House and Houston Makerspace until Nov. 22. These are not ordinary bikes though, each is fitted with a pair of speakers that plays a composition created by a team of artists and community members based on the location of the rider. "It was important to us that the piece was a collaboration of people from the neighborhood," says David Dove, Nameless Sound's artistic director. "Nameless Sound (myself and David Feil) and Monse Lozano worked with nine 9-11 year-old girls from the Ripley House in an after-school program every day for five  weeks to produce music, poetry, text and ideas for the opera. Artist and writer Stalina Villareal also worked with two women from the Ripley House's senior program who told stories and sang songs (and recorded the sound of tortilla-making!)." In addition, East End artists Abel Cisneros and Denis Cisneros also contributed music and text.
Dove has known Kaffe since 2002, when she and Scottish film-maker/artist Mandy McIntosh came to Houston for  Weightless Animals, which involved research around NASA and interviews with astronauts. In 2003, Nameless Sound presented Matthews in two concerts. "I followed her career from afar as she evolved from a live performer to more of an installation artist," says Dove. "I enjoyed her Sonic Bed Marfa at the Ballroom Marfa in 2008 (and since, have really wanted to do one here in Houston)."
This project fully embodies the sound installation direction Nameless Sound is exploring. And, although Matthews has done other versions of this piece, the Houston project contained some firsts. "This was the first time that Sonic Bicycle project involved all new bikes made in the location of the piece," says Dove. "Work between Kaffe and Monse's team was intensive, and resulted in a new version of the sonic bicycle."
SoundSpace at Blanton Museum of Art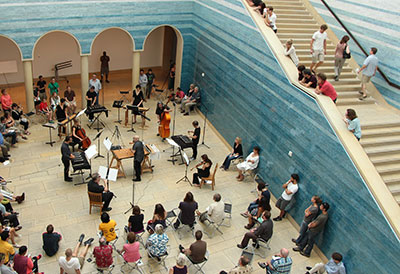 It was strolling through the Blanton at their latest SoundSpace on Sept. 28 that reminded me how potent it is to be a body in motion while taking in an art experience. I try to get to the Blanton every time I visit Austin, but this was my first SoundSpace experience. I realize that each program is different, but this one had the audience meandering through the galleries, to catch various performances happening throughout the museum.
Orchestrated by SoundSpace artistic director Steve Parker, the event was set up so that we had two chances to watch/stroll/listen to each performance. I not only enjoyed the outstanding individual performances, but also the movements of the crowds from space to space, which seem to further animate the galley spaces. The event culminated with Symmetrographia, an Austin New Music Co-op production, composed by Travis Weller. Again, audience members were encouraged to experience the piece form a variety of perspectives, but seats where also available in the atrium for the weary. The experience served as a potent reminder of how much more alert we are when in motion.
Luminaria Lights Up San Antonio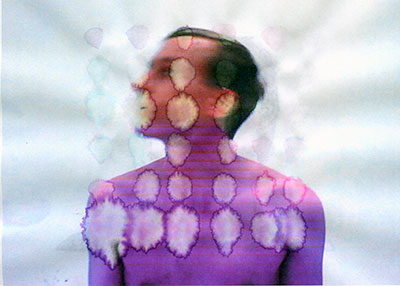 This outdoor weekend festival is legendary. Crowds of 300,000 have known to wonder through Luminaria. After a year hiatus, it's been taken over by the city and returns Nov. 7-8 with an impressive line- up of installations and performances by Texas and international artists. Festivals are everywhere, this is true, however, this one suggests that the festival itself is also an artform. The idea is to move through Luminaria.
After seeing Joey Fauerso's show at David Shelton Gallery and her current show at Artpace's Hudson (Show)Room, through Jan. 4, 2015, I'm especially curious what she has in store for the festival. Fauerso was also on the Luminaria bill in 2008, and later this fall she has a new video series at the Drawing Center in New York City.
During Luminaria, Fauerso is screening her 2013 work, Stage Theories, a single channel video with sound design by the artist's father, Paul Fauerso. "In Stage Theories, I painted with water directly onto a series of digital prints, portraying my friend and frequent model Tommy McCutcheon, slowly rolling his head from side to side. The piece in many ways inspired the project currently at Artpace, because it was the first animation where I used irregularities in the printing process as part of the painterly language of the animation," says Fauerso.  "One of the things I was really interested in was the way the water stains—often times producing unexpected results—interacted with the digital accidents of the printed image. The piece is primarily about the intersection between painting and performance, as well as the integration of the planned and unplanned gesture."
How people experience her work is often on her mind. Since Stage Theories will be screened on the side of the  new Tobin Center for the Performing Arts, the audience is free to stroll by or view the work from a river taxi as well. "Most of the animations I have done are basically non-narrative," says Fauerso. "I think of them as moving paintings where the viewer can come upon them at any point in their duration and can understand and perceive the dynamics of the piece in whatever amount of time they spend with it."
—NANCY WOZNY