Group Acorde wants people talking about art—theirs or otherwise. The interdisciplinary, Houston-based quartet—dancers Lindsey McGill and Roberta Paixão Cortes, bassist Thomas Helton and saxophonist Seth Paynter—are in the middle of their fourth season.
Since presenting for the first time as a company during Barnstorm Dance Fest in 2016, the group has produced two evening-length works, Unemojional (2017) and Origins (2019); participated in Dance Month at the Evelyn Rubenstein Jewish Community Center of Houston, Theorist Fest in Austin and Houston's Fringe Festival; showcased work at Houston's top performance venues; and created site-specific work in partnership with organizations such as the Nicole Longnecker Gallery and Plus Fest.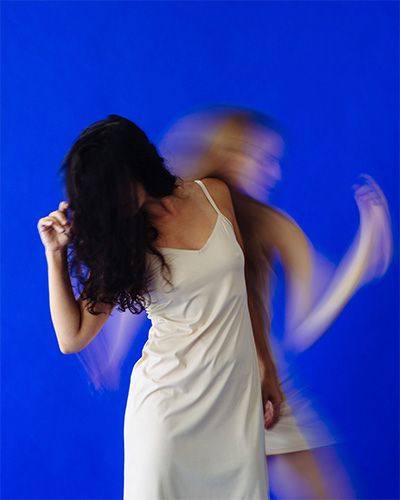 When talking about their work, choreographers McGill and Cortes reflect a great deal on the process of four voices—each skilled and mature in their respective craft—experimenting and giving their ideas a chance to develop.
"Every idea that one of us wants to explore is given attention to be fully realized into a performance piece," says Cortes. "There is no 'silly' or 'not great' idea."
In what appears to be an expansion of this egalitarian spirit, the ensemble's aim in performance is to open a dialog with their audience, translating their unique process into inclusive and interesting work.
With the diverse backgrounds, training and experience that Helton says keeps things interesting, the four approach collaboration as opportunities to understand and establish greater intimacy and connection with one another.
"As well as I think I may know someone in the group, I'm always surprised," McGill muses. "They are always evolving and I am always challenged."
The association of Group Acorde's collaborators began over 20 years ago with Helton and Paynter, who first met while working as musicians on a cruise ship. Several years later, the two again shared a roster as commissioned composers and collaborators with Michele Brangwen Dance Ensemble (MBDE). It's there that McGill met and worked with the pair. She later formed a friendship with Cortes, a fellow Hope Stone Dance and MBDE company member.
"In my experience," says Cortes, "dance and music often were created separately and only came together at the later stages of the creation process."
Craving something more integrated, Cortes approached McGill with the idea to develop an ensemble.
"These are three artists that I feel very comfortable with," says McGill, "so when the idea came up about trying to push ourselves to collaborate in new ways, I had no hesitation."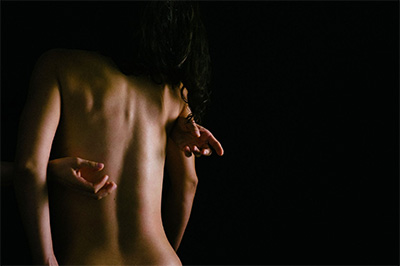 Good rapport and trust were essential in overcoming early hurdles. Cortes remembers giving the musicians adjectives to describe the quality of music she had in mind.
"'I don't know what that means,' or 'That means something different to us,' was the response, Cortes recalls. "That was when I started to realize what a challenge collaborating in this capacity could be."
Paynter agrees that translating his musical, conceptual or visual ideas to movement has been difficult but rewarding. Challenging though it may be, the group is dedicated to making work that highlights both artistic mediums and the ways they complement each other.
"As a whole, we are eager to perform and we are not lacking ideas," adds McGill.
McGill and Cortes each have classical backgrounds in dance. Both agree that the discipline and perseverance their training provided has impacted their work. They bring the kind of curiosity, care and attention to detail nurtured in that environment to the contemporary vocabulary they are establishing.
"I still see myself as a very new choreographer and I create movement from the experiences that my body has had," says Cortes, who explains she continues her education in order to pull contemporary movement from her classically-trained body.
Depending upon what the project calls for, McGill finds herself calling upon tools evolved or adapted from her experiences as a dancer working with a wide range of contemporary choreographers.
As dancers who believe in training every day, the pair offer "pay what you can" classes for the Houston dance community featuring live accompaniment by the musicians of Group Acorde. Taking on much of the administrative tasks of company management, the two are also striving, as many company directors must, to grow their resources and support so they can "spend more time in the studio creating work and less time on the computer."
In 2020, Group Acorde will premiere a new collaboration with New York-based dancer/photographer Christopher Peddecord Jan. 9-11 at MATCH Gallery. In this evening-length work, Peddecord layers photographs of the Group Acorde artists, projecting their captured images on various surfaces throughout the space. These projections become inspiration for the live choreographic and musical composition. Attendees will choose what and where to focus their attention at any given moment as they walk around the gallery and explore the projected images.
What does Group Acorde hope you'll do afterward? Discuss.
—NICHELLE SUZANNE