Angel Otero, Portrait of Dad When He Was Young, 2010.
Charcoal and silicone transfer on canvas (monotype) 84 x 72 x 2 inches.
Collection of Marilyn and Larry Fields.
Image courtesy the artist and Kavi Gupta.
---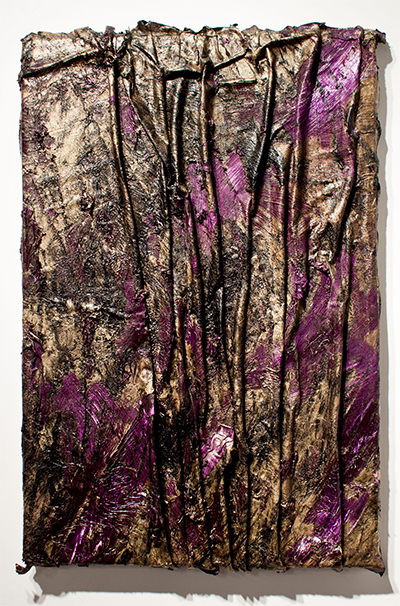 Angel Otero: Everything and Nothing, on view at the Contemporary Arts Museum Houston through March 19, 2017, is the artist's first survey exhibition, covering just under a decade of his work. Survey exhibitions offer viewers a look at the growth of an artist's practice, and while nine years seems like an odd amount of time to cover, the selected works show that Otero has indeed evolved.
Throughout the development and variations in Otero's medium of choice, there remain some constants. The artist consistently makes references to memories of his family, his life growing up in Puerto Rico, and practices in a manner that produces works simultaneously grotesque and beautiful. These stories of the Otero lineage are most clearly present in the earlier paintings on display, a series of still life works that show an early iteration of his "skin" paintings.
Blue Still Life (2010) is a scaled-up painting of a vase filled with flowers. Laid over a field of night sky is an intricate collage of oil skins that form flowers. Long, winding stems jut from a vase only to explode into flowers that tend towards either drooping with wilted petals or crawl up the canvas. Life and death exist together and balance // counteract one another, contained by a blue and white pitcher vase set atop a cleanly crafted tablecloth supported by nothing but its own impeccable structure. A grid drawn out between two series of loops that stylize the cloth, the cleanliness of the handcrafted counterbalances the mess of the natural.
This balance between rigid and unshapely can likewise be found in Otero's sculptural endeavors. Mixing porcelain and wrought-iron, the artist again makes reference to a personal narrative – one where wrought-iron fences stand guard around the ceramic curios and wares found within his grandmother's house. Bits of broken porcelain mix with clay to form globs around the iron as though a curio were smashed against it and frozen in time. In Sunday (2012), a sculpture sat in the far right corner of the gallery, globs pile onto a broken table and chair like a fungus growing over the remains of an abandoned, or destroyed, home. The ceramic adheres to the iron and drips onto the floor, either consuming the material or growing over it.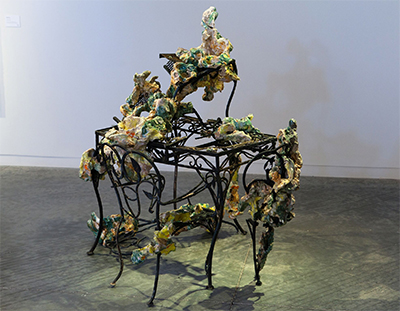 The distorted figures on display bear a heavy resemblance to Otero's "skin" paintings, which line the back walls of the space as well as two walls fabricated for the exhibition. Of the series on display, the "skin" paintings show the most consistent development. The early paintings in this group, from 2011, show a direct connection to the still life paintings in that they are larger versions of the small pieces used to create the oil collages. The removal of the skin and its placement on the canvas bring about a likeness akin to fabric – sheets crumpled and wrinkled after a night of tossing and turning.
Over time, though, these wrinkles disappear, as seen in later works that also move away from this twisted and gnarled appearance in favor of smoother fabrics with more cohesive designs. We see this in Took the bed out, Flew Kites and Saw the seeds grow (2015), where the skin is tightly affixed and flattened to the canvas, causing little-to-no distortion to the more distinct shapes that Otero has created.
To the left of the "skin" paintings is a series began alongside the refinement of the oil skins as a means of counterbalancing their unruliness. The transfer paintings function more as printmaking and just happens to be done on canvas. By projecting photographs onto canvas, Otero constructs a template with silicone and graphite, compressing the surface with plexiglass glass as one would a monotype print. The transfers are distinct from his other works. The aesthetic is far cleaner, and the narratives more apparent, more representational and intimate, such as in Portrait of Dad When He Was Young (2010). Although the memories still appear hazy, they provide much more direct access to Otero's life.
Over the near-decade on view, the artist has apparently focused quite intently on finding innovative means of changing the narrative of painting within a personal and historical context. Otero experiments with how he can present himself, his family, his life, but he also (whether intended or not) seems to seek balance.
—MICHAEL McFADDEN