English Baroque composer Henry Purcell's Dido and Aeneas, his only true opera, is an indisputable masterpiece and one of the most beloved operas in the repertoire. In the span of an hour, in three short acts, Purcell's music gives full emotional life to Dido's tragic tale, as told in Book IV of Virgil's Aeneid. Yes, the great themes of love, loss, honor, and death are manifested on stage, but in a departure from Virgil's version, Purcell and librettist Nahum Tate add the very English elements of entertainment and fantasy in the form of the dark Sorceress and her "weird sisters."

With still-mysterious origins, the date of composition and first performance being uncertain, no extant manuscript in Purcell's hand, and the music incomplete,
Dido and Aeneas
is open to a wide range of creative interpretations, giving its directors full rein to reimagine each new production.
Ars Lyrica Houston's production of Dido and Aeneas (May 21-22 at Zilkha Hall) was a captivating triumph. From the moment the flamboyant Sorceress Nicholas Garza pounded his staff thrice offstage as the instrumental ensemble finished tuning, the narrative pulse and dramatic intensity never waned.
Dances were abundant but never superfluous to the action, the precise movements and stylized gestures of Baroque dance augmenting the emotional impact of each scene. A tilt of the head, a gentle drooping of the arm, a classical pose, each detail conveyed meaning and expression.

­­­
Catherine Turocy, Director of The New York Baroque Dance Company, envisioned an ancient aesthetic for this production as Stage Director and Choreographer. The flowing garb of ancient Rome accentuated the fluid movements of the dancers, who seemed to have stepped liltingly off the friezes and bas-reliefs on the palace façade. There are moments in each scene, whether the backdrop is Dido's palace or a classical pastoral landscape à la Nicolas Poussin, when the entire company appears as if fixed in time as a
tableaux vivant
, a pure visual pleasure to behold. Christina Giannelli's lighting and scenic design conjured old world painting bathing the stage in warm tones.
Beyond the aesthetically beautiful staging, it was the luminous soprano Abigail Fischer who kept the audience in thrall as she plumbed the depths of the doomed Queen's vast interior emotional landscape with absolute conviction. With her first aria "Ah! Belinda," Fischer immediately plunged into the heart of Dido's inner turmoil. Love has disturbed her peace and she is wrought with pain and anxiety. Her entire body conveyed this anguish, from her furrowed brows to the clenching of her hand, to the visible trembling of her body as she strove to suppress the fire of her passion. Her sound poured forth from the deep core at the center of her being, intensely expressive, unforced, and completely convincing.
Every sympathetic protagonist needs a formidable antagonist. Countertenor Nicholas Garza, in his Ars Lyrica debut, was more than up to the task as the evil Sorceress. One could not help delighting in his antics, by turns frightening and comic, as he plotted Dido's downfall with his wayward coven. In the cave scene from Act II, he snarls and writhes, eyes sharp and wicked, black nails flashing as he calls for his "wayward sisters" to appear at his call to do his bidding. Garza's countertenor is rich and powerful, and his delivery of the text clear and deliberate, punctuated by physical gestures that lend potency to his words. He has a stage presence that commands attention and he is simply fun to watch.
The Trojan hero Aeneas is intentionally portrayed by baritone Mark Diamond as a somewhat one-dimensional archetype of the masculine hero. Dressed in shining armor, with a golden cuirass and a rather ridiculous red-plumed helmet, he makes a display of the muscles on his bare arms. Winning Dido with charm and sweet promises, he is easily duped by the Sorceress to abandon love for the pursuit of kingdom and glory, then changes his mind again when Dido confronts him with her anger. Diamond's voice, open and sonorous, complements Fischer's deeply expressive soprano. Their voices matched particularly well in the Act III parting duet, the back and forth of Dido's "away" versus Aeneas's "I'll stay" a worthy final battle between the two erstwhile lovers.
The choral element is key to the performance of Dido and Aeneas. Functioning as a chorus in a Greek tragedy, 18 singers from the UH Moores School Concert Chorale, prepared by Betsy Cook Weber, nimbly acted, danced, and sang their way throughout the opera, actively participating in the action and denouement of the story. As members of Dido's court, they both influenced and commented on Dido's decision to welcome love. As the Sorceress's coven, they cackled giddily in the darkness and reveled in the mischief. And most movingly in the final scene, they delivered the heart-rending funeral dirge "With drooping wings" with shattering tenderness. Scattering roses on Dido's deathbed and lifting the funeral shroud over their regal Queen, they restored her to honor in death.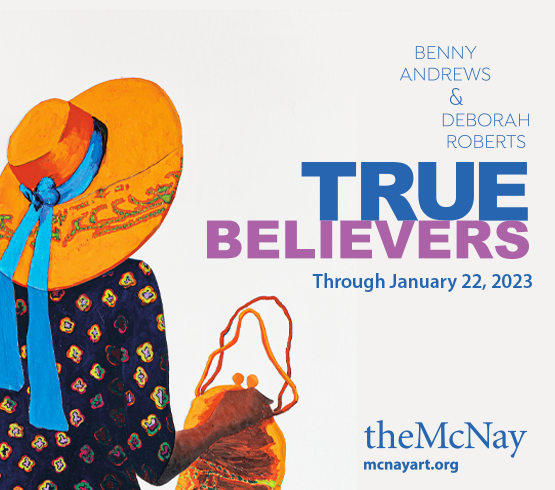 Artistic Director and conductor Matthew Dirst led the superb Ars Lyrica instrumental ensemble from the harpsichord, allowing Purcell's gorgeous score to flow seamlessly from one scene to the next, providing a secure and supple ground for the singers and dancers to shape their phrases with freedom and expressivity. In Dido's final lament, "When I am laid in earth," Fischer implores the listener to "remember me, but forget my fate." With every fiber of her being, every inflection of her tone, she transmits Dido's pain from within and bares her vulnerability for all to see. Her world is our world, her pain our pain. The sheer beauty of her devastating lament transcends death.
—SHERRY CHENG