Dallas DanceFest Returns with Gusto
---
IMAGE ABOVE: Dallas Black Dance Theatre in Bruce Wood's Smoke. Photo by Sharon Bradford.
---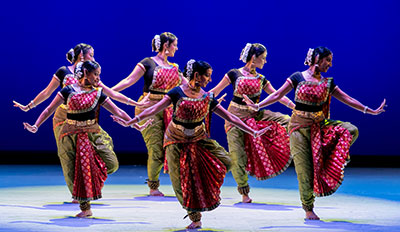 Dance festivals are an important aspect to any dance scene; they allow the various parts of  any community to come together, be it for one night, or in the case of the Dallas DanceFest, three days, one of which was an awards ceremony. DanceFest, which ran Aug. 29-31 at Dallas City Performance Hall, is a project of the Dance Council of North Texas, one of the oldest and most active dance service agencies in the State, with a long history of meeting the needs of area dancers from all genres. After a decade-long hiatus, Dallas DanceFest moved indoors for a fully produced series of events, showing off area troupes large and small in the best ways possible.
As an arts reporter and editor of a Texas magazine, finding out more about the Dallas dance community ranks high on my list of priorities, which is exactly why I made the trek north to see what all the fuss was about. When I stepped into venue, I couldn't help feeling a pang of jealousy; the Dallas City Performance Hall is a near perfect place to watch dance, with a spacious feel that also feels quite intimate.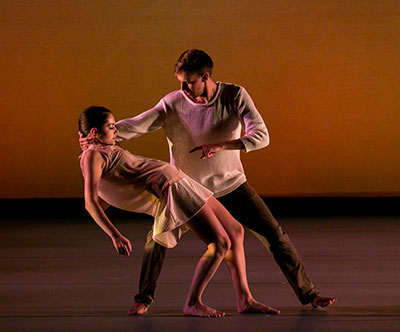 There were several standouts the first evening. A marshmallow may be an empty-caloried confection, but under Dark Circles Contemporary Dance artistic director Joshua L. Peugh's choreographic hand, it's a jumping off point. In an excerpt from his work, Marshmallow, a simple idea expanded into a sensual romp about connection, touch and the chemistry between the two. There's such a lightness to his movement choices, and I don't mean insubstantial. Peugh engages his audience with a soft gestural language (rarely seen in a post SYTYCD hyper drive dance world), delicately executed by the dancers, especially Peugh and Emily Bernet in their charming duet.  These fluttery moments offer a different approach to grace, dilating time and space through detail. Peugh, who was recently praised by Alastair Macaulay of the New York Times, could be North Texas' next big thing when it comes to contemporary dance.
If you are wondering who in Texas is moving the art of tap dancing forward, her name is Katelyn Harris, artistic director of Rhythmic Souls, an upstart troupe that rocked the crowd with the clever The Consequence of Sound, named after the Regina Spektor song of the same name. Harris' expert tappers gleefully traipsed through a variety of tap styles with charismatic performance finesse. Everything from the stylish costumes to the cheeky chair antics felt fresh and put the dancers' unique personalities to work.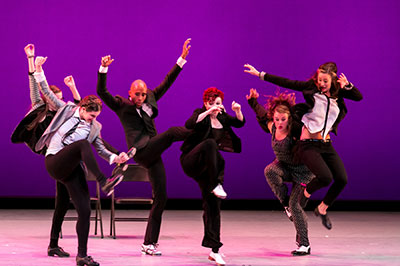 Indique Dance Company performed a fast-paced contemporary fusion of  Indian Classical Dance, while SMU students and Ewert and Company offered the evening's more elegant and moody moments. Texas Ballet Theater dancers Heather and Alexander Kotelenets were lovely in Ben Stevenson's brief but arresting Lost & Found. Dylis Croman (Natalie Skelton Award winner) and Tyler Hanes provided the Broadway flare of the night with Blues House.
The confident young dancers of Dallas Black Dance Dance II offered the poignant Tears of War by Christopher L. Huggins, while Bruce Wood's sassy Smoke performed by Dallas Black Dance Theatre showed off Wood's spot on musicality and provided a fabulous finale to the first evening.
Chadi El-Khoury's Knead Me Whole, elegantly danced by El-Khoury and Alex Karigan Farrior of Chado Danse, made for both the most provocative choreography and dancing of day two. Other highlights of the second evening include Avant Chamber Ballet in Je Ne T'Amie Pas, a wistful ballet by Christopher Wheeldon, featuring the former New York City Ballet dancer Michele Gifford and Dallas Blagg and Houston's METDance in Kate Skarpetowska's whirlwind Tidal Intersections.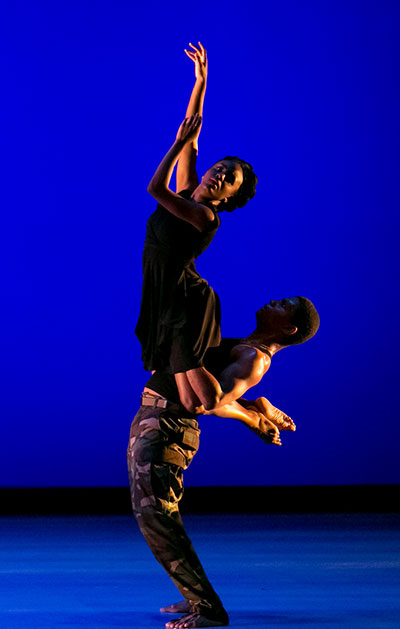 Wood's love b. revealed the choreographer's deep sensitivity to the nuances of a song. Acting artistic director of Bruce Wood Dance Project Kimi Nikaidon and Henry Feril were especially smooth in Wood's dreamy tribute to Dallas Black Dance Theatre founder Ann Williams.
The amazing students at Booker T. Washington High School for the Performing and Visual Arts were simply outstanding in Jonathan Campbell's hilarious Confetti & Razor Blades. Watch out for Campbell and his company MadBoots Dance Co.; he's going places in the larger dance world. Several area ballet academies also demonstrate the high level of dance training in the area.
Recognition is one of the way an arts community carries its history forward. And in that capacity, the Dance Council should be commended for doing just that since 1987. The final day of the festival paid tribute to the leaders, teachers and artists who have made an impact on North Texas' ever growing cultural dancescape. The 2014 honorees included Ann Williams, Lily Cabatu Weiss,  Suzie Jary, Dylis Croman, Beth Wortley, Leonard "Buster" Cooper, Joe Cutaia, Ann Briggs-Cutaia and Nita Braun.
Dallas DanceFest proved such a reminder that a community is made up of institutions large and small, dancers, choreographers, teachers, students, dance moms, devoted volunteers, dance fans, capable administrators and leaders. It's clear that the NTX dance village is a strong one, respectful of its past and ready for the future.
—NANCY WOZNY