Photos by Adolfo Cantú-Villarreal.
---
Cara Mia's production of Lorca's Spanish Masterpiece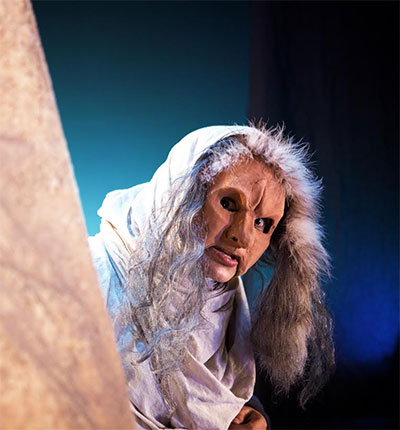 Quick game: How many Spanish playwrights can you name?
See, told you it would be quick but don't worry, it's not your fault: blame the theaters.
The dearth of diverse plays on stages in Dallas is not unique: here in America, it seems, unless we're performing the Russians or the Greeks, the odds are we're not performing world theater on our stages.
That's why, at least here in Dallas, we should thank our lucky stars for Cara Mia Theatre Co.   Although the company's mission is expressly concerned with representing the Latino experience in the US, they are dedicated to producing both contemporary and classic Spanish language plays alongside original productions, exhibiting in so doing, an all too rare understanding that we can't understand ourselves as we are without understanding ourselves as we were. The current David Lozano-directed production of Spanish playwright Federico García Lorca's early 20th century surrealistic masterpiece, Blood Wedding, is a perfect example.
Lorca was a poet and musician, in addition to his work as a playwright, and Blood Wedding  is a dream-like blend of all three art forms. The play was first produced in 1932 against the backdrop of the Spanish Civil War and Lorca's untimely execution just four years later by, as we now know, Franco-affiliated forces, lends credence to many interpretations of the play which see it as a heavily veiled critique of Spanish society's conservative community as it tells the story of two lovers who, for an unknown reason, are refused a union and for whom, death and tragedy are inevitable.
The story centers around the courtship and wedding of a young "novia" (Stephanie Cleghorn Jasso) and "novio" (Ivan Jasso), which is heartbreakingly derailed by our young novia's former lover Leonardo (R. Andrew Aguilar).
If the play's title doesn't give it away, the first act's climactic wedding does not go off as happily as the young novio, played with a tragic naivete by Jasso, had planned, and the slightly more lighthearted air of the first act gives way to a dark, fantastical second which explores the idea of fate through the lens of nature and in a way, our relationship with it.
Cara Mia has assembled a talented cast for Blood Wedding; the novio's madre is played by Cara Mia mainstay Frida Espinosa-Muller, Leonardo's tortured wife is played by Caroline Dubberly, a new and exciting face on Dallas stages and Lulu Ward doing double duty as a neighbor and a servant. They're all part of an ensemble cast which includes a number of townspeople and a cast of surrealistic characters who appear in the play's dream-like second act.
It's a stylistic production of a highly stylistic play; Bob Lavallee contributed the design of the harsh, desert-like angular shapes which make up the play's minimalist set and S'Ankh Rasa, an occasional Cara Mia contributor, wrote original music for the show.
Some of the show's original Spanish was left, much of it delivered by Ms. Espinosa-Muller in a fitting touch; her portrayal of the Madre as one full of ornery sass, as opposed to the sorrow one may have expected.
Which brings me to the struggle audiences may have with Cara Mia's production of the play. While it would be hard to fault any one character for his or her performance, Cleghorn Jasso, Aguilar and Espinosa-Muller all deliver compelling performances, it often feels as though they are performing under different direction; Cleghorn Jasso's brooding, manic portrayal of the tortured novia stands in stark contrast to Espinosa-Muller's sarcastic, humorous portrayal of the Madre (at least until tragedy strikes).
Despite what is apparently a rather ubiquitous one-act version of the play floating around in area high schools, audiences are still mostly unfamiliar with the Spanish master and Lorca's lovely poetry, and despite some uneven performances, Cara Mia does Dallas audiences a great service by putting his words on an area stage.
—JENNIFER SMART