TITAS concludes its season with Parsons Dance on June 30 at Winspear Opera House in Dallas.
Photo by Lois Greenfield.
---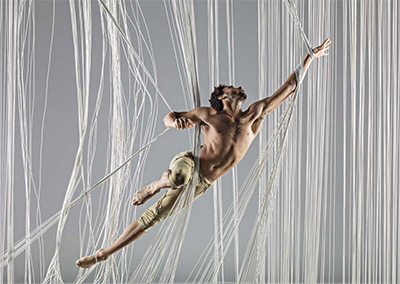 The current TITAS season comes to a close this month with performances by the long-running American dance companies Alonzo King LINES Ballet (June 9) and Parsons Dance (June 30) before the Dallas dance presenter launches its 2018-19 offerings later this summer. Both groups are in their fourth decade, with LINES making its third appearance in the TITAS series, Parsons its ninth. The Parsons program includes the Mozart-fueled Wolfgang; two pieces set to New Orleans R&B and jazz, Trey McIntyre's Ma Maison and artistic director David Parsons' Whirlaway; a new solo, Clair de Lune, co-choreographed with departing company member Abby Silva Gavezzoli; and the ubiquitous Caught, whose illusion of flight will no doubt thrill the Dallas audience again. Like the Alvin Ailey troupe performing Revelations for the umpteenth time, Parsons Dance cannot hit the road without packing its founder's 1982 trick shot. Yet no matter how many times you've seen it, Caught still takes your breath away.
TITAS director Charles Santos hopes the new season will engender the same reaction. "I think it celebrates diversity," he says. "We have two of the most important African-American artists touring the world today, groups who are redefining what we consider dance with technology, a celebration of tap as an art form and a music form, a highly contemporary voice from China, and new ways of embracing live music." The 2018-19 season assembled by Santos introduces four companies never seen before in Dallas. Three of those groups are led by female choreographers — Camille A. Brown & Dancers (Aug. 24-25), Dorrance Dance (Feb. 1) and Beijing Dance Theater (Feb. 8) — who not coincidentally represent a wave of innovative approaches that dance mavens like Santos are noticing. "I've been very focused lately on the female voice because I believe it's woefully ignored in the dance world," he says. "We're looking for the voices of today."
The other Dallas debut is by Ezralow Dance (March 29-30), a Los Angeles company founded in 2014 by Daniel Ezralow, one of the original performers and choreographers of design-oriented Pilobolus offshoot MOMIX. He tends to make short pieces, so for the evening-length OPEN Ezaralow strings together more than a dozen vignettes filled with goofy projections and physical antics not unlike the work of his predecessors. "He's going to be a surprise hit," Santos predicts. "The piece is so charming and so clever. People are going to love the visual effects and massive creativity." The use of technology also marks the appearances of Los Angeles' Diavolo (Sept. 14-15), the America's Got Talent finalist bringing a "greatest hits" package of its dangerous looking stunts atop giant sets, and Pilobolus (April 5-6), returning with its sequel to the shadow-play narrative Shadowland. "There's so much commercial appeal to them right now," Santos says of Diavolo. And that's surely the case with the ever-popular Pilobolus, too.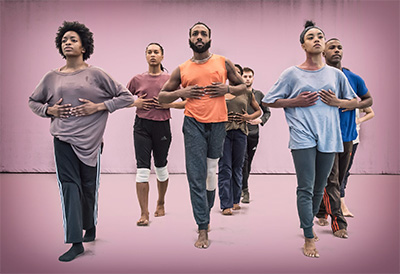 The rest of 2018-19 brings back a number of other TITAS mainstays and recent favorites, including the Stephen Petronio Company (Oct. 19-20), Aspen Santa Fe Ballet (Oct. 26-27), Complexions Contemporary Ballet (Nov. 9-10) and A.I.M (March 1-2), the new name of Kyle Abraham's Abraham.In.Motion. The TITAS Command Performance gala closes the new season on June 1, 2019. All the shows are at Moody Performance Hall or Winspear Opera House. "I ask myself, 'Will the piece work in our community? Will our audiences like it?' " Santos explains about his curating philosophy. "I'd love to build a second series with the tagline, 'If you're easily offended, don't come.'"
"Charles has a wonderfully curated sensibility that I appreciate," Abraham says. "TITAS is not afraid to take risks and introduce the Dallas community to a wide spectrum of dance and movement theater." He mentions Camille Brown as an example. "She's trailblazing and knocking down so many walls." Abraham is so busy himself, creating and commissioning new work, that he has no idea what A.I.M will perform in Dallas next year. The company's Joyce Theater season last month included premieres of INDY, a new solo choreographed by Abraham for himself; his Meditation: A Silent Prayer; and state, commissioned from Andrea Miller, the first time A.I.M has performed work by another choreographer. For the Joyce shows, Abraham also added pieces to the A.I.M repertoire by two others he admires: Doug Varone (Strict Love) and Bebe Miller (Habits of Attraction). "He's in a highly creative period right now," Santos says. "I want to see him percolate."
Brown opens the new TITAS season with her Bessie-nominated, evening-length BLACK GIRL: Linguistic Play. Only 38, she was already a veteran of the national dance scene. But her profile is on the rise lately with her choreography for last year's revival of the Broadway musical Once on This Island and the recently televised NBC production Jesus Christ Superstar Live in Concert. Starting with the proposition that our identities begin forming with childhood games, the African-American native of Queens uses black-dance vernacular to interrogate the complexities of being a black woman in a racially and politically charged world. Linguistic Play incorporates a dialogue with the audience. "Everyone in the audience related to it in a different way, whether they were male or female, African-American or not," Santos says of the night he saw it. "The diaspora is part of her but not all of her. It's about the role of play in culture, in daily life, how it shapes us from children to adults and in relationships."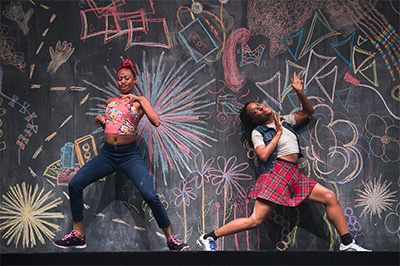 Like Brown weaving contemporary issues into historical African-American dance traditions, Michelle Dorrance updates tap with the help of technology and a broader concept of the form's possibilities. In ETM: Double Down, another full-length work, the Dallas audience will see her and her company tapping on electronic drum pads invented by her co-choreographer, Nicholas Van Young, that add a musical layer to the electronic score. They choreograph for the whole body, not just the feet, breaking tap's traditional vertical orientation. At one point, the dancers drop heavy chains, creating another soundscape. "She uses super, super complicated rhythms," Santos says of Dorrance, who has danced in the stage show STOMP and with tap innovator Savion Glover. "It's a musical adventure for her. But she's accessible, not pretentious."
Beijing Dance Theater also performs an evening-length piece, artistic director Wang Yuanyuan's take on Hamlet, which was inspired by her work on the 2006 Chinese film The Banquet. The set includes a hovering cloud formation whose movement acts as a metaphor for the Danish prince's emotional journey. The Stephen Petronio Company brings the latest work by one of the last remaining links to the "no spectacle" aesthetic of '60s-era Judson Dance Theater choreographers Yvonne Rainer, Steve Paxton and Trisha Brown. In Hardness 10, Petronio references the offbeat ballet steps of Merce Cunningham and engages in a bit of spectacle with unitards bearing slogans that look spray-painted. "There is some attitude to it," Santos says, "but a lot of technique."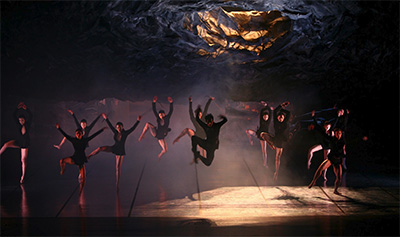 For this trip to Dallas, Aspen Santa Fe Ballet's Eurocentric repertoire features Czech choreographer Jiří Kylián's pointe piece Return to a Strange Land, Brooklyn-born Nicolo Fonte's Where We Left Off and a new commission, Half/Cut/Split, from Jorma Elo, a native of Finland and resident choreographer at Boston Ballet. The entire program will be performed to live accompaniment by pianist Joyce Yang. "They're the new Cedar Lake," Santos says. "They're one of the companies that represent the future of contemporary ballet." As with Rise, its fast-moving, crowd-pleasing piece to the music of U2, Complexions Contemporary Ballet will send the audience home happy with a new tribute to David Bowie by choreographer Dwight Rhoden called Star Dust. "It's a big, splashy piece," Santos says of the show-closing number. "Audiences across the globe have been loving it."
—MANUEL MENDOZA