At the MFAH's Houston Iranian Film Festival, now in its 26th year, the seats are always full. The festival, established by the MFAH and Rice Cinema, runs Jan. 18-26, with screenings at both venues and at Asia Society Texas Center.
Despite the lack, and now finally slow growth, of Iranian film festivals in the country, critics find consensus that Iran has continued to produce some of the boldest, most meaningful cinema in the world.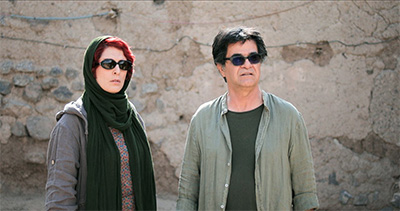 In the absence of cheap tricks, cop-outs, and the toxically obvious, we have mirrors, silence, and long shots sitting still while the action takes place elsewhere. There is deliberate ambiguity. The "minimalist" vision that some might call "experimental" of some of the best Iranian cinema can approach reality more closely than any traditional "realist" drama. 3 Faces and Feast of Sorrow both begin with alleged suicides filmed on phones, messages full of technologically normalized desperation, increasing immediacy of the recipient and unburdening the creator of responsibility in the case of falsehood.
Like scenes taking place in the rear-view mirror away from audience ears – another particularly Iranian device – phones become another surface to reflect images truthful, not so truthful, and in somewhere in between, showing or hiding little bits of their content to characters or the audience. In the films presented, class critiques go beyond rich versus poor struggles into the contradictions of contemporary middle-class existence.
The bourgeoise fixate on the ability and inability to leave, grapple with banal consumer products, and find themselves mired in the fluid social relations of everyday global capitalism. Also, everyone smokes. But the middle-class drama is tied to the darker undertow of the foundational societal rules, especially in regards to women.
Feast of Sorrow (Jan. 26), directed by Pourya Azarbayjani, is a melodramedy that follows four stories thematically tied together by its focus on the action of staring at phones: A YouTube star who fakes his own death online, an older couple estranged, a family that struggles approaching the birth of the child, and a woman pretending to be someone she's not online. Not a moralist thinkpiece Sunday Times op-ed, the film shows phones not as an "evil corrupting the youth," but as a consequence of modern, hyperconnected living. The importance of smart phones is not limited to the taking of food pics and selfies. A more powerful picture is the image of characters staring at a number on their phone, debating whether or not to call it; that longing, that loneliness, is a timeless pain, perhaps a more poignant painting of the contradictions between nearness and distance embodied in technology. When one character, a volleyball star left in a wheelchair after a car accident, tells the vlogger, "They've taught us to compare," it is in reference to her legs, and whoever they are, their gaze is not only at the phone.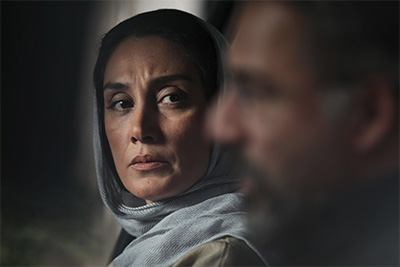 In the first scene of No Date, No Signature (Jan. 27 at Asia Society Texas Center), directed by Vahid Jalilvand, Dr. Nariman, a forensic pathologist, drives on a dark road at night. He collides with a family on a motorcycle and they go skidding into the dirt. The family demands that he call the police, he avoids it because his insurance is expired, but he offers to take them to the hospital, and they decline. The next day the child arrives at his hospital, dead. The autopsy shows that the child was infected with botulism, but Nariman, who declines to show himself or admit the accident to his colleagues, has his doubts, which are taken to the extreme. The father of the child, who had bought stale chicken he fed to his son, beats the chicken seller to death, and goes on trial. Nariman enters his life and trial, to complicated ends. In what could be a typical doctor kills patient revenge plot, No Date, No Signature lets violence play out within each character, mostly quietly, quite near each other. Personal guilt is a turbulent function driven by and driving legal innocence and legal guilt, verdicts are only a small piece of the excruciating personal experience of the law.
3 Faces (Jan. 18 & 27) is Jafar Panahi's latest docu-fiction. Since being banned from making films and leaving the country in 2010, Panahi has managed to make four films, turning to discreet and clever methods for producing cinema. In 3 Faces, a young girl in a rural village sends Panahi and real-life Iranian film star Behnaz Jafari – both playing themselves – a video begging for help in which she appears to hang herself. Unsure of its reality, Jafari and Panahi take off to find her. The town's adoration of Jafari the star is matched by their disdain for the young girl's desire to be an actress. 3 Faces turns Panahi's focus from himself  to more serious matters of women's roles and struggles in contemporary Iran.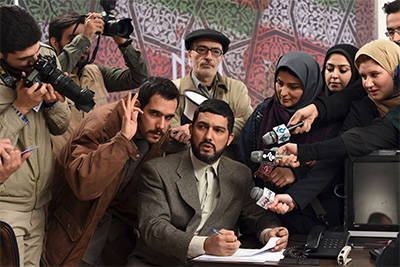 Looking for Oum Kulthum (Jan. 19, 25), directed by Shirin Neshat, is a biopic /film about the creative process / loose autobiography of Neshat. Neda Rahmanian stars as Mitra, an apparently "famous" director making a biopic about Umm Kulthum, an Egyptian virtuoso singer who left a legacy of critical and commercial accomplishment. Mitra doesn't speak Arabic, so she's told she doesn't really understand Umm Kulthum, played by Yasmin Raeis; Mitra goes on her personal journey to understand her. Most of the dialogue is in English. Dividing time between crafted musical numbers and the semi-autobiographical drama of Mitra / Neshat, it straddles the line between the director's autobiography and celebrity biography.
Also screening at the festival: Pig, a comedy directed by Mani Haghighi, about a banned filmmaker, Jan. 19, at 8 p.m.; A Man of Integrity, directed by Mohammad Rasoulof, a politically charged film about a goldfish farmer, political corruption, and the struggles of power over our ordinary environment, Jan. 20 at 5 p.m.; and
Sly, a funny political satire of a contemporary Iranian politician, directed by Kamal Tabrizi, Jan. 25, 9 p.m.
-JOSEPH WOZNY